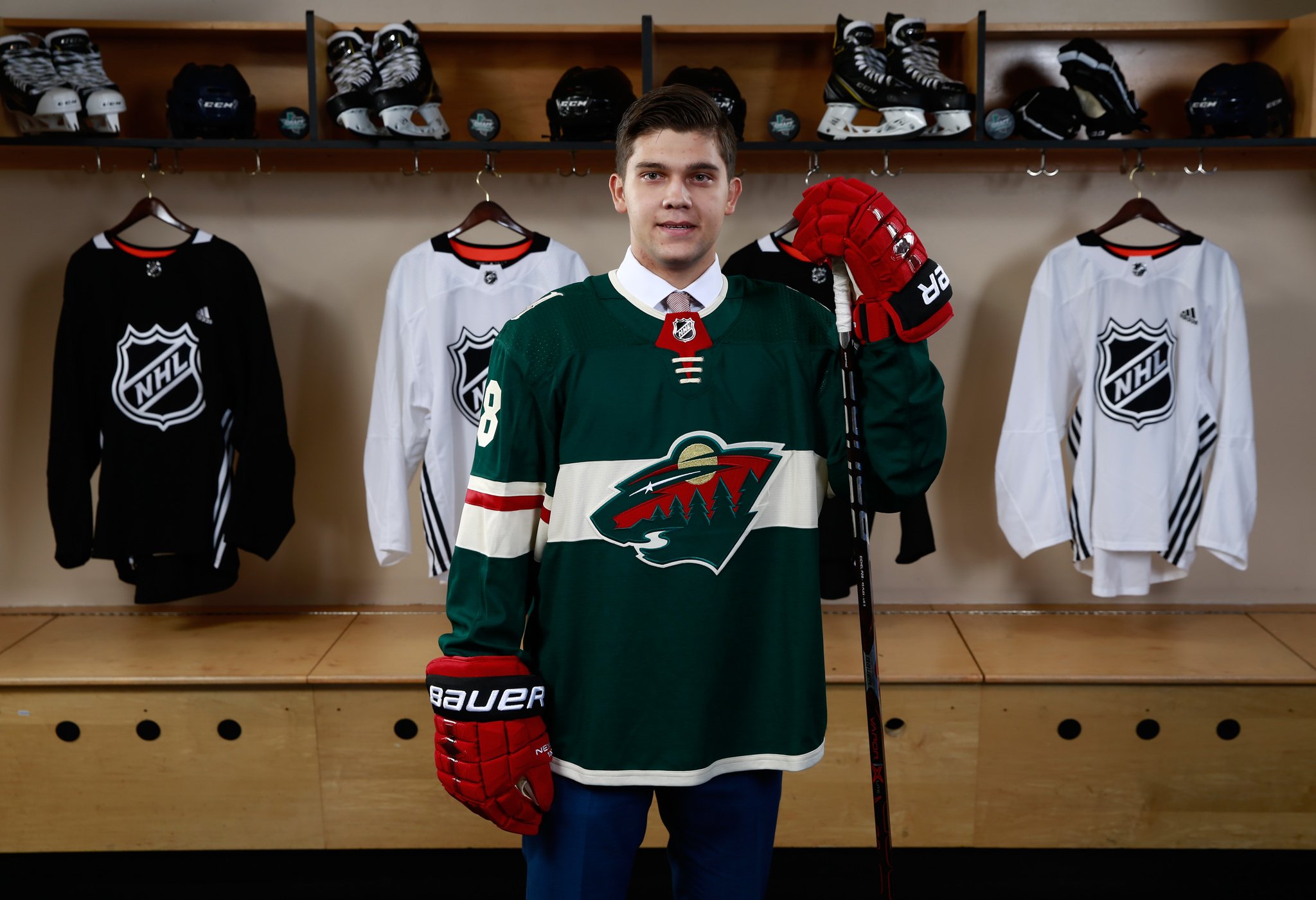 If you're the kind of Minnesota Wild fan who geeks out about prospects, you've certainly had a big year. Not only did you witness the long-awaited NHL debut of Kirill Kaprizov, but Wild prospects made news all year. They shined brightly at the World Junior Championships, were front-and-center in Iowa, and dominated in college.
So much has happened that it's easy to forget about Alexander Khovanov plying his trade half a world away. The 2018 third-round pick straight outta Moncton (QMJHL) found himself in a position many prospects did last season: Not knowing where the heck he was going to be able to play during the pandemic.
Khovanov and the team worked out an agreement to loan him out to Ak Bars Kazan in the KHL. The AHL's return was uncertain, and Khovanov had an opportunity to get games close to home in the second-best league in the world. No brainer.
After a season where he finished second in points in the Q behind only Alexis Lafrenière, many expected Khovanov to make his case that he was ready for NHL action.
Khovanov failed to launch in the KHL, playing just seven games for Ak Bars amid rumors of clashes with coaches. It's not exactly uncommon for young players to butt heads with coaches, but it was still disappointing to see. He was demoted to the VHL (Russia's top minor league), and never got another chance to shine in the KHL.
With so much going on in Wild Prospectland, that was the last most had heard from Khovanov. This is a bit of a shame, because he turned in a solid year in the VHL. He scored eight goals and 24 points in 30 games, while playing center regularly and winning 54% of his face-offs. He finished 18th in the VHL with 0.80 points per game, finishing second among Under-21 players.
But not doing it in the KHL slows down the hype he built the previous year, and is probably the reason he's fallen to No. 8 on our top-10 prospect List. In a crowded field, he's going to have to impress this year, lest he gets left behind in an ever-deepening prospect pool.
Fortunately, Khovanov can get a chance to do that while remaining at the forefront of Minnesota's consciousness by returning to North America. He's reported to have been deciding between that and staying in the KHL, though the latest news suggests he'll leave Russia.
It can sometimes be difficult to lure Russian players to North America without the guarantee of an NHL roster spot. After all, if they're just going to be in the AHL, they might as well play at home in a better league.
But Khovanov might've stumbled on the downside of that decision last season. As essentially a rental, Ak Bars didn't have much investment in Khovanov, and without that, they were perfectly fine letting him rot on the bench for over a month. Khovanov is a year older, and showed well in the VHL, but there was no guarantee Ak Bars would give him big minutes in the KHL.
Even if Khovanov is Iowa-bound this year, it'll be the opposite situation. The Wild invested a third-round pick in him in 2018, and he's raised his stock considerably since then. He's potentially a part of Minnesota's future. They have every incentive to give him the playing time he needs to develop properly.
In addition, he'll likely get a chance to develop chemistry with other top prospects in Des Moines. It's very possible that Marco Rossi, Matt Boldy, or Adam Beckman — and perhaps all three — will start the season in the AHL. The opportunity to put himself in a great position to succeed is there. He just has to take advantage.
He certainly has the skills to keep up with those top prospects. Khovanov is a dual-threat with exceptional vision and the ability to place the puck in tight spaces. He's smart and competitive, perhaps too competitive at times, even, though it's easier to dial that fire back than start it from scratch.
https://twitter.com/JDylanBurke/status/1276204516275179520
Should there be concerns about his ability to get along with coaches? It's possible, but Khovanov has some massive fans among former coaches. Hall of Famer Igor Larionov, the assistant coach on Khovanov's World Junior team, offered praise to The Athletic's Scott Wheeler. "He's kind of like a solid, three-way, [Jonathan] Toews style of hockey player as a guy who can help on defense and be productive on offense in terms of playmaking."
The Athletic's Michael Russo also got John Torchetti, his coach in Moncton, to rave about Khovanov. "I love this kid. This kid gave me everything when I was in Moncton. He became a great teammate there and was making the right steps." He did note, however, "You've got to know how to coach [him]," suggesting building that relationship took a light touch.
It's crucial for Tim Army to work to gain that trust with Khovanov, just as it's crucial for Khovanov to buy into Iowa. If that relationship goes well, then watch out. It might've been easy to sleep on Khovanov this season, but he still has plenty of upside. He's a skilled player with an outside chance to stick down the middle and be a power-play weapon. With a chance to ride shotgun with a premier prospect, it may soon be Khovanov's turn to shine once again.
This article is part of a series ranking the Wild's Top-10 Prospects. Khovanov came in at No. 8. Come back Monday for a story about our seventh-ranked prospect.
All data is from Elite Prospects unless otherwise stated.