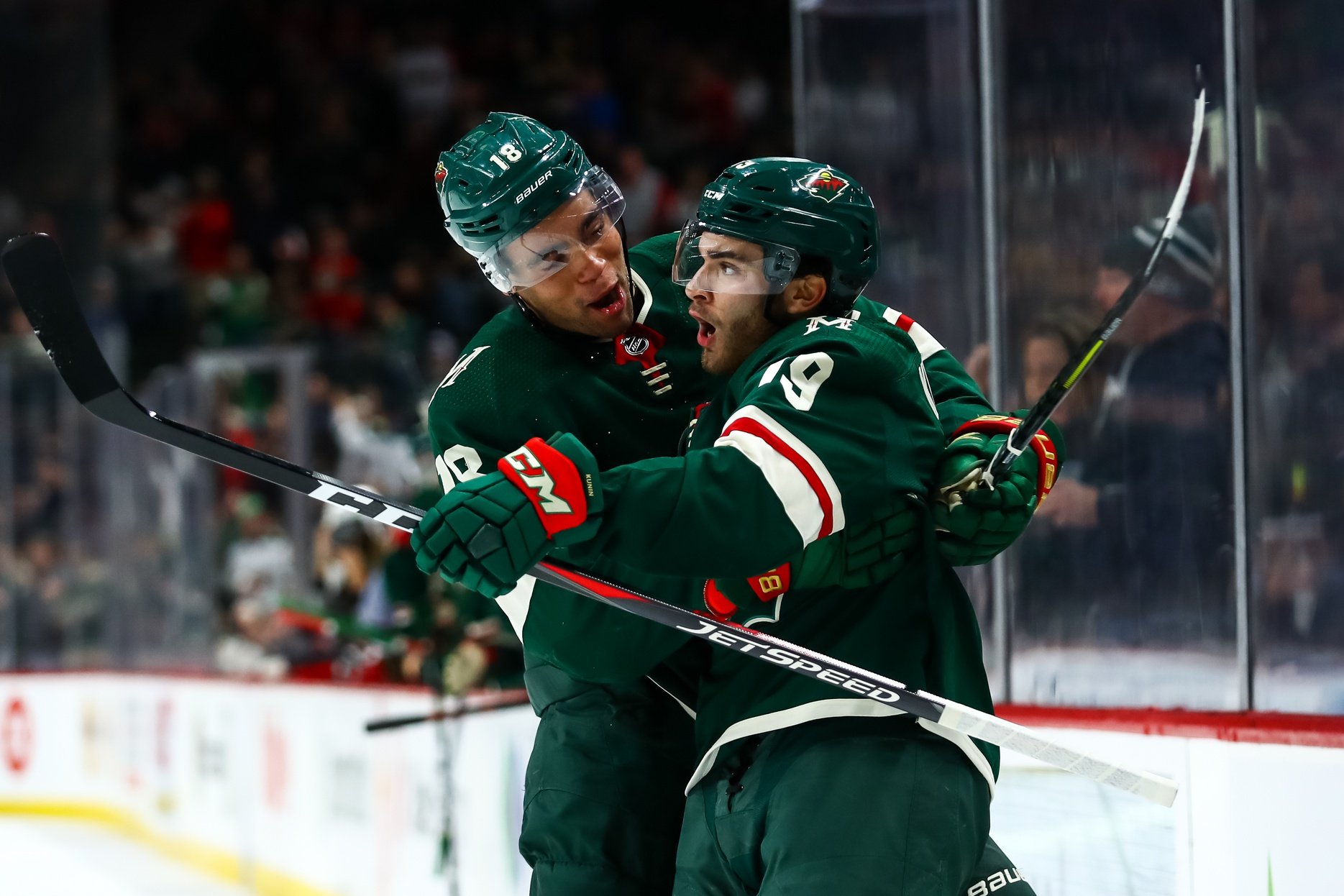 Yesterday we wrote about the win-win situation that Dean Evason is in. Indeed, the Minnesota Wild are playing with house money in general. Few expected the Wild to rebound after the organizational dysfunction from the season prior. Sure, everyone will want to win, but an early exit would be much less disappointing than, say, their 2017 playoff loss to the St. Louis Blues.
That doesn't mean Minnesota's playoff qualifier series against the Vancouver Canucks will be pressure free. Plenty of individuals will feel a need to deliver. A deep playoff run will change the legacy of Zach Parise and Ryan Suter in Minnesota. Kevin Fiala has to prove he's worth the massive extension he'll be angling for. And veterans like Mikko Koivu and Devan Dubnyk may be playing for their jobs next year.
But perhaps the most pressure will be on a trio of young players fighting for their futures with the club. Ryan Donato, Jordan Greenway and Luke Kunin are all in their second full-time seasons with Minnesota. Normally a group of under-25 NHL players would be seen as a big part of a team's future. They're young, cheap and have upside.
But two things could change that calculus in St. Paul.
The first is the upcoming expansion draft. The Seattle Kraken will have the right to select a player from the Wild's roster. Minnesota can protect a limited amount of players, but depending on their strategy, one or even all three of that group could be exposed.
And the second is a depth chart crunch. Donato, Greenway and Kunin all play the wing, which gives them plenty of competition for top minutes. Fiala ascended to a role where he plays 18-plus minutes a game. Parise and Mats Zuccarello are big-money veterans who the Wild rely on. Marcus Foligno is Minnesota's go-to defensive winger, meaning he's soaking up minutes in crucial spots.
This leaves precious little time for Minnesota's young wings. Kunin managed to scratch out 15 minutes a night, but Greenway averaged 14 minutes, and Donato got fewer than 11. And things won't figure to get easier going forward. Star winger Kirill Kaprizov will be in Minnesota next year, and top wing prospects Matt Boldy and Adam Beckman aren't far behind.
So what are these three players going to have to do in this playoff to stand out?
Donato is going to have to convince Evason and his staff that he can be trusted. It would be hard to ask more from him offensively. Since scoring his first goal on November 25, Donato did a ton of damage in limited minutes.
Donato was fourth in the NHL in goals per hour at 5-on-5 in that time, behind only Oliver Bjorkstrand, Alex Ovechkin and Dominik Kubalik. Only Brendan Gallagher generated high-danger scoring chances at a greater rate than Donato.
What held him back? In addition to the aforementioned logjam at wing, Wild coaches didn't trust his defense. Could this have changed? Donato played on a fourth line with Koivu and Ryan Hartman down the stretch. That line showed that it could score and be responsible defensively. Perhaps a couple of timely goals could convince Evason that Donato is worth the risk that comes along with his reward.
Greenway had a strong season, emerging as a dominant defensive force on par with Foligno or Joel Eriksson Ek. But Evason is looking for something more from him. Greenway has spent a good portion of training camp skating alongside Fiala and Eric Staal. It's a clear opportunity for Greenway to show he can skate on the top line. He just needs to grab it.
A good skater at 6'6", 227 pounds, Greenway has the capability of going wherever he wants on the ice. But it hasn't translated into goals - he has just 20 in 154 NHL games. Minnesota wants to see him assert himself more on the ice, and that means taking more than 6.2 times per hour at 5-on-5. If Greenway can show aggressiveness and scoring touch in the playoffs, it'll go a long way towards convincing Minnesota they have an emerging power forward in the organization.
In some ways Kunin is the flip side of Greenway. Kunin's aggressiveness (8.1 shots per hour at 5-on-5) and nose for the net stood out in Minnesota. He scored 15 goals without the benefit of much time on the power play. And the fact that he shoots right stands out on a team filled with lefties.
But despite his ability to get shots, scoring chances and goals, offense drops when Kunin is on the ice. The Wild averaged a team-low 2.06 expected goals per hour with Kunin on the ice at 5-on-5. Corey Sznajder's zone tracking data suggests a possible culprit: Kunin is a below-average transition player. All the skill in the world means nothing if you can't find your way into the offensive zone.
Kunin has been playing with Parise in training camp, giving him a linemate who is solid at carrying the puck. But Kunin has the speed and toughness to be more than a one-dimensional shooter. If he can put those skills to use as a one-man breakout, that'll go a long way to helping his own numbers and his team's offense. And that skill is in short supply in St. Paul. The Wild would be desperate to keep it.
A five-game series makes for a very small sample, particularly for these three players. If current trends hold up, they'll play no more than 80 minutes in this series. It feels silly to draw big conclusions based on how any of these players perform.
But the thing is, none of them have much more time to make an impression. The time for big decisions is coming, and it won't wait for Donato, Greenway and Kunin to become fully formed. A great series from any of them won't guarantee future stardom. But it could make the difference between Guerin moving on from any of them and going out of his way to ensure they get a longer look. They'll each need to show something over the next two weeks.
All stats via NaturalStatTrick.com unless stated otherwise.