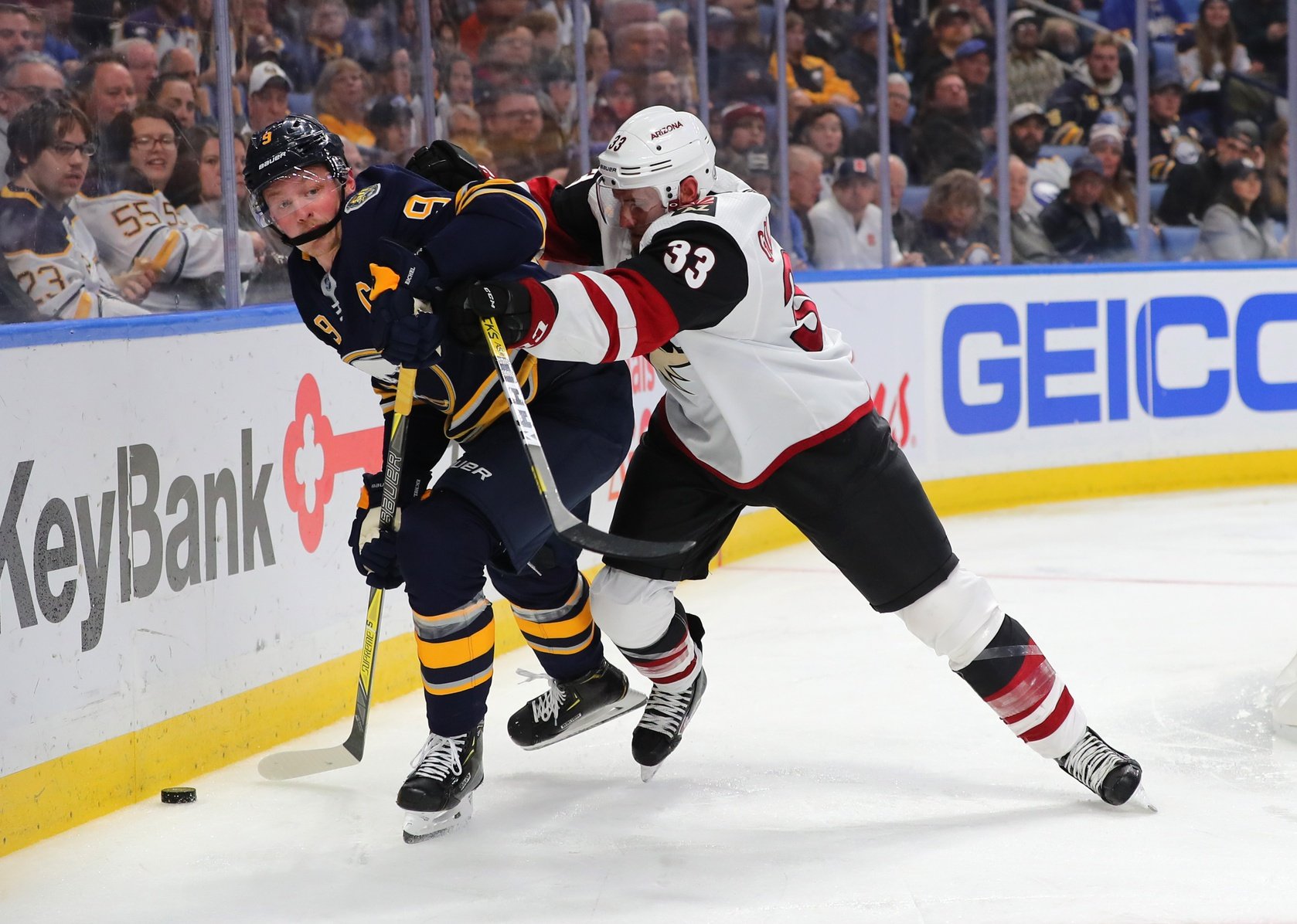 One could say it's been an eventful week in the NHL.
For Minnesota Wild fans, it's been an exceptionally newsworthy offseason thanks to trade talk, Expansion Draft rumors, player additions, player subtractions, and re-signings that haven't happened but will be important if/when they do. That news hasn't stopped coming ever since the draft concluded.
On Monday, the Athletic's Michael Russo reported that the Wild will likely make their first few calls of the free-agency period to veterans Alex Goligoski and Nick Foligno. What does this mean for the Jack Eichel sweepstakes that Minnesota has found itself embroiled in for the past few months?
The Buffalo Sabres' ask for Eichel is still reportedly very high, and given the exorbitant salary he commands for the next five years, it could be a signal that Minnesota might be out. The Sabres are still looking for futures, which the Wild might not be able to provide in its quest for an elite center.
Another indication Minnesota is falling behind in the battle to acquire Eichel: Their readiness to sign a couple of potentially expensive veteran contracts on the first day of the free agency period may be the stop sign the team is presenting to show they have lost out on Eichel. They can't wait idly by and hope that an Eichel trade might fall into place if they want to build a winning team this year. In the event of the team losing out on the expensive chance to see what Eichel would look like in forest green and Iron Range red, they need a contingency plan, especially when it looks like the team's development of the roster is being factored into Kirill Kaprizov's decision to re-sign with the team for next season.
Though Goligoski is from Minnesota and Nick Foligno's brother Marcus is on the team right now, it doesn't mean either or both of them will take a hometown discount.
If Goligoski were to receive roughly $4.5 million next season and Foligno got $3 million as Evolving-Hockey's model projects, that would seriously indicate that the Wild are planning to fill out their roster with the players they think can make the team competitive right now sans Eichel's services.
Although the Wild will likely not be done in free agency with just Foligno and Goligoski, the team would still be cap-strapped if they can sign them both. Moving the team towards contention with these players might be the best bet the franchise has this season, but that attempt will not come cheap.
[caption id=attachment_100830" align="alignnone" width="800]

Roster visualization possible via Armchair GM feature on CapFriendly.com[/caption]
This roster construction is about as bare as it gets. Making reasonable assumptions on Kaprizov and Kevin Fiala's contracts based on contextual data from the rest of the NHL, and using EvolvingHockey's estimates on the Goligoski and Foligno contracts, the team is missing two starting defensemen and a right wing with roughly $5 million in cap space as it sits right now.
Where the roster model above is increasingly unrealistic is the assumption that three AHL defenders would make the roster in Daemon Hunt, Calen Addison, and Dakota Mermis. Realistically, the Wild should assume only one of those players will win a spot on the roster. Also, slotting both Marco Rossi and Matt Boldy into the lineup could be wishful thinking for the upcoming season. Boldy has a more legitimate shot at making the opening-day roster because Rossi hasn't played competitive hockey in more than a year and has no experience at the AHL level.
Even with these generous assumptions of roster construction, especially with younger players making the roster, the team, as it looks in the image above, is just $1.3 million under the cap.
While this type of roster could be feasible for the upcoming season, giving up multiple pieces and getting as much money out as there is coming in with an Eichel acquisition would be nearly impossible at this juncture. Remove two NHL talents from that roster and add Eichel to that, and it becomes a very top-heavy lineup with a significant lack of depth.
Some still believe the shot at Eichel is too enticing to leave alone, even if Kaprizov were included in a deal. However, the case to avoid the center's myriad issues is also prevalent. Regardless of your thoughts on which way the Wild should go, signing both Goligoski and Foligno would make a deal with Buffalo unlikely.