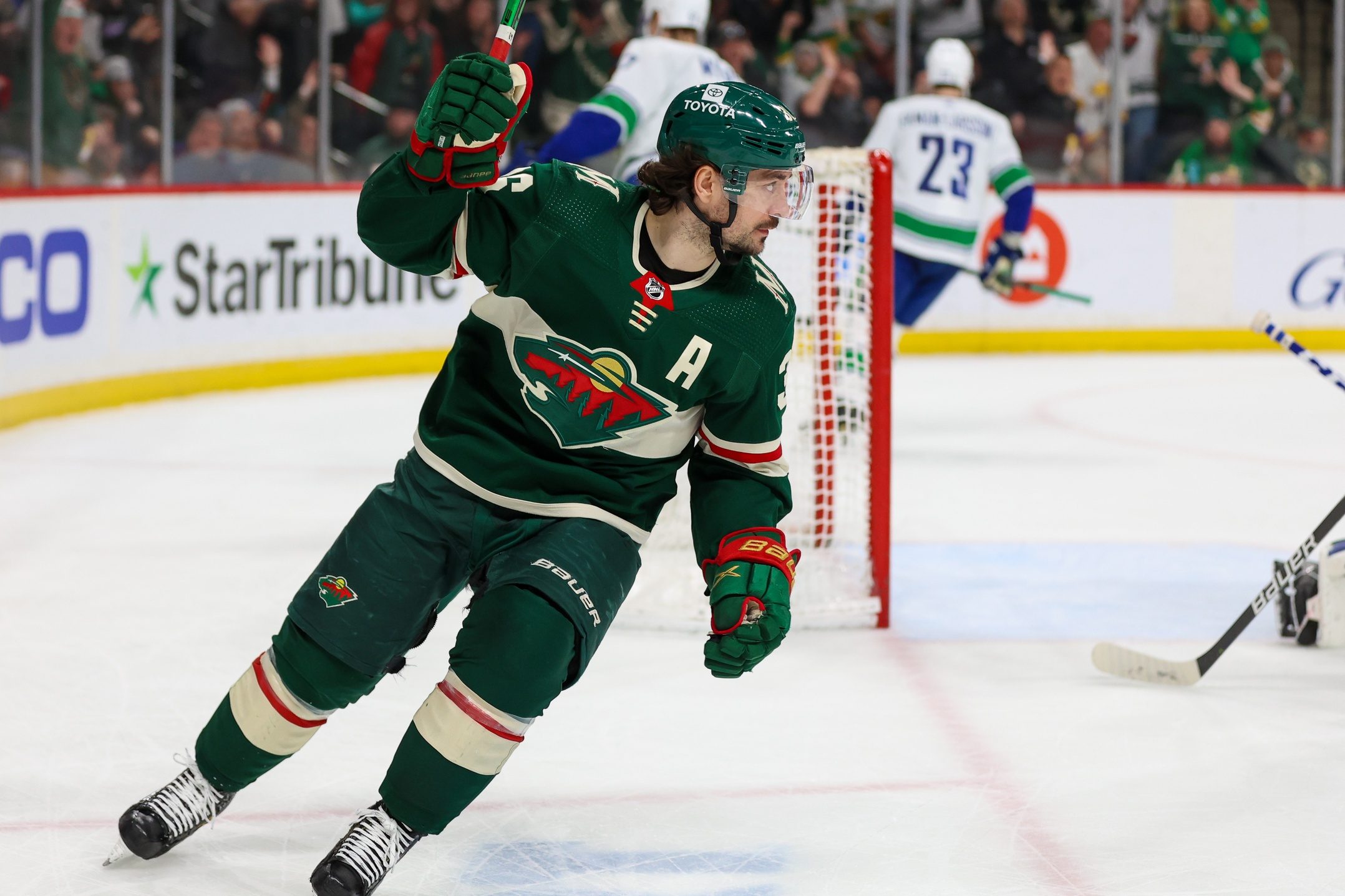 Mats Zuccarello did the improbable last season. He made his contract, which looked like a five-year albatross two years ago, look great. In just 70 games, Zuccarello gave the Minnesota Wild 24 goals and a career-high 79 points last season. According to Evolving Hockey, he delivered about five standings points worth of value. The Athletic's Dom Luszczyszyn had his season valued at $10 million, 67% more than his price tag would suggest.
Yet, armchair GMs in the State of Hockey had Zuccarello on the chopping block this summer. It's easy enough to see why. Zuccarello's entering his age-35 season, and his $6 million freight would have cleared much-needed cap room to re-sign 26-year-old Kevin Fiala.
But despite his No-Movement Clause turning into a 10-team No-Trade List, that was never going to happen. For many reasons.
First of all, this was probably the worst summer ever to trade a high-scoring winger. Two-time 40-goal scorer Alex DeBrincat fetched only three picks. However, one was the No. 7 overall selection. Still, that's little more than a mediocre offer sheet package for one of the league's best snipers. Zuccarello had no chance to recoup significant value. One year of 33-year-old Max Pacioretty, with 43 goals in his past 87 games, was traded for nothing.
Then there are the off-ice considerations. Zuccarello is the Kirill Kaprizov whisperer. Since uniting in February 2021, Zuccarello has factored into 82 of Kaprizov's 161 points (including playoffs). Their friendship off the ice is already a legend. Zuccarello was never going anywhere. He almost certainly wouldn't agree to a trade, and Kaprizov's happiness would've been at risk.
So Zuccarello's final two seasons are nearly as inescapable as the Zach Parise/Ryan Suter buyout penalties. The only remaining question is: Can he deliver similar value in those last two years?
Ask this question to the Oracle of Historical Trends, and it'll spit in your face and laugh. Of course not, dummy! The fact that he scored 18 more points than ever before at 34 is insane enough. Peaking in your mid-30s? It's basically impossible.
Evolving Hockey's Similarity Scores aren't terribly optimistic. His closest comparables include Michael Ryder, Mike Cammalleri, Cory Stillman, Alex Steen, and David Krejci. How did they do when they reached Zuccarello's age? We don't know about Krejci, who is attempting a comeback at 36 after spending last year in the Czech League, but we know how the other four did.
That's a big yikes there. 35 was the end of the line for nearly all of them. Ryder, a three-time 30-goal scorer, was already out of the league. Cammalleri, who'd reached the 30-goal plateau twice, had 66 unmemorable games remaining in his career. Steen had strong underlying numbers, but his production cratered to 17 points in 55 games. Stillman had some decent production, but while toiling anonymously for bottom-feeding Florida Panthers teams.
So what are the chances that Zuccarello defies those odds and provides what he did last year? To try to figure this out, we looked back at players who put up 4.8 or more SPAR (matching or exceeding Zuccarello's mark last year) at ages 35 and 36. Out of all forwards since 2007-08, we've got 15 seasons by 11 players in 15 years.
That group includes Martin St. Louis, Pavel Datsyuk, Patrice Bergeron, and Joe Thornton All four of those are Hall of Famers, with the first three among the four players to reach that 4.8 mark at both 35 and 36. There's a pretty straightforward explanation for these players' successes. They're freaks of nature, superstar players with longevity. Zuccarello's not that, so their inclusion is basically useless.
But now, let's look at Daniel Alfredsson, Ray Whitney, Henrik Zetterberg, Andrew Brunette (twice), Tomas Holmstrom, Patrik Elias, and Jason Blake, who all had one high-level season at ages 35 and 36. That group seems much closer to Zuccarello. What enabled them to perform at a high level that late into their careers?
In most cases, they have an MVP-type linemate driving the bus for them. Holmstrom got to ride with both prime Datsyuk and Marian Hossa. Admittedly, Alfredsson, a borderline Hall candidate, was alongside Dany Heatley and Jason Spezza at the height of their powers. Elias had his late-career renaissance while getting top power play minutes with Ilya Kovalchuk and Parise.
Even among players who didn't play with a slam-dunk Hall of Famer, they still had great teammates. Brunette benefited from playing with Mikko Koivu during his two best seasons. Whitney feasted on a killer Carolina Hurricanes power play while playing on a shutdown line with Rod Brind'Amour and Matt Cullen.
Blake is the only one where you don't look at his linemates and say, Yeah, that makes sense about his great late-30s season.
Another instructive example would be Joe Pavelski in Dallas. Pavelski had 4.1 SPAR in 56 games in the COVID-shortened 2021 season, followed by a 7.5 SPAR season at 37 the next year. Does Pavelski have a great NHL track record? Sure does. But he also benefitted from Jason Robertson's MVP-caliber play.
And that's the hope with Zuccarello. Maybe in a vacuum, he's not the kind of player Minnesota needs him to be. But with Kaprizov, who is no doubt an MVP-caliber linemate? Anything's possible.
But possible doesn't mean likely or probable. Zuccarello's chemistry with Kaprizov is one crucial ingredient for him to continue producing. He also has to fend off injuries, which he's historically struggled with. He's missed 10-plus games in three of the past four years. Throw in the universal battle with Father Time, and you have more reason for pessimism than optimism that Zuccarello can keep out-performing his contract.