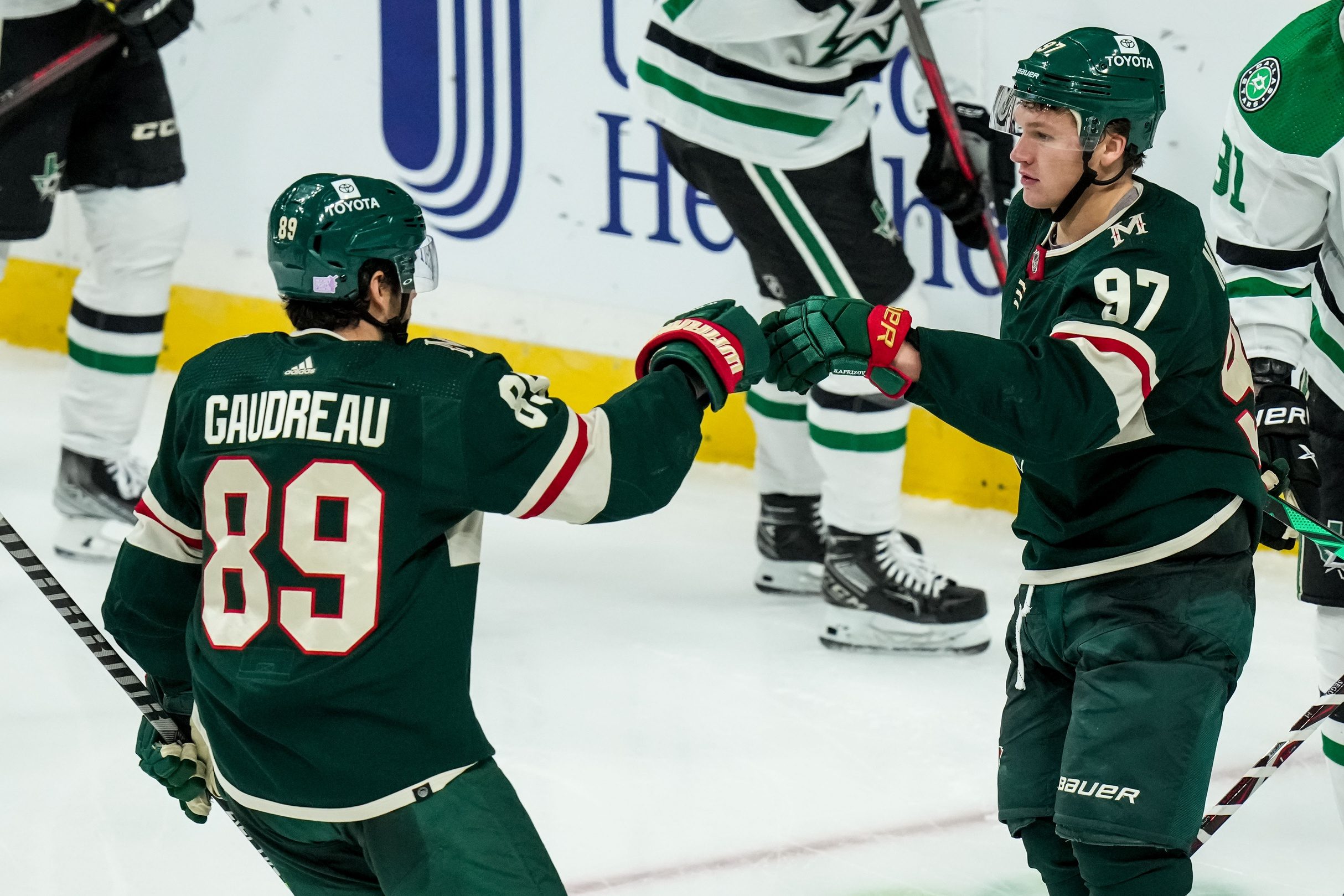 You might have heard this before: The Minnesota Wild need a center. Their leading scorer, Mats Zuccarello, plays the wing. So do their two most talented forwards, Kirill Kaprizov and Matt Boldy. Heck, if you look at the Wild's scoring leaders, you'll see defenseman Calen Addison is tied with their leading center, Joel Eriksson Ek, with seven points.
The focus for that, naturally, starts at the top of the lineup. Neither Ryan Hartman nor Freddy Gaudreau, Kaprizov's regular pivots this year, are considered Top-6 center talents. Few people in Wild history were. There's a lot of baggage that comes with that for fans and media. That's why finding a "true" center for Kaprizov will be a hot topic as the year goes on.
It's understandable why this will be the case. Hartman is a natural winger whose career-highs in goals and points were 19 and 31, respectively, before his breakout season. Gaudreau is a center, but he's a 29-year-old who had 103 career games entering last year. You can see the reasons for skepticism.
On the other hand, you've got to admit: These guys have worked well with Kaprizov. You know, the same Kaprizov who's on pace for a 55-goal season and a second straight 100-point year. This isn't a situation like Victor Rask, either, where you got the feeling the center was holding back the player. These players are assets to Kaprizov, and he's proving it on the ice.
We don't need much of a refresher on Hartman with Kaprizov and Zuccarello last season. We've written about how that line out-scored opponents at 5-on-5 before, and how they controlled 53.5% of the expected goal (xG) share.
Poor goaltending threw their goals differential out the window this year, as they've been out-scored 2-5. But in terms of controlling the play, they've been even better this year, at least through 37 minutes. They've owned 56.2% of the xG at 5-on-5, a very solid number.
We do need to talk about Gaudreau, who replaced Hartman on the line after last week's shakeup. They've broken even on the scoresheet (1-1 at 5-on-5), but otherwise, you can't get much better than they've been. Through 49 minutes, this trio is taking a whopping 77.2% of the xGs at 5-on-5.
That's fifth in the NHL among lines with 30-plus 5-on-5 minutes. Look at some of the trios Gaudreau's line is ahead of. Jack Eichel, Mark Stone, and Chandler Stephenson of the Vegas Golden Knights. Last year's legendary line of the Dallas Stars' Jason Robertson, Roope Hintz, and Joe Pavelski. And of course, lines anchored by all kinds of amazing "true" centers like Sidney Crosby, Sasha Barkov, Sebastian Aho, and Ryan O'Reilly.
Maybe you can point to Kaprizov "only" having three points in his last four games, all with Gaudreau at 5-on-5. But even when Kaprizov went on his 97-points-in-66-games tear last year, he had four such "slumps" then. That sort of stretch just happens, even to superstars. It's hard to say that Kaprizov isn't going to get his, especially with a Top-5 power play.
Which brings us here: If Kaprizov's going to get his points and control the play with Hartman and Gaudreau, what would Minnesota gain by finding him a "true" center?
That sounds ridiculous to say of a premier goal-scorer, especially to a fanbase that saw Marian Gaborik's prime years wasted with no real running mate. But when you think of the traditional No. 1 Center role, it's usually someone who can get the goal-scorers on the line the puck, and, ideally, someone who can provide defensive support.
Kaprizov doesn't need Gaudreau or Hartman to get him the puck. Not only can Kaprizov create his own shot as few others can, but he also has Zuccarello serving the role of that playmaker. Maybe that need opens up once Zuccarello's contract is up, but that's two years away. There aren't many centers that would do a better job of finding Kaprizov in the meantime.
So all you really need from that spot is someone who will provide defensive support and not slow the play down. Gaudreau isn't pushing the pace like Hartman has done with those two, but the defensive support is much better than it was with Hartman.
The Gaudreau-Kaprizov-Zuccarello line is the third-best defensive unit in the league right now, holding opponents to 0.72 xG per hour at 5-on-5. That's not going to continue to that degree all year, but they can be a top defensive line. That's incredibly important for a team that's lost its shutdown line from last year and appeared lost without it until recently.
How much are you getting by going out and trading for an established player to run alongside Kaprizov? I'm not saying they can't upgrade. Rather, is that upgrade going to give them the most bang for their buck? Would such a move translate into wins, or would it merely be a shiny toy to help Kaprizov score 115 instead of 105 points?
In the early goings, Gaudreau and Hartman are two of Minnesota's best forwards. According to Evolving-Hockey, Hartman is third on the team, giving the Wild 0.6 points in the standings, with Gaudreau just behind him with 0.5. It's early, yes, but that's more of an impact than certain centers, who are pending UFAs on mediocre-to-losing teams. "True" centers like Bo Horvat, Jonathan Toews, and Sean Monahan, for example.
Besides, it frees up Minnesota's "true" centers to hang out elsewhere in the lineup. Even the most skeptical fans concerning Mikko Koivu can't deny he wouldn't have been a no-doubt-about-it Top-6 center if he had, say, Nino Niederreiter's scoring touch. Boom, you've got Joel Eriksson Ek.
Gaudreau skating on the top line gives Minnesota the luxury of putting Eriksson Ek with Boldy. In 20 minutes together, they've already scored two 5-on-5 goals and allowed none, all while controlling 68.7% of the xG. And that is a line that's pushed the pace. It's one heck of a 1-2 punch for Minnesota if it continues.
Then you have Marco Rossi. If there was a reason to pair him with Kaprizov, it's to get Rossi going, not Kaprizov. In the meantime, though, Rossi is freed up to be with... well, whoever ends up emerging as an ideal linemate for him on their third line. Maybe the stout, strong two-way center gets a shot between Jordan Greenway and Marcus Foligno when they return? Perhaps Evason moves Eriksson Ek down and elevates Rossi to be with Boldy?
Either way, as long as they can get their top center prospect going, they'll have options to build a deep, potent Top-9 forward group. All of that is enabled by someone like Gaudreau or Hartman centering Kaprizov, and being solid, if not show-stealing.
Are either a "true" No. 1 Center? Does it matter? Kaprizov's lines have put up "true" No. 1 line numbers for the past 90 games. Even if it stops working at some point, they've never had better in-house options for a center than they do now. At this point, trying to fix this problem is wasting time and energy. The Wild simply have better things to do with their limited cap space and resources.
All data from Evolving Hockey unless otherwise noted.