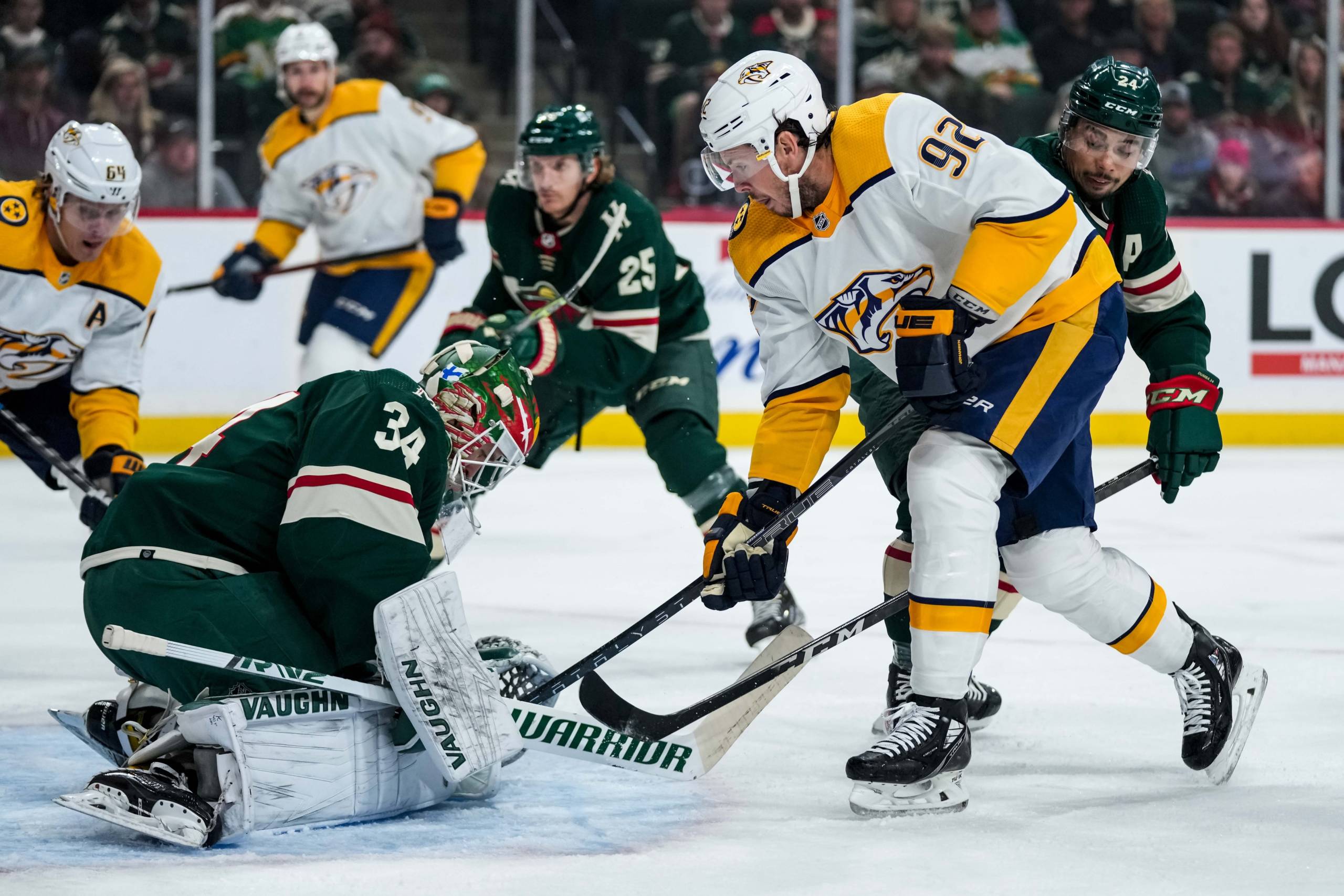 After a couple of seasons of playing in front of an aging and porous Devan Dubnyk, the Minnesota Wild finally stabilized their goaltending by signing Cam Talbot. An illness to backup Alex Stalock necessitated the promotion of Kaapo Kahkonen. The pair worked great for most of the 2020-21 season. Talbot provided the above-average goaltending that Minnesota had so desperately needed. Kahkonen had a solid rookie season, highlighted by a nine-game winning streak while filling in for an injured Talbot.
The goodwill Kahkonen built up disappeared when his play started to decline in the second half. The team showed no confidence in him after giving up a franchise-record nine goals to the St. Louis Blues on April 9th. As a result, Kahkonen started only five of their remaining 17 games, much less than the near 50/50 split they ran for most of the season.
As a result, the Wild played Talbot much more frequently, and it led to a marked drop in his performance in the last month or so of the regular season. Talbot had a .925 save percentage through the end of March. But it dropped to .904 as he took on more workload in April and May. Unfortunately, we are already starting to see a similar trend unfold just nine games into the 2021-22 season.
Through the first nine games of the regular season, Talbot has started all but one of them. While he was good enough to win six of those eight games, he hasn't consistently put up great numbers. He currently is posting a mediocre 2.72 GAA and a .905 SV% in eight games played.
Typically, if a team's starting goalie isn't playing very well, they turn to their backup. They'd play a few more games and lessen the load on the starter, giving them time to rest and recover. The problem that the Wild have is that they don't seem to trust their backup. They only want to play Kahkonen whenever they have to. Even on the second half of a back-to-back, when teams typically turn to a lesser backup, Minnesota sometimes gives Talbot the start.
It is not impossible to understand why the Wild have felt the need to play Talbot so often. After all, he's their starting goalie and often gives them the best chance to win every game. They want to get off to a great start and bank as many points as possible in the early portion of the schedule. History shows that if you are in a playoff spot around American Thanksgiving, you'll more than likely be there at the end of the regular season.
But Minnesota's goal is to win the Stanley Cup, not merely to make the playoffs. Playing Talbot in this many games may not work well in the long term. He will start to wear out at some point, and his level of play will drop. It's why you don't see very many goalies play 65-70 games in a season anymore. Most teams understand that it's better to have more of a 1A/1B scenario with a more even split of the games.
Not only does this allow both goalies to get consistent playing time, but it also helps the starter stay fresh and healthy when the playoffs come around. We've seen Minnesota play Dubnyk in 60-65 games during the regular season. It got them into the postseason, but he had little left in the tank once it started.
The Wild need to be able to trust their backup goalie. It may be hard for them to trust Kahkonen, given his performance over the second half of last season and in his single start this year. But Kahkonen had some good times, winning Goalie of the Year and showing out during his nine-game win streak last season. Perhaps by playing him in games more frequently, Kahkonen can recapture that and get into a rhythm.
However, if the Wild don't feel like they can trust Kahkonen, they could look at external options. A waiver pickup or a trade would cost them little to nothing regarding assets going back the other way. Of course, this doesn't guarantee success, but it is an option if the Wild feel that they need to go in another direction or don't have a solid Plan B in net.
Either way, they have to solve this situation reasonably quickly. If Minnesota's goal is to win the Stanley Cup, they need to have a backup goalie that they trust. If that isn't Kahkonen, then they must have a Plan B at the backup goalie position. They aren't going to be able to go very far if Talbot is out of gas come playoff time.