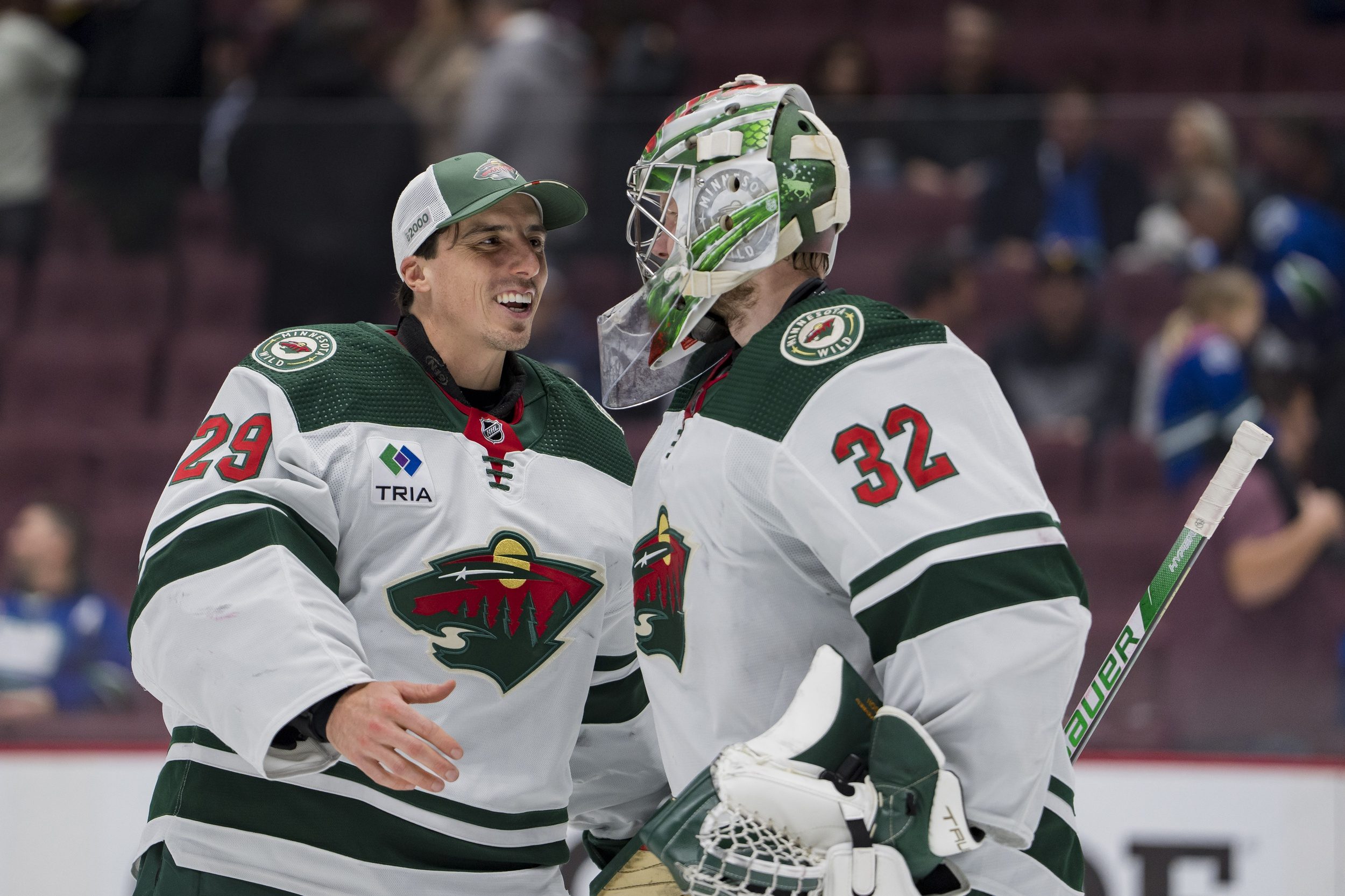 Remember when the Minnesota Wild couldn't get a save to begin the season? Recall having to flinch at every opposing shot on goal in fear it might go in the net? That seems like ages ago.
The Wild are beginning to truly find their stride for the first time all season. Winners in nine of their past 12 games, Minnesota has climbed into a more comfortable position in the standings. And it's largely thanks to their goalies being more comfortable in the net.
They were the No. 1 factor in their disastrous start to their seasons. Marc-Andre Fleury and Filip Gustavsson posted a combined Goals Saved Above Expected (GSAx) of -8.96 in their first five games. For context, that's nearly two goals above expected per game. It was atrocious. However, a regression to the mean can be a good thing too, and it certainly has for the Wild's duo.
Since October 22nd, starter Fleury has posted a mediocre, yet respectable, -0.86 GSAx. Considering his age and salary, that's a performance one could have expected for the future Hall of Famer this season. And for a Minnesota team with a reputation for stalwart defense, it's certainly good enough to win a fair number of games.
However, his backup's been even better.
Gustavsson has been remarkable during that same span, posting a GSAx of 6.44 in just 9 starts. Sure, the Wild have clearly sheltered him with starts against inferior competition compared to Fleury. Still, the early returns on Gustavsson's time in a Wild sweater give them a ton of flexibility with their goaltending situation for the rest of this season and beyond.
The Wild traded for the struggling Gustavsson last summer when Cam Talbot asked to leave following Fleury's extension. It was a gamble by Guerin, with an aging starter and a now unreliable backup behind him. But with his recent play, one could argue Gustavsson's playing time should increase significantly.
And it already has, slightly. When both goaltenders struggled in October, Fleury caught fire first and, consequently, started most of the games. After starting in 70% of that month's games, the Wild have eased closer to a 60/40 split in November and December. But hasn't Gustavsson, 24, earned himself a shot at giving the Wild a true duo in net?
It's a move that would benefit the Wild in the short term and long term.
First, the short term. Fleury is no spring chicken. And while he is still an elite athlete at age 38, it would be best for the Wild not to overwork him should they choose to put the pedal to the floor with him in the postseason. Furthermore, Gustavsson is flat-out playing better right now.
The Wild have given him an easier slate of games, but his performance over the past calendar month has been otherworldly. In five starts since the middle of November, the Swedish netminder has a GSAx of +4.66 in just five starts. At that point, it doesn't matter who his opponents are. This is the NHL, and he is practically giving his team a 1-0 lead before they even drop the puck.
Meanwhile, Fleury has been rather pedestrian, with a -6.55 GSAx in seven starts as he begins to cool down from his brief hot streak.
Also, as a team, the Wild are starting to play better in front of their goalies. Dean Evason would be wise to play the hot hand to capitalize on it.
It makes even more sense when you project long-term how the Wild plans to handle their goaltending situation. As an upcoming RFA, Gustavsson is due for a new contract, but he's also under team control. With Jesper Wallstedt likely needing another season in the AHL next year, the Wild may have found their bridge goaltender in Gustavsson, not Fleury.
With Fleury still signed through next season, he isn't going anywhere. However, there is the matter of his goalie tandem partner for next season. The Wild could have turned to Wallstedt to learn from Fleury for a season, but he is better served playing most of the games in Iowa. If Gustavsson were to agree to a short-term, low-AAV deal, he could actually be the one mentoring Wallstedt when he finally arrives in 2024-25.
Yet, if his recent play continues through the rest of the season, he might be pricing himself out of Minnesota. It's not inconceivable to imagine, with Gustavsson once being a high second-round draft pick. With the dead cap hits increasing again this summer, the Wild are strapped for space.
Yet once again, not a bad situation for general manager Bill Guerin should that happen. As an RFA, Gustavsson would be highly coveted on the trade market -- teams are always clamoring for economical options in net. Regardless of how you look at it, Gustavsson's stellar play of late is a win-win-win situation for everyone involved as long as he can keep it up.