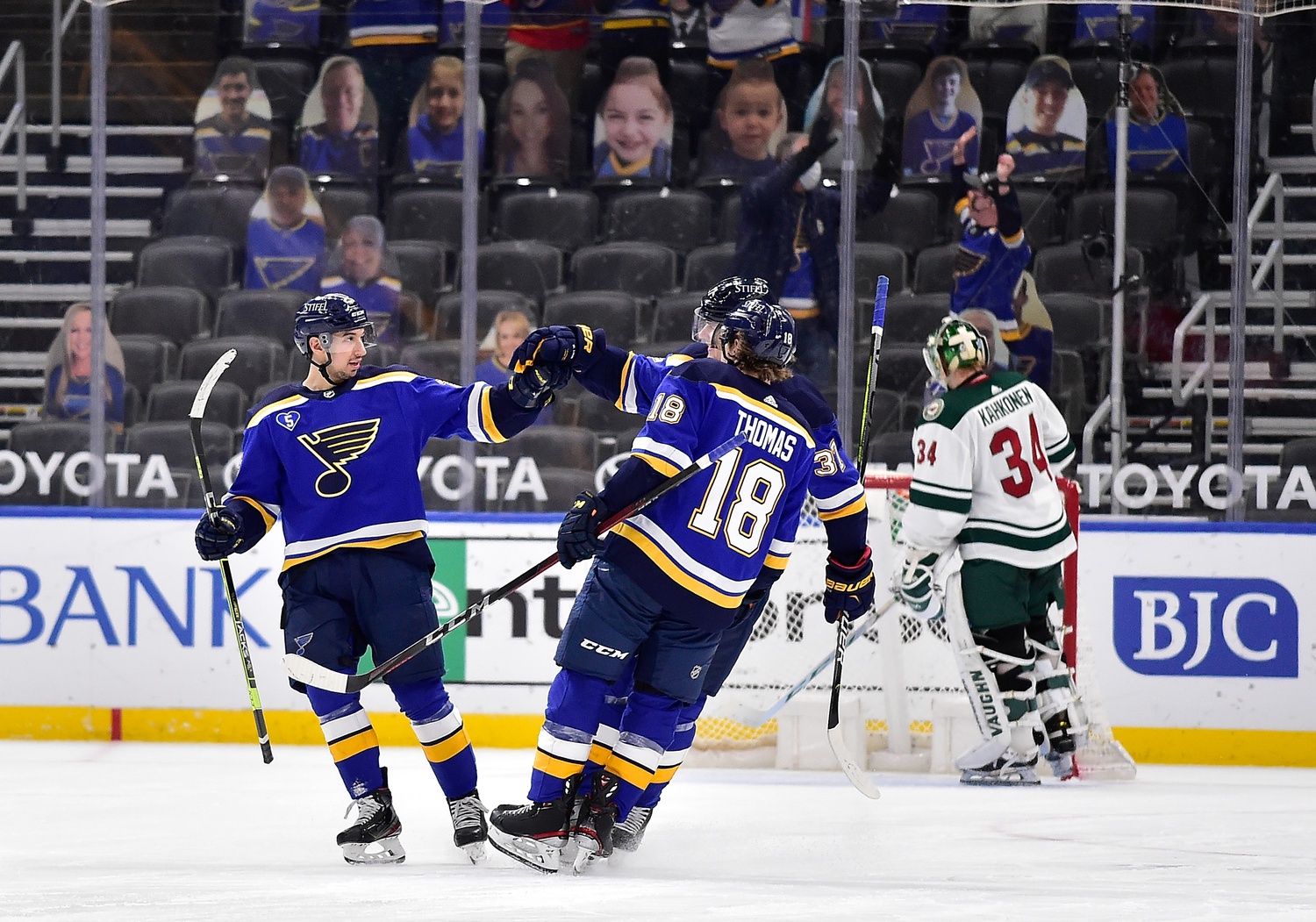 The Minnesota Wild are playoff-bound for the second time (or third, depending on your feelings on bubble hockey) in as many seasons. The question now becomes, which of Minnesota's Central Division foes are they most likely to square off against in Round 1, the Nashville Predators or the St. Louis Blues? Neither is ideal at this moment. Minnesota is 0-3-1 on the season against the two of them.
However, it is more of a troubling trend than a run of poor results against division rivals. This season, Minnesota is 10-3-2 against Eastern Conference playoff teams and 6-10-2 against Western Conference playoff teams. The Wild are 1-5-2 in a combined eight games against Nashville, St. Louis, and the Colorado Avalanche, the three teams they will probably match up against in the first two rounds of playoffs.
The Wild had the chance to exorcise its demons last Friday in St. Louis, but they surrendered a 3-1 lead in the third period en route to falling 4-3 in overtime. With Friday's loss, Minnesota is now 2-5-3 against the Blues dating back to last season, and St. Louis outscored them 45-26 over that stretch. That spells bad news for a Wild club that is weeks away from a potential first-round playoff matchup with its Central Division counterpart.
Why do the Blues have Minnesota's number? What changes do the Wild need to make to beat the Blues in early May?
It's been said before, but for the Wild, any postseason success starts with an improvement on special teams. Their 18th-ranked power play has struggled to find its footing over the last few months. However, Minnesota's 24th-ranked penalty kill is the real culprit. It's been downright unwatchable lately, allowing 20 power-play goals since the start of March (64.3%).
It's the opposite story for St. Louis. They currently hold the third-ranked power play and seventh-ranked penalty kill in the NHL. That presents a unique challenge for Minnesota, whose physical play doesn't lend itself to staying out of the box.
The script is flipped at even strength, though. The Blues have some very underwhelming possession numbers at even strength, including the league's 20th-best expected goals share. St. Louis ranks last among Western Conference playoff teams in expected goals share, shots on goal share, and expected goals against per 60 minutes. For comparison, Minnesota ranks eighth in the NHL in expected goals share, tenth in shots on goal share, and second in expected goals against per 60 minutes (per EvolvingHockey).
[caption id=attachment_122667" align="alignnone" width="1700]

Courtesy of Evolving Hockey.[/caption]
The Blues have one of the most talented and well-rounded top-9 forward groups in the NHL. Pavel Buchnevich, Robert Thomas, and Jordan Kyrou are having tremendous breakout seasons, while Vladimir Tarasenko and Ivan Barbashev are both on pace for their most productive seasons ever. Ryan O'Reilly and David Perron are tremendous defensively, and Brandon Saad and Brayden Schenn are productive middle-sixers. They don't have a Kirill Kaprizov-level scorer, but they have ten forwards above the 40-point mark, whereas the Wild boast only five.
The blueline is a clear step back from the unit Alex Pietrangelo led to a Stanley Cup in 2018-19, but it isn't one to shrug off. Torey Krug, Justin Faulk, and Colton Parayko make for a solid top four, while Nick Leddy and Niko Mikkola are decent complementary options. Like the forward group, the defense is very well-rounded, even if it lacks an elite top-pairing player.
It's been a rollercoaster season in the St. Louis net. Jordan Binnington struggled mightily out of the gates in the first year of his 6-year, $36 million extension. Ville Husso has been excellent in relief, winning the starting job from Binnington in the last few months.
It's the correct call, too. Binnington has -8.41 goals above expected in 32 appearances this season. Comparatively, Husso has 18.37 goals saved above expected. It's a tough decision for Craig Berube and a storyline to monitor these next few weeks. Do they roll with Binnington, who gets paid like a starter and played an essential role in the 2018-19 Stanley Cup-winning team? Or do they go with Husso, who is having a much better season than Binnington statistically?
There are a lot of similarities between the two clubs, and that's part of why this is such an intriguing potential Round 1 matchup. Both teams have produced well above their expected output while getting solid, albeit inconsistent, goaltending. No other team has scored more goals above expected than Minnesota and St. Louis, who have scored 55.36 and 47.06 goals above expected, respectively. Is it a fluke, or is their scoring talent something real? We'll find out soon.
The Blues aren't the scariest team in the Western Conference playoffs, but they are far from a comfortable draw for the Wild. They're deep, physical, high-scoring, and have a core of recent Cup winners in the dressing room. Especially considering the recent head-to-head results between the clubs, it's easy to see why Wild fans should feel uneasy about playing the Blues.
That said, playing St. Louis is better than playing Nashville, Colorado, or the Calgary Flames in Round 1. The Blues are good, but they have holes. Shaky goaltending, poor underlying defensive numbers, and lack of blueline depth are all areas that Minnesota can expose in a potential playoff showdown. If Minnesota can shore up its special teams and get reliable performances in the net, it has more than a chance.