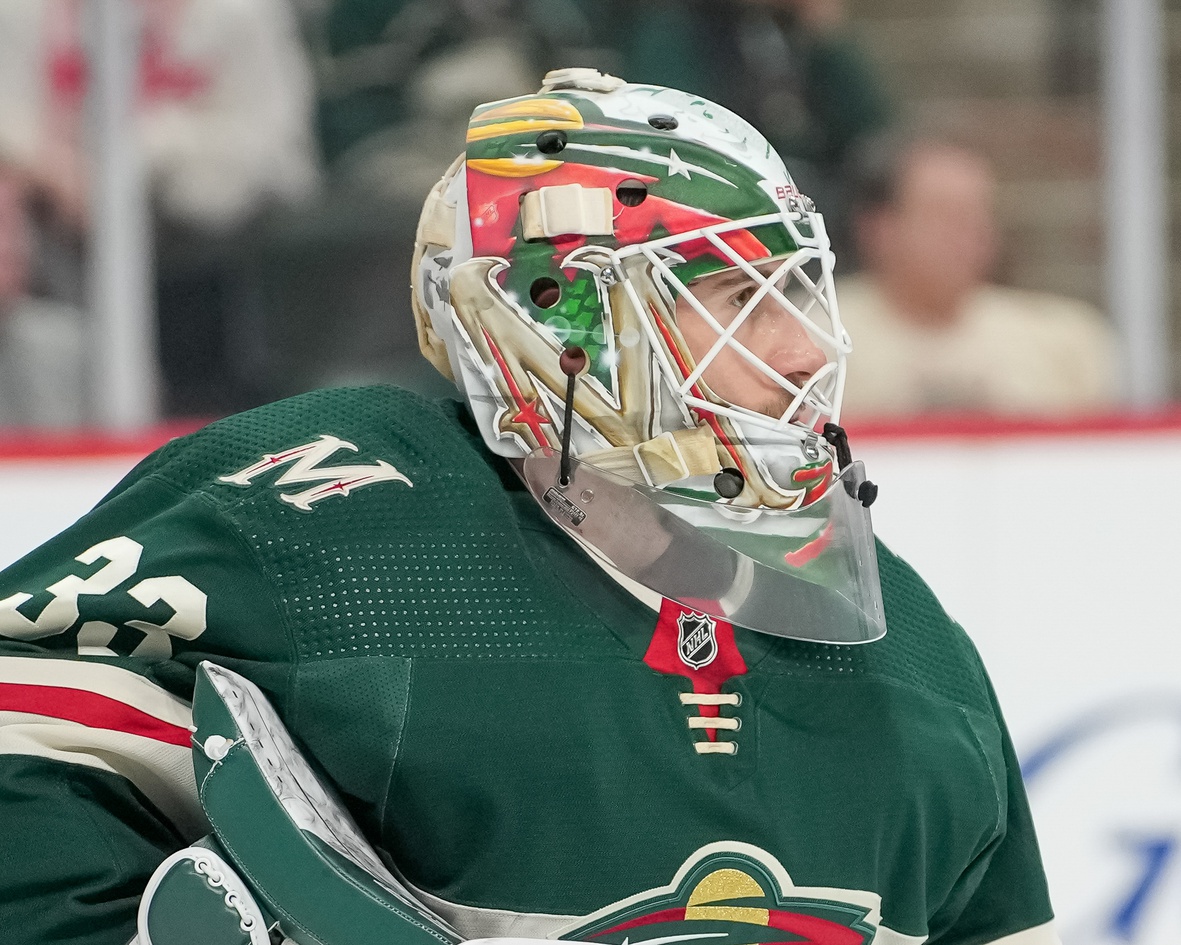 Kaapo Kahkonen and Cam Talbot have shown that they can be starting goaltenders throughout their careers. Lately, though, it seems like neither of them wants the role. Talbot has given up 4 or more goals in 6 of his last 8 games. Meanwhile, Kaapo Kahkonen has given up 4 or more goals in 4 of his last 5 games. Both are concerning trends.
It seems like it has been a long time since we have seen an outstanding performance from a goaltender in Minnesota. If one of them could just get on a hot streak, the Wild can stay out of a Wild Card spot and make a deep run in the postseason.
With the condensed schedule after the All-Star break, Dean Evason has been giving Talbot and Kahkonen about the same amount of playing time. Perhaps that's why it seems neither of them can find a groove. The catch-22 here is that you almost have to rotate two goalies with how many games the Wild are playing in so few days, so the playoff starter doesn't get burnt out.
So who will start in the playoffs?
Talbot was very good in last year's first-round playoff series against the Vegas Golden Knights. Talbot has more NHL playoff experience, with a .923 career save percentage through 30 starts. But Kahkonen, the 2019-2020 AHL "Goalie of the Year," has shown he can be an elite goaltender when he knows it's his net. For example, Kahkonen strung together 9 wins in a row when Talbot got hurt last season. He had a .947 Save Percentage and a 1.44 Goals Against Average during that stretch. When Talbot got hurt again this year, Kahkonen went 5-0-1 with a .937 save percentage and a 2.26 goals against average.
So the main question is: Do you give the net to the rookie who has proved he can be elite when he's the No. 1, or the 34-year-old veteran who has seen 30 playoff starts?
In the past 10 years, we have seen brilliance from rookie goaltenders in the playoffs: Jordan Binnington in 2019 and Matt Murray in 2016 and 2017. The last time a goalie over 34 led his team to a Stanley Cup victory was in 2011 when Tim Thomas' Boston Bruins hoisted the Cup.
In the past 10 years, the older goaltender has only won the Stanley Cup twice. Corey Crawford was older than Tuukka Rask in 2013 and Ben Bishop in 2015.
With that in mind, Kahkonen should lead the Wild in the playoffs. He's also been slightly better than Talbot. Their season stats are similar, but Kahkonen has been much better than Talbot when he's had a string of starts.
But do either of them have what it takes to make a deep playoff run? It looks like Talbot's best days are behind him. He has been slowly declining since last year's playoffs. Kahkonen has been good when given a chance to be a starter, but there isn't a large sample size. Not to mention the playoffs are a completely different animal, and he has yet to play in a postseason game. Neither players' stats look great this season. Their GAA's are hovering the 3.00 mark, and their save percentages are both under .915.
The Wild has looked like a shell of the team that briefly led the Central Division and the league. Their shortcomings have suddenly been exposed in many aspects of their game. It will be interesting to see if Bill Guerin addresses the Wild's goaltending issue ahead of the March 21st trade deadline. However, it seems as if he will let his players figure it out for themselves as he likes the team's chemistry, even if it has been mostly absent for the past month, and seems unwilling to give up top prospects or first-round picks.
The end of the regular season should be used as a tryout for both goaltenders, and the better goalie should earn the reins in the playoffs. However, sadly, none of this may matter if the Wild can't get out of this month-long slump they have been in. They have seen their name steadily drop in the standings, and if they don't figure it out soon, they may miss the playoffs completely.