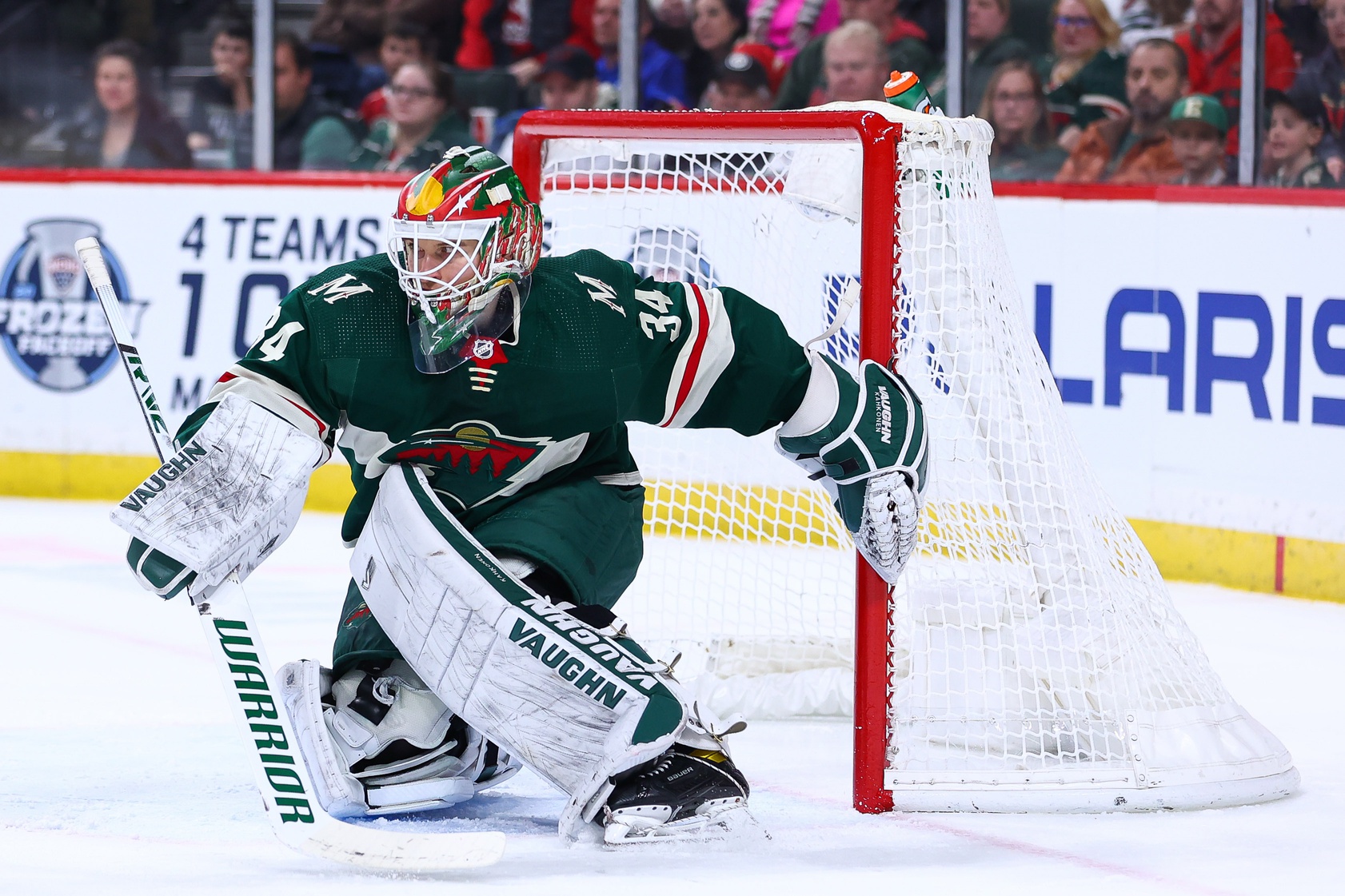 The NHL trade deadline has come and gone, and the Minnesota Wild have added 2021 Vezina Trophy winner and future Hall-of-Famer Marc-Andre Fleury. In a subsequent move, the Wild sent Kaapo Kahkonen and a fifth-round pick to the San Jose Sharks for Jacob Middleton.
It's puzzling that the Wild chose to trade the younger goalie in Kahkonen when he has been better than Talbot throughout most of the season. Plus, Talbot's prolonged slump made them scan the trade market for a goalie in the first place.
It has also been reported that Bill Guerin was willing to trade for a goalie when Talbot got hurt during the Winter Classic, and what stopped him from making a trade was Kahkonen being able to step up and play well. Most importantly, the Wild traded him for a depth defenseman. Kahkonen's hot streaks show he has a high ceiling, and the return in that trade is underwhelming.
This isn't to take away from the Fleury trade. Wild fans should be ecstatic that they have a future Hall-of-Fame goalie to lead them through the playoffs, all for a conditional first-round pick, which Guerin hesitantly gave up. The first-round pick becomes a second-rounder if the Wild do not make it past the second round of the playoffs and Fleury doesn't win four games in the first two rounds. And yes, the Wild also needed another big defenseman, but not at that price they paid for Middleton.
Kahkonen, 25, has only played 54 games in the NHL and has not hit his prime yet. But it doesn't seem as if the Wild ever saw him becoming a starting goalie. They never gave Kahkonen a fair shot to be a starting goaltender, even though he proved he was capable when Talbot got hurt this year and last. When Talbot recovered from his injury, they went right back to him even though Kahkonen put up elite numbers.
They kept giving Talbot games when he was struggling to get him to snap out of it instead of riding the hot goaltender. That arguably kept both goalies in the slump they were in. Talbot has been streaky his entire career, making him better suited for the backup role he will soon be in.
Looking ahead to next season, Fleury will be an unrestricted free agent, Cam Talbot will have one more year on his contract, and Jesper Wallstedt's SHL contract will be up. It has been rumored that Bill Guerin may want to re-sign Fleury. That will surely come at a high rate, which Minnesota might not be able to afford given their impending dead cap money. If they find a way to get it done, that leaves little room for boosting the rest of the lineup, including possibly re-signing Kevin Fiala. If they had kept Kahkonen and dealt Talbot, Kahkonen could take over the starting role in the 2022-23 season as a cheaper option as a backup until Wallstedt is NHL ready.
We will soon see Kahkonen's potential as a starter. However, it may be because he will be playing in front of a bottom-tier team in San Jose. Still, they have two great, although aging, defensemen in Erik Karlsson and former Minnesota Wild first-rounder Brent Burns. Both are former Norris Trophy winners.
Not only did the Wild trade the wrong netminder, but the return they got for Kahkonen was also underwhelming. However, he will get an excellent opportunity to showcase his talents in San Jose because they need goaltending. The trade also gives Jesper Wallstedt a clear shot to break into the NHL whenever he's ready. He will undoubtedly be in North America next season, though Guerin's insistence that young players pay their dues in the minors means that he will be in Des Moines next season.
There is a long history in all Minnesota sports of letting players go, only to watch them flourish on their new teams. Let's hope the Wild don't experience that regret with Kahkonen. Guerin has yet to make a bad trade, but, hey, no one is perfect. Picking Talbot over Kahkonen may be his first blunder.