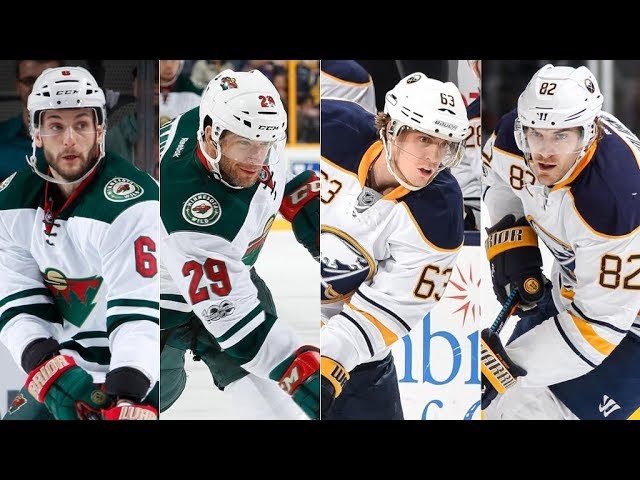 It's a question that many Wild fans will be asking themselves after all of the dust settles on this offseason. We're still waiting on the RFA contracts of Nino Niederreiter, Mikael Granlund and Marcus Foligno to go through, and there still may be a veteran forward joining the roster as well (whose name may or may not rhyme with Fat Mullin).

 

Since each player departed was fairly simply replaced with a different player in a similar role, I'm going to play a little exercise in figuring out if the Wild improved, stayed the same or got worse -- and to what degree. Obviously, there's no way of knowing what actually is going to happen this season, but it may shed some light. Tyler Ennis could become the next Tyler Seguin, Jason Pominville could become Jason Pominville 2007-2014 or Marco Scandella could become Marco Polo, there's no way to know.

 

Jason Pominville for Tyler Ennis

Pominville - 34 years old, 6 feet tall, 181 pounds, two years left on deal at $5.6 million per; 78 games played, 13 goals, 34 assists, 47 points, 2.54 points per 60 minutes, plus-6.2 percent Corsi attempts relative to team in 2016-17.

Ennis - 27 yrs, 5-foot-9, 175 pounds, two years left on deal at $4.6 million per; 51 games, 5 goals, 8 assists, 13 points, 1.19 P/60, plus-1.5 percent Corsi Rel

It's been beaten to death on social media how much this was not a fair swap, but it really looks ugly just looking at the raw stats like this. No matter your opinion of Pominville, his relative health and production are easily worth the extra million dollars per year, and that's not even bringing #fancystats into the equation, where Pommer did quite well for himself 5-on-5. On the positives, the Wild got seven years younger on the deal acquiring Ennis, and *did* save that million smackeroos, and if it lands a productive fourth line center that they wouldn't have been able to afford otherwise, that would go a long way towards balancing the deal.

 

Erik Haula for ??? 

Haula - 26 years old, 6 feet tall, 193 pounds, three years left on deal at $2.75 million per; 72 games played, 15 goals, 11 assists, 26 points, 1.57 P/60, plus-2.5 percent Corsi Rel

This one is tricky, since the Wild haven't signed said fourth line center yet to replace Haula. The Wild had to lose someone to Vegas, and it turned out to be Haula, but it was more like Alex Tuch, since he was the more valuable commodity. Vegas took Haula, because that's a player they could take, and kicked back a third-round pick, which is probably close to fair value considering the Wild didn't intend on re-signing Haula anyway. The Wild seem pretty determined to sign another veteran forward for this role, rather than miscasting Charlie Coyle or Joel Eriksson Ek. Whomever the Wild find to replace him will likely be older, but definitely cheaper, and quite honestly, is probably likely to produce about the same.

 

Alex Tuch for Marcus Foligno

Tuch - 21 years old, 6-foot-4, 222 pounds, $925k on entry-level contract; 6 games play, 0 goals, 0 assists, 0 points, 0.00 P/60, plus-4.7 percent Corsi Rel

Foligno - 25 years old, 6-foot-3, 228 pounds, restricted free agent; 80 games played, 13 goals, 10 assists, 23 points, 1.11 P/60, plus-0.5 percent Corsi Rel

Well this is the wild card now, isn't it? These two lumbering forwards probably would've played slightly different roles on the Wild, but most likely in the bottom-six regardless. Tuch, the touted prospect, got a mere cup of coffee in St. Paul last season, but is likely to play more often this season in Las Vegas. Foligno is a restricted free agent who you'd have to imagine the Wild re-sign, and probably for around the $2 million mark he made last season, which is spendy not only compared to Tuch, but for his likely role.

 

Marco Scandella for Kyle Quincey

Scandella - 27 years old, 6-foot-3, 208 pounds, three years, $4 million per year left on deal; 71 games played, 4 goals, 9 assists, 13 points, 0.60 P/60, plus-0.7 percent Corsi Rel

Quincey - 31 years old, 6-foot-2, 216 pounds, one year, $1.25 million left on deal; 73 games played, 6 goals, 9 assists, 15 points, 0.69 P/60, minus-1.7 percent Corsi Rel

Scandella's contract needed to be moved, and apparently, the best the Wild could do was upgrading a fourth-round pick to Buffalo's third, and Foligno -- assuming Ennis for Pominville is equal value...somehow. So the Wild bring in Quincey to take Scandella's spot as the veteran on the third pairing. That is, likely playing more of a Nate Prosser-type role this season for one-third the price of Scandella, but twice the price of Prosser. Quincey is reportedly going to be playing on his off hand as a left-shot defenseman, with this team desperately lacking in right-handed defenders. While Scandella had a rough last two seasons relatively speaking, Quincey's previous year doesn't really look any better. But again, it's at a sharp discount.

 

For the purposes of this exercise, I'll be counting Gustav Olofsson and Mike Reilly as additions despite their Wild homegrown status, due to their lack of NHL time last season, and assume that Prosser and Folin were let go more or less in order to make ice time for those prospects, which seems fairly logical.

 

Nate Prosser for Gustav Olofsson

Prosser - 31 years old, 6-foot-2, 201 pounds, unrestricted free agent; 39 games played, 2 goals, 5 assists, 7 points, 0.85 P/60, minus-3.4 percent Corsi Rel

Olofsson - 22 years old, 6-foot-3, 195 pounds, two years, $725k per year left on deal; 13 games played, 0 goals, 3 assists, 3 points, 1.03 P/60, minus-4.7 percent Corsi Rel

Prosser, a longtime defender for the Wild, is likely headed elsewhere this offseason, but still hasn't landed anywhere just yet. It seems that there will be a revolving door on the third pairing this season between Olofsson and Reilly, similar to last year with Prosser and Christian Folin. While Olofsson's small sample size numbers won't pop off the page, it's very likely that he'll be a better defender than Prosser, for sure down the line, if not immediately.

 

Christian Folin for Mike Reilly

Folin - 26 years old, 6-foot-3 204 pounds, one year, $850k deal signed with Los Angeles; 51 games played, 2 goals, 6 assists, 8 points, 0.63 P/60, minus-2.9 percent Corsi Rel

Mike Reilly 23 years old, 6-foot-2, 193 pounds, two years, $725k left on deal; 17 games played, 1 goal, 0 assists, 1 point, 0.29 P/60, plus-2.2 percent Corsi Rel

Folin was a surprise entrant on the non-qualified restricted free agent list for the Wild, but apparently the team was very wary of his command in arbitration, and rolled the dice on losing him, which ended up being the case. Folin signed in Los Angeles for a 'show me' deal, and Wild fans seem to be split on whether or not the team will regret that decision. Reilly very well could make Folin easy to forget, as his two-way play has plenty of potential and his shot is similarly powerful, albeit from the crowded left side, unlike Folin's right-handed blast. In the end, the Wild may have had to pick two out of the three concerning Olofsson, Reilly and Folin, and it's not all that surprising that Folin was the one to go, given their prospect pedigrees.

 

Darcy Kuemper for Niklas Svedberg

Kuemper - 27 years old, 6-foot-5, 215 pounds, one year, $650k deal signed with Los Angeles; 17 games started, 8-5-3 record, 3.13 GAA, .902 save percentage

Svedberg - 27 years old, 6 feet tall, 176 pounds, one year, $700k left on deal; 14 games started, 7-5-1, 2.33 GAA, .918 save percentage (2014-15 with Boston)

Now, this stat comparison is obviously flawed since Svedberg has spent the last two seasons in the KHL, but the victor between him and incumbent backup Alex Stalock in the preseason will likely have a better season than the atrocious campaign Kuemper put forth last season. While it's entirely possible Kuemper turns it around in Los Angeles this season -- a change of scenery was a must -- the Wild (and every single one of their fans) were likely more than happy to move on as well. Svedberg was a starter in the KHL, albeit not a great one in his last season, but could very well beat Stalock to the job behind Devan Dubnyk this fall.

 

Let's add all of the numbers up, goalies excluded.

 

Departures: 27.5 years old on average, 6-foot-1.7 on average, 201.5 pounds, $14.125 million

 

371 games played, 36 goals, 65 assists, 101 points, 1.03 P/60, plus-1.3 percent Corsi Rel

 

Arrivals: 25.4 years old on average, 6-foot-1.2 on average, 201.4 pounds, $9.3 million (assuming Foligno signs for $2 million, not including a fourth-line center)

 

234 games played, 25 goals, 37 assists, 62 points, 0.86 P/60, minus-0.44 percent Corsi Rel

 

It seems like the Wild downgraded at almost every position here, but did get a little younger, and managed to save almost $5 million in cap space. None of those numbers include a fourth-line center, which could help the 'Arrivals' part of the stats equation look a little less bleak, but will obviously take a bite out of those cap savings. When that happens, it's entirely possible to like most of what the Wild did this offseason, possibly with the glaring exception of the Pominville for Ennis swap. If Ennis manages to drastically outperform Pominville this season, that could be a move that helps ease the sting of these salary cap conscious moves, but if he fails to stay healthy, it's unlikely him or any depth piece can match Pominville's production.

 

I was far more pessimistic about the Buffalo trade before I made a table with the departing and arriving players, and I thought it illustrated that the Wild did manage to get younger and cheaper, even though they may have sacrificed a little talent to get there. Ultimately, the core of the best Wild team in franchise history is very much intact, especially in the ever-important top 9 forwards. The defense may not even miss a beat, with young prospects finally getting their chance. Finally, the goaltending may actually be better, considering the woes the Wild had in the backup role last season.

 

So the answer to the question isn't super clear, but obviously the Wild did lose some crucial talent this summer. The question that this season will answer will be is if the players they've acquired and the prospects they're promoting can replace or exceed the production from the players they lost. Putting together a winning team, and even more importantly, winning in the playoffs, can be as simple as finding the right combination of players that this franchise clearly hasn't found yet. If the Wild hope to get to the next level, they have to hope that the youth they're relying on now takes a step to the next level as well, or they're going to rue the moves they made this summer.

 
---
Never Miss an Episode of Giles & The Goalie!