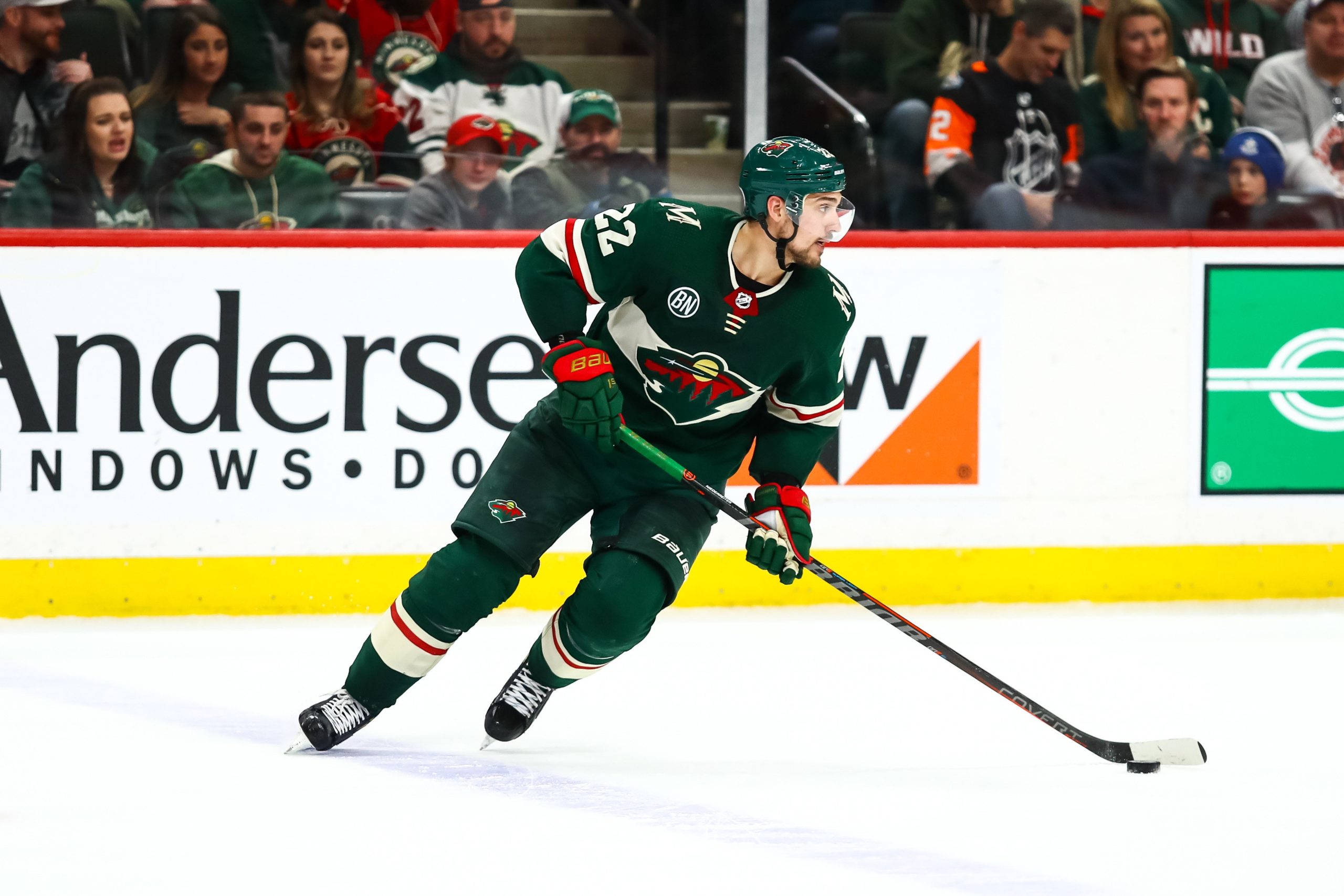 After being on the job since May and seeing his team for now 46 games this season, Minnesota Wild general manager Paul Fenton made his first major move on Thursday afternoon as he sent winger Nino Niederreiter to the Carolina Hurricanes in exchange for center Victor Rask.
The move came just one day after Fenton had also made a more minor trade as he acquired Pontus Aberg from the Anaheim Ducks for Iowa Wild forward Justin Kloos.
On the season, Niederreiter had registered 23 points (nine goals and 14 assists) in 46 games for the Wild. He went long stretches without scoring, and had found himself more recently demoted to the team's fourth line.
Fenton had vowed to make tweaks to this Wild roster back when he was hired in May, and Niederreiter quickly became a trade candidate under the new boss.
But while Fenton did indeed make a significant tweak to his roster, he made one that is more puzzling than anything.
The 25-year-old Rask does provide center depth for the Wild, but his season has been a struggle with the Hurricanes. The Sweden native has just registered six points (one goal and five assists) in 26 games this season.
While Fenton did speak highly of Rask on Thursday afternoon, he did not exactly give the most promising quotes of his new center.
"I think he needs a change of scenery, (and if) he gets back his scoring and distribution he can be very productive for us. If he comes in and he scores and takes that next step," Fenton said, "then it really looks like a good trade" via Chad Graff of The Athletic
You probably don't want to start speaking on a new acquisition by saying 'he just needed a change of scenery' and 'If he can find his scoring touch'. That seems to cry out, 'Yeah, this guy has some potential but we are not sure if he will find it.'
The only positive, if there are any in this trade, for the Wild is that Rask carried a lower cap hit of $4 million in each of the next three seasons while Niederreiter, at the same length, had a cap hit of $5.25 million. The contract to Rask is also more buyout friendly and does include a modified no-trade clause in the final two seasons.
Besides the contracts, this trade heavily favors Carolina from the start. For all of his struggles, Niederreiter was still a productive player for the Wild. He would get plenty of shots in and his puck possession numbers -- best Corsi For Relative % on the Wild -- were still a dominating force on the Wild.


Rask, meanwhile, was one of Carolina's worst players in terms of puck possession. His overall Corsi For percentage (46.2) and Corsi For Relative percentage (-7.28) were at the bottom of the team, a team that does very well in that department.
Rask also struggled heavily at five on five in scoring as he has just amassed four points in 255 minutes of ice time. For those wondering, that pans out to 0.94 points per hour, which is downright abysmal for a forward. Niederreiter had a scoring rate of 1.38 points per hour, which was low from his usual marks, but still much more productive than the incoming Rask.
Unless this trade is a precursor to a much larger one that Fenton is working on, this trade, at the start, appears to be a giant loss for the Wild. Rask has not given much recently to show that his game can improve just by having a change of scenery. The move also bumps Charlie Coyle back from center to wing, as Fenton and Bruce Boudreau will no doubt want to give Rask his shot at 3C coming in right away.
Coyle had been doing much better recently at center, mainly alongside Zach Parise, and now will have to go back to wing where he struggled at for most of the season. Taking one of your best players of recent weeks and putting him back in a spot he struggled at now offsets Coyle and Parise, who much preferred to play with Coyle, because Rask was brought in.
But you always can't have enough centers! Or so we hear…
Rask is expected to be in the lineup for the Wild on Saturday when they play Columbus. The team responded to the trade on Thursday night against Anaheim by having a completely abysmal performance against a team that had lost 12 straight games coming in.
It will be interesting to see if the Wild do rebound and find another gear as the locker room was given a shock with this trade. But for now, the trade, Fenton's first major one as Wild general manager, appears to be a forgettable one.
---