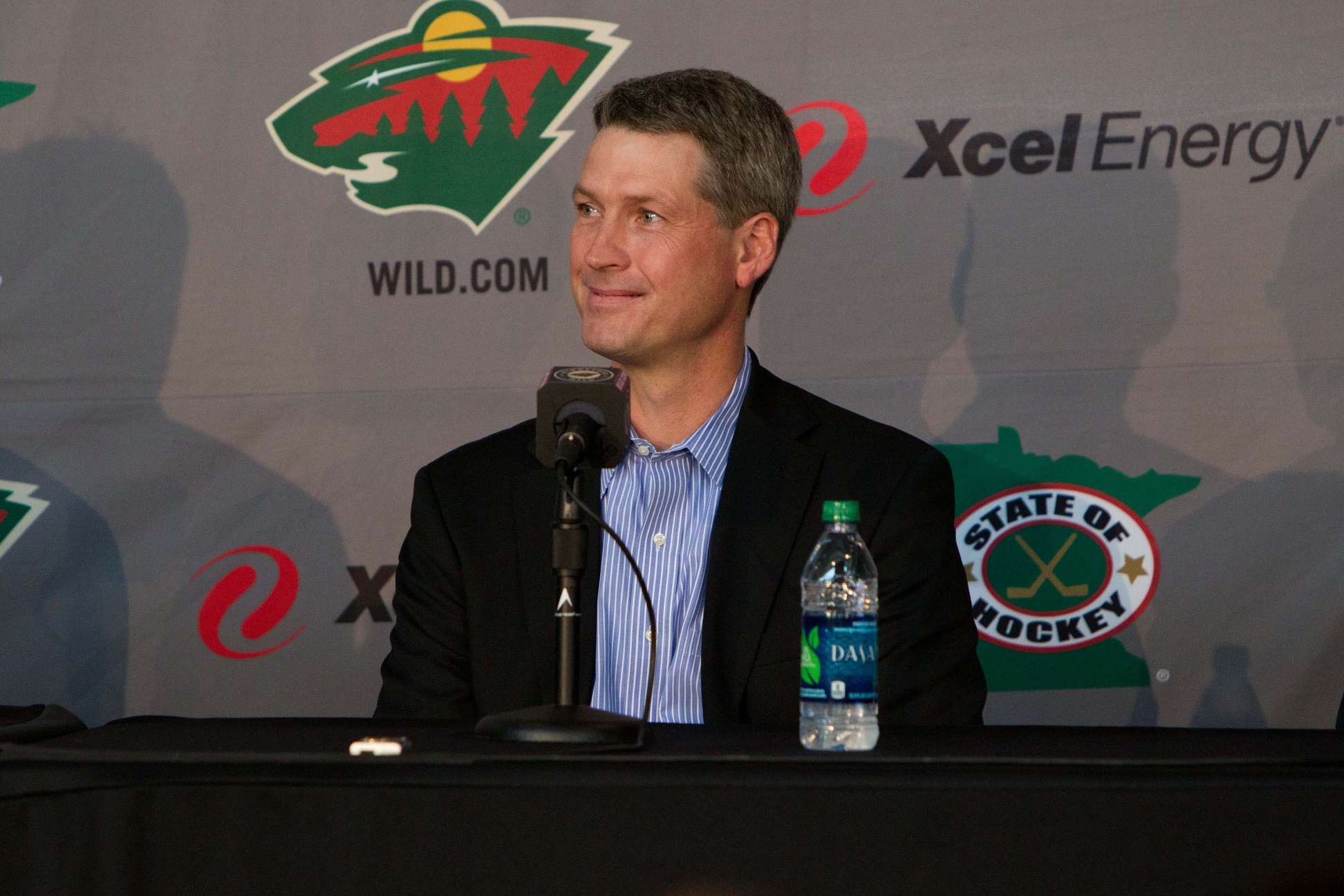 Image courtesy of Brace Hemmelgarn-USA TODAY Sports
Just this week you were sitting at home watching the Stanley Cup Final, wishing so desperately that this could have been the year that the Minnesota Wild finally made it and achieved hockey nirvana. While your eyes may have told you that the Wild did not play in the Cup Final, you best believe that they had their fingerprints all over hockey's final matchup. 
On June 21st, 2017, that fateful night in Sin City, the Vegas Golden Knights selected Wild forward Erik Haula in the expansion draft. The Wild left Haula exposed after putting up 26 points in 72 games for the Wild. The young speedster would be missed in Minnesota, but he was hardly the best option they left unprotected. 
The Wild had to go with a seven-forward, three defensemen, and one goalie protection plan. 
This is what it looked like: 
Forwards - Charlie Coyle, Mikael Granlund, Mikko Koivu, Nino Niederreiter, Zach Parise, Jason Pominville, and Jason Zucker
Defensemen - Jonas Brodin, Jared Spurgeon, and Ryan Suter
Goaltender - Devan Dubnyk  
Nobody would really argue with Minnesota's intent. They were a deep veteran team that did not benefit from the rules of the expansion draft. The Wild would lose a key piece or pay the price to make Vegas take who Minnesota wanted them to. Dubnyk was an obvious choice, and they had to protect their young forwards. Mikko Koivu, Jason Pominville, and Zach Parise had no-movement clauses, so Minnesota had to protect them.  
Chuck Fletcher left Matt Dumba, Marco Scandella, and Eric Staal exposed. Staal had just put up 65 points, but he was heading into his age-33 season. Not exactly what Vegas was looking for as they were certain to be a young, rebuilding team. Staal put up 40 goals the next season, and Vegas probably would have probably benefitted from that. But they also went to the Cup Final, so they were doing just fine. 
Dumba was coming off a 34-point season at age 22 and looked like a future offensive dynamo on defense. They were not going to let him go but had to protect Ryan Suter because of his no-movement clause. Spurgeon and Brodin were more of a sure thing at that time, so it made sense to protect those two. 
To protect them, the Wild sent Alex Tuch, their 18th overall selection in the 2014 NHL Entry Draft to Vegas, and the Golden Knights then agreed to take Haula. They immediately gave the speedy Finnish forward a three-year deal worth $2.75 million per season. Tuch was a highly-touted prospect who put up 37 points (18 goals) in 57 games with Iowa. He was projected to make the NHL club the following season. It was not a surefire thing that he would become a force in Vegas's Top-6. 
The Wild were not the only team that messed up the expansion draft. The Panthers gave Vegas two of their best Top-6 weapons in Reilly Smith and future Conn Smythe Trophy winner Jonathan Marchessault. The Anaheim Ducks traded Shea Theodore to the Knights to protect guys like Cam Fowler, Hampus Lindholm, and Sami Vatanen. Those moves have greatly backfired on Anaheim and especially the Panthers, who would have loved to have two consistent middle six scorers back. 
But how do the Wild giving Vegas Tuch and Haula affect the Cup that Vegas just lifted? Well, let's see what the Golden Knights did with those players.
After having a career-best season and then an injury-riddled one in Vegas, the Knights traded Haula on the last year of his deal to the New Jersey Devils for Nicolas Roy. Since that trade, Roy has been a staple of Vegas's Bottom-6 for the past four seasons. He followed up a 30-point campaign (in 65 games) with 11 points in 22 playoff games this year. Vegas used Haula to get a player whose 28 career postseason points would be tied for third all-time with Mikko Koivu in Wild history, before Roy's even reached his 27th birthday.
But Tuch was definitely the one that got away from Minnesota. In fairness, he might even look like he could be the one that got away from Vegas, too. The Knights traded Tuch in a package that landed Vegas former second-overall pick Jack Eichel. Since then, Tuch has 117 points in 124 games for the Buffalo Sabres.
Or he would be, if the ex-future Wild top-line center target didn't just power Vegas to a Cup. Eichel led Vegas in points with 66 in 67 games and also led the team in postseason scoring. Would you rather have Tuch or Lord Stanley? I'll let you pick. Unlike the Wild, Vegas isn't thinking twice about trading Tuch. They got something out of the deal.
It's frustrating, because if Suter had waived his no-move clause, the Wild could have kept Dumba, and there was little chance Vegas would have taken the albatross contract that Suter was on. Even if Vegas took Staal, in retrospect, he did not provide the value that Vegas turned Tuch and Haula into. Two separate decisions, both orchestrated by Fletcher, gave Vegas a couple of key ingredients to their first Cup. 
Vegas should be sending Fletcher a thank you letter. Crazy to think that moves made over ten years ago and almost seven years ago directly affected the Stanley Cup Final this year. But it's true. Vegas does not win the Cup without the contributions from Eichel or Roy, and they don't get those players without the Wild's gift of Haula and Tuch during the expansion draft.
All stats and data via HockeyDB and CapFriendly.
2