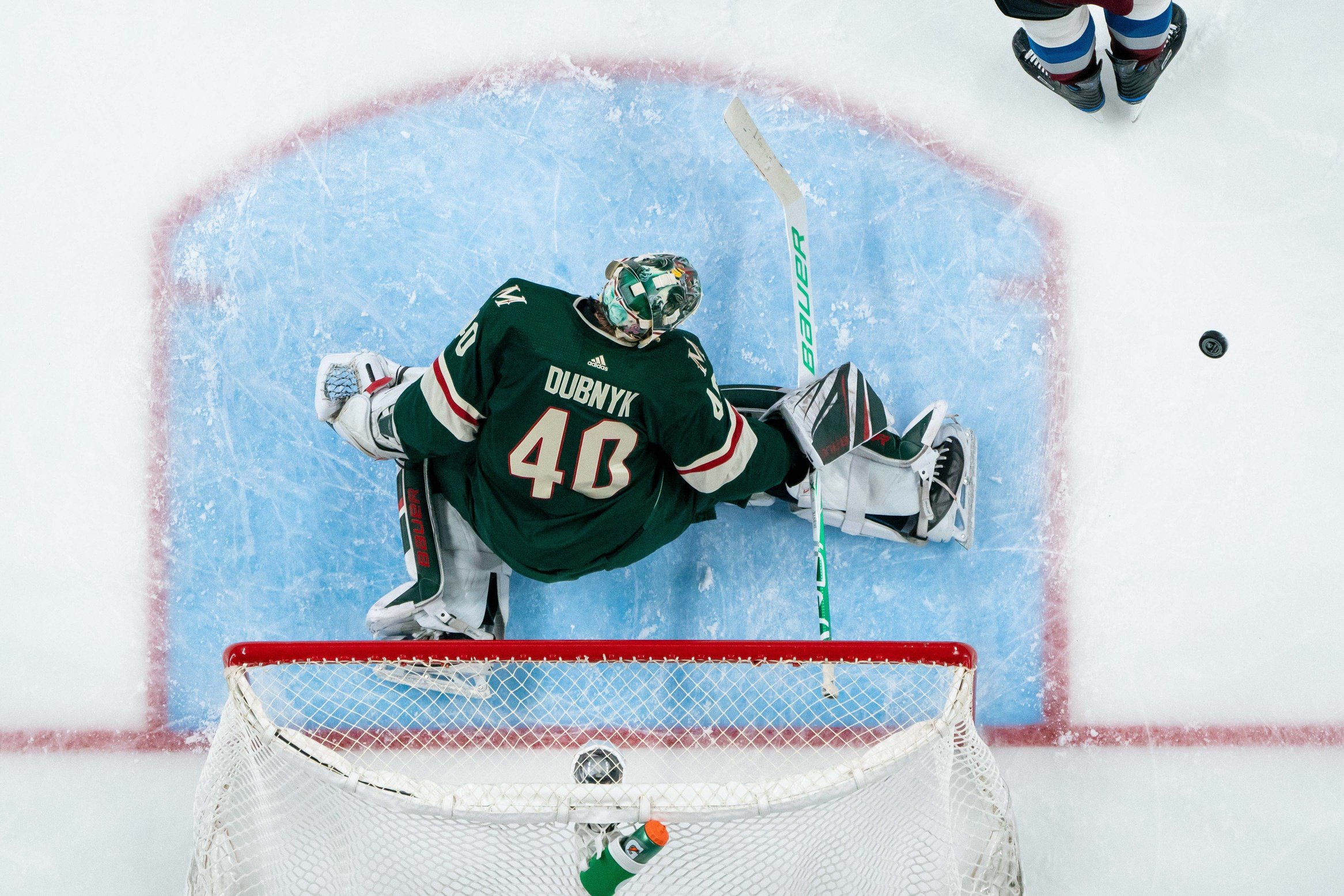 Minnesota Wild head coach Dean Evason was asked following Wednesday's 3-2 exhibition loss to Colorado if he saw enough of Alex Stalock and Devan Dubnyk in that game to decide who would start Sunday against Vancouver. The head coach gave a smile and simply replied, "Maybe."
Both goaltenders split the 60 minutes on Wednesday. If this was a deciding factor for Evason as to who he should start on Sunday night, then his choice is pretty simple. It's Dubnyk.
Stalock was the presumptive favorite entering training camp and coming into the Edmonton bubble. However, he looked a bit off in his 30 minutes against the Avalanche, allowing three goals on 17 shots.
The third goal on Stalock came on a 5-on-3 power play for Colorado, but there's some stuff to pick at here with the first two goals.
On Joonas Donskoi's opening marker, Stalock kicks the puck out more into the high danger area rather into the corner. Yes, there is a defensive breakdown here that allows Donskoi to cash in the easy rebound, but that initial shot is one you would like to see Stalock control better or kick into the corner as Wes Walz pointed out on the Fox Sports North broadcast.
Goal No. 2 against Stalock was via Nathan MacKinnon, who flew right into the offensive zone and fired a shot right over the South St. Paul native's glove to give the Avs the lead right back after the Wild knotted the score just one minute and 42 seconds previously.
Just a slow reaction from the Wild goaltender, and with goal scorers Elias Pettersson, Brock Boeser, J.T. Miller, Tyler Toffoli, and Quinn Hughes on the immediate horizon, you need to see a better reaction from Stalock. You just cannot afford to have slow reactions, especially in a five-game series.
Flip the page over to Dubnyk, who along with his Colorado counterpart Pavel Francouz, took over just after the 10-minute mark of the second period.
Dubnyk was relatively unchallenged in the second period, thanks in part to a couple of Wild power plays. But on his first shot on goal, you could already tell he was looking sharp.
[videopress Y26tdQMn]
With the Avalanche on a power play, you can see Colorado trying to move the puck around and get Dubnyk off his angles. But finally, with a pass over to the right to Mikko Rantanen, the Avs forward tries the one-timer to beat Dubnyk, but the Wild goaltender was able to move over with plenty of time to make the save.
Movement would be a common key with Dubnyk on this afternoon.
[videopress vsRXjS1E]
You see in this first shot on goal in the third, Nazem Kadri is able to break down the slot and try to fire a shot through a screen as he moves just to Dubnyk's right. But Dubnyk is able to see through this screen and make the pad save to open the third and keep it a one-goal game.
Dubnyk is feeling so sharp in this game he's confident enough to slide over and stack the pads on this cross-ice pass on the rush. The shot sails over the net, but because Dubnyk comes out and then stacks the pads there is virtually no room in the net for the Avs forward to shoot.
[videopress KtWfmpwZ]
Another instance of Dubnyk being able to move quickly and play big on the forward. The puck slides off the stick of Kevin Connauton but with how Dubnyk had been playing him a goal would have not been easy.
[videopress Cxx8zjxz]
Kadri again tries to fire off a quick shot, but Dubnyk is able to get the glove up and deflect it away. Not the same angle as the MacKinnon goal against Stalock earlier, but you can see Dubnyk was just on with his quickness and reaction time in this contest.
[videopress j3G1ZE54]
Again, a shot through a screen from Landeskog gets on goal but Dubnyk is able to track it right into his glove and get a whistle.
***
In a five-game series after nearly five months off, you simply cannot afford to go with the person that played well back in February/March. You have to go with the hot hand now. Especially when a shot at the actual playoffs (Round of 16) is on the line.
While Evason appears to be going with one of his veteran goaltenders over Kaapo Kahkonen, the AHL's goaltender of the year and perhaps the most talented goaltender on the Wild roster, his choice for starting goaltender in Game 1 on Sunday should be obvious.
Dubnyk was the sharper goaltender of the pair, and kept the Wild in a position for them to have a chance to tie and possibly win it had they been able to convert on the power play.
After watching Wild goaltending this past season, simply going with the goaltender who's hot and can give you a chance is what has to be done. Otherwise, it could be a really short series for Minnesota.