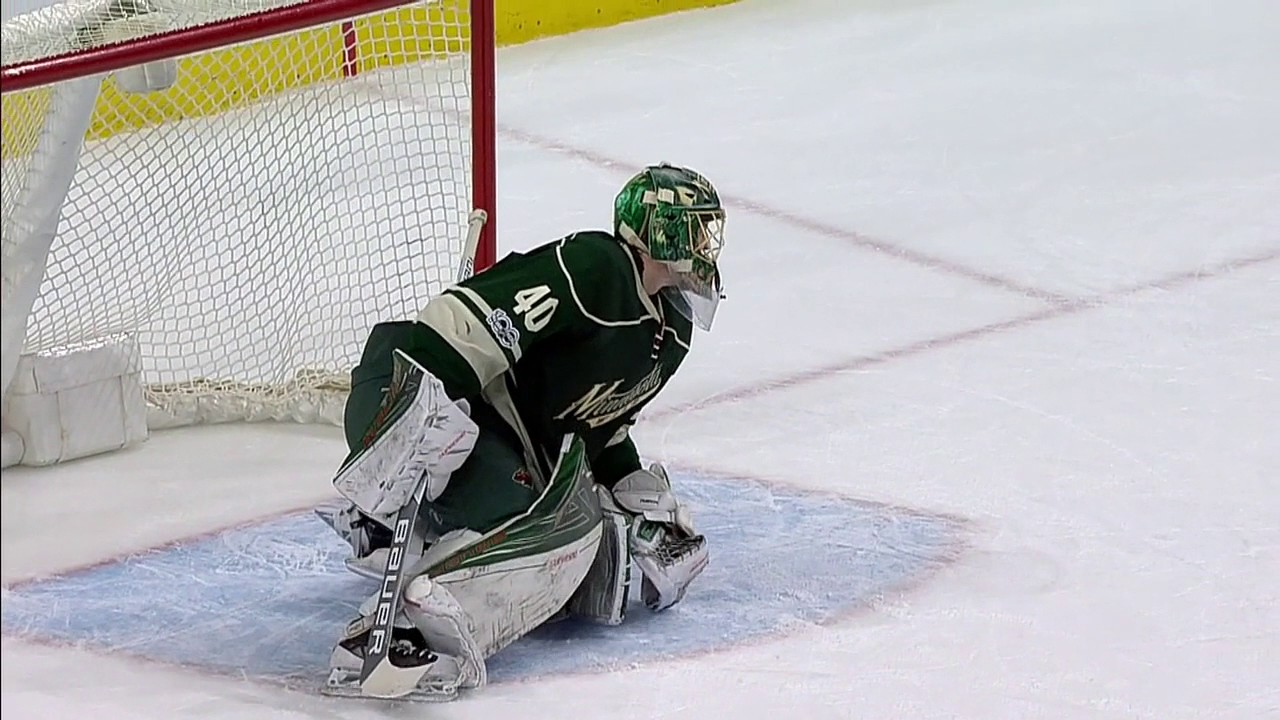 The Wild seemed to have it all figured out a short time ago. They were outscoring other teams, shutting out other teams and generally playing well. However, in the past month that has taken a turn for the worse, as the Wild have slumped badly, and fallen from the top of the Central Division.
There's more than just one player to blame, as the team's underlying numbers have taken a hit, the scoring has become sporadic and the defense has been inconsistent... at best. But the primary concern is Devan Dubnyk, as evidenced by Hockey Wilderness' article about him last week, and Michael Russo's article this week. This team doesn't seem to be playing well across the board, but the focus is on the goaltender, who, by the way, is very much not playing well. Why is that?
Despite their recent failings this team is still a lock for the playoffs, and Dubnyk is the key to playoff success for the Wild, just as any goalie is for their team. The list of poor playoff showings from Stanley Cup winning goaltenders is mighty small, as evidenced by this list of the playoff save percentage for the last 10 primary goalies to win a Stanley Cup.
2016: Matt Murray (.924)
2015: Corey Crawford (.924)
2014: Jonathan Quick (.911)
2013: Corey Crawford (.932)
2012: Jonathan Quick (.946)
2011: Tim Thomas (.940)
2010: Antti Niemi (.910)
2009: Marc-Andre Fleury (.908)
2008: Chris Osgood (.930)
2007: Jean-Sebastian Giguere (.922)
That's not bad, with a rolling average of .925, and only a few low spots to speak of. Just three goalies put up save percentages under .920, unsurprisingly playing for the Penguins, Blackhawks and Kings, respectively. So what do the Wild need out of Dubnyk? Seems pretty simple, they'll need roughly a .925 save percentage in the playoffs. Is that attainable? That's less certain, but let's take a look at Dubnyk's Wild career to see if he can do it.
Jan '15: .923 (7gms)
Feb '15: .939 (14gms)
Mar '15: .942 (14gms)
Apr '15: .915 (5gms)
2015 Playoffs: .908 (10gms)
Oct '15: .898 (10gms)
Nov '15: .918 (10gms)
Dec '15: .942 (9gms)
Jan '16: .930 (10gms)
Feb '16: .900 (10gms)
Mar '16: .930 (14gms)
Apr '16: .886 (4gms)
2016 Playoffs: .877 (6gms)
Oct '16: .952 (7gms)
Nov '16: .942 (10gms)
Dec '16: .934 (12gms)
Jan '17: .917 (9gms)
Feb '17: .917 (10gms)
Mar '17: .900 (9gms)
What a rollercoaster, right? The only consistent thing here is inconsistency, and unfortunately, a lack of playoff success, albeit in a much smaller sample size.
What Wild fans can count on from Dubnyk, it seems, is that he'll bounce back in some form or another. This calendar year is the first time Dubnyk has gone three consecutive months with a save percentage under .920, and he's typically bounced back from really down months (which he's definitely in now) with strong performances the month following that.
Does this mean he'll be great in the playoffs? Obviously tough to tell, but you have to like the trend, somewhat. One might recall two poor showings from Dubnyk in the playoffs, but he was rather strong at times in the one series victory the Wild had in the past two years against St. Louis. Predicting Dubynk's postseason is no easy feat. It'd be easy to predict that he'll again show poorly in the playoffs, but for goalies it's rarely as easy as that, as evidenced by Jonathan Quick's .946 to .911 fluctuation in just two seasons' time. It'd also be easy to see the patterns in his monthly save percentages and predict a very strong April and/or May from him as well, but that's bordering on the side of blind optimism.
In his article yesterday Giles Ferrell brought up the point of resting Dubnyk now that the Wild have essentially clinched a playoff spot. This could be important, as Dubnyk played in a career high 67 games last season and is on pace to play in 66 this season as well. Dubnyk's playoff struggles in seasons' past could very well be attributed to his workload, and that's something that Hockey Wilderness touched on this week as well. It'll be interesting to see if that's consistent again this season, given that his workload that can only be lightened so much in the last nine games.
Along those lines, it seems from the monthly save percentages above that Dubnyk responds best to a heavy workload, which is intriguing, given his lack of playoff success and the typical heavy workload for starting goalies in the playoffs. Again, it's all a matter of theory, but he's responded well to being given the reins on a team in short bursts, so perhaps if he's rested now to finish the season and gets rolling on a heavy workload heading into the playoffs, that may be the trick.
In the end, the Wild will go as Dubnyk goes, so it will be very important to see which trends wind up playing themselves out again for Dubnyk. Will his inconsistency flip around and make for a solid showing, or will his workload from the season mean another less-than-stellar playoff showing? Unfortunately, only time will tell, and Wild fans will have to find out the old-fashioned way, which given the stakes, could wind up being a lot of fun, or virtually no fun at all.