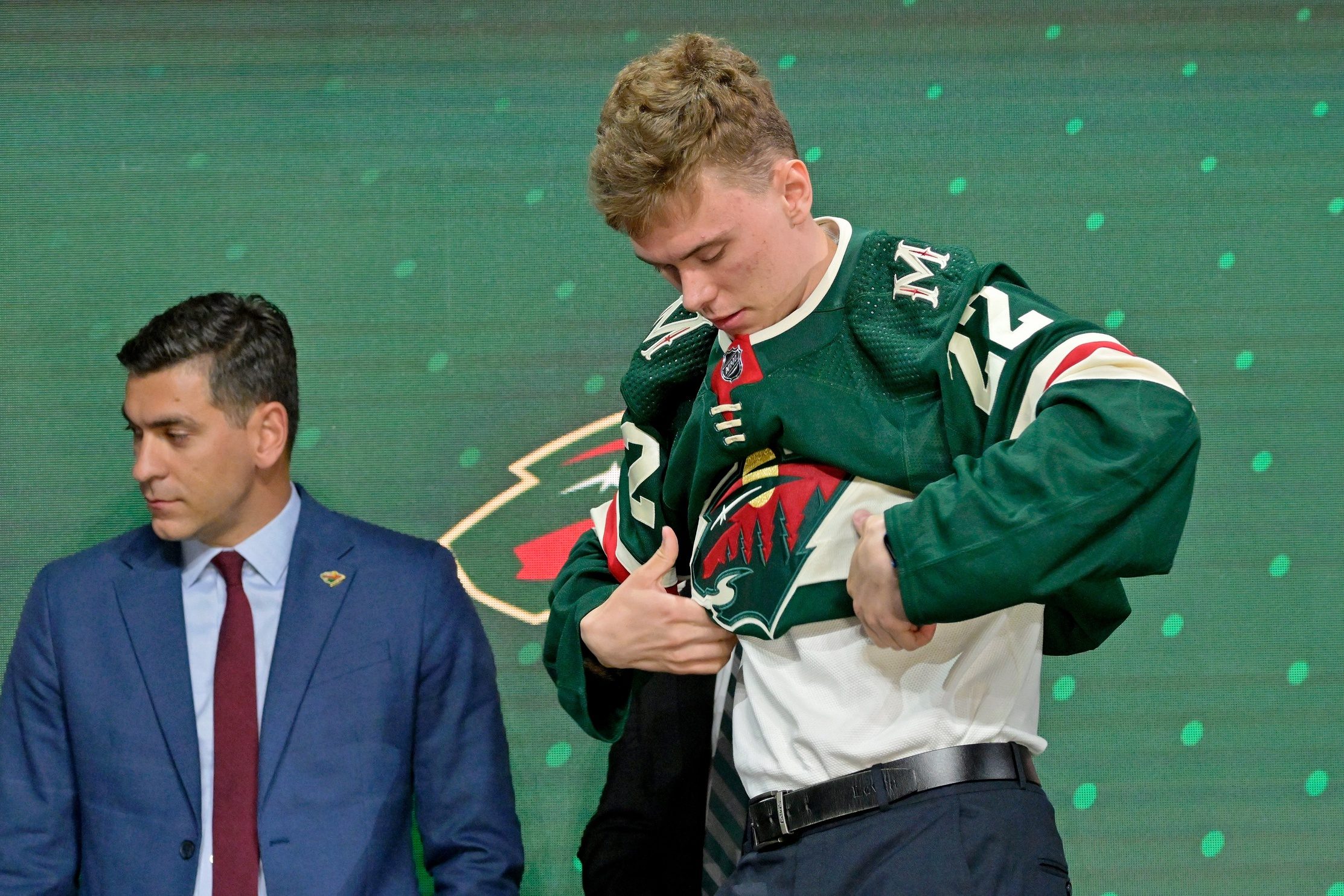 It's shocking how much NHL GMs love not drafting elite Russian players. Danila Yurov was a Top-10 talent in the draft this year, yet he tumbled all the way to the 24th overall pick. Here's a player who's growing a legacy, but being overlooked by those who don't, or won't, see what can make him into a true superstar. Instead, they get hung up on stuff that doesn't matter, and his stock falls.

 

The "Locked On Senators" podcast might well have spoken for the scouts back on June 18. "Zero! I repeat, zero points in 41 KHL games [last year],"

. "He averaged three minutes and nineteen seconds... He dominates at his own age level, but he doesn't really get a sniff in the KHL. He's a guy who might stay in Russia a bit longer — well, I hope so! You don't want to leave the KHL with a big fat zero over every stat sheet you've ever had!"

 

We at 10K Rinks want to assure you: Yurov is going to be fine. He's made for the big leagues. He's one of few Minnesota Wild prospects that can be even better than Kevin Fiala. Why put limits on someone who outscored Artemi Panarin, Nikita Kucherov, Pavel Buchnevich, and Kirill Kaprizov in Russian Juniors during their draft year?

 

Yes, that's right, Kaprizov. The guy who scored 108 points last season. Yurov has limited experience in the KHL, but that doesn't mean his ceiling should be limited. Yurov is the definition of misunderstood.

This is a player who can become a crown jewel, despite what the naysayers say. Yurov has skills that easily translate to the NHL. Strong edges, puck protection, the ability to go to the dirty areas of the ice, good defensive coverage, and good vision to generate scoring chances. He sees the ice like a center.

 

Sure, he needs to make better decisions with the puck instead of getting too cute. He can also stand to simplify his game and stop cheating offensively when in the defensive zone. Those things can come with time and maturity. He's a versatile player who can play many different roles, which will serve him well when he eventually gets a chance to play with Kaprizov.

 

Let's not get ahead of ourselves just yet, though. First, let's look at what made people believe so strongly in Yurov leading up to the Draft. Here are Bob McKenzie's thoughts about Yurov during his Mid-Season Draft Rankings back in January 2022:

 

"Yurov, [who] received one No. 2 overall selection from a scout, checks in at No. 8 on the TSN list. Yurov has the speed and skill level to be a top-two line NHL winger though he's a bit of a tougher read because he tends to play limited minutes against men in the KHL."

 

McKenzie wasn't alone in his praise. Here's where he ranked on other mid-season lists:

 

Central Scouting (International): #3

TSN McKenzie: #8

FC Hockey: #6

Sportsnet: #12

McKeen's Hockey: #5

Elite Prospects: #13

 

Why was Yurov ranked high, but then taken at 24th? Let's compare Yurov to David Pastrnak who turned out to be a superstar talent for the Boston Bruins. They're both different players, but Pastrnak was a late first-round draft pick at 25 overall in 2014 after putting up good-not-great numbers in Sweden's second league. 

 

The Boston Bruins saw past the numbers and saw a special talent they knew was only 17 years old. They bet he could get better and were right. A year later, he put up good numbers in both the AHL and NHL, and now Pastrnak's a star. It's common for kids to take time to translate to the pro-level game. It's another thing to be confident and Yurov is confident. 

 

Yurov is more of a complete player than Pastrnak was at the time. He's a Swiss Army Knife who can play a shutdown role, be a playmaker, and score goals on the power play. He knows how to make life difficult for the opposition. When you're fast and smart, good things happen on the ice.

 

 

Yurov has the chance to go off in the KHL this time around, and he already has three points in four games so far. Keeping that up will signal he's ready to make an impact once Kaprizov's current partner-in-crime Mats Zuccarello is a free agent. If you think Kaprizov is good, imagine how he'll play when he joins forces with the guy who's outscoring him. Both Yurov and Kaprizov can give fans oodles of star production. They might end up not only being the best Russian duo, but one of the NHL's very best duos, period.

 

Yurov is even very much on the record as wanting to play with his countryman.

 

 

How would fans like it if Marat Khusnutdinov centers them? He's like Joel Eriksson Ek, but smaller in size. He's going to be playing key minutes and chip in on offense at the most opportune times. Now opponents need to worry about a lethal Russian trio. Khusnutdinov has "Selke" written all over him. Yurov has been playing shutdown minutes and now he's finally getting ice time. Think of the damage these three can do.

 

 

The early returns on Yurov's development are quite well, and Khusnutdinov is having a strong start of his own. Those two joining Kaprizov could mean Minnesota is 60% on their way to creating another version of the Russian Five.

 

The Russian Five were Sergei Federov, Vladimir Konstantinov, Slava Kozlov, Slava Fetisov, and Igor Larionov who played on the same unit (and dominated) for the Detroit Red Wings in the mid-90s. While Minnesota doesn't have the defensemen to create that, that's not nearly the end of the Russian talent in the system.

 

Could we see Vladislav Firstov, who's making his pro debut this year in Iowa, at some point? Perhaps Nikita Nesterenko (whose parents are Russian immigrants) will continue his path to being a late bloomer. Hey, if the Wild want to go with five forwards on the power play, that's a Russian Five right there. It's too bad Alex Khovanov didn't get the assignment before getting booted by the organization.

 

Point is: this won't be the end of the Wild bringing in Russian prospects. Expect more.

 

Let's get back to Yurov's skills, and wow, does he have legitimately high-end hand-eye coordination. Check out this play where he scored a tip-in while he was getting shoved at the net. He not only knew he can get the puck on net, but he also showed he doesn't shy from physical contact.

 

 

That's good, as he's going to have to get used to taking a physical beating constantly. That's what the NHL playoffs are all about.

 

Yurov is patient in the offensive zone, and he navigates the zone as familiarly as if it was his own backyard. He's going to get the last laugh at his doubters. There's no glaring weakness in his game. He's adjusting to playing with men before our very eyes. Already we can see that knows how to gain separation with the puck.

 

On the power play, opponents will want to avoid leaving Yurov wide open. Has the shot to beat goaltenders time and time again. Has great patience to strike out of nowhere. With Kaprizov creating space for him, he could score 20 goals on the power play alone.

 

 

Wild fans we're going to experience more headaches against the Colorado Avalanche and the rest of the Central Division, but soon, the Avs will have to endure the influx of Russian power of the Wild.

 

Yurov is a good prospect and the Wild were lucky to land him. Central Division teams like the Dallas Stars could've landed him, and he'd be joining someone like Jason Robertson to torment the Xcel Energy Center faithful. But no. The Wild get to create nightmares of their own. The Wild got a Top-10 talent and are now watching him blow up in the KHL. We love to see it.