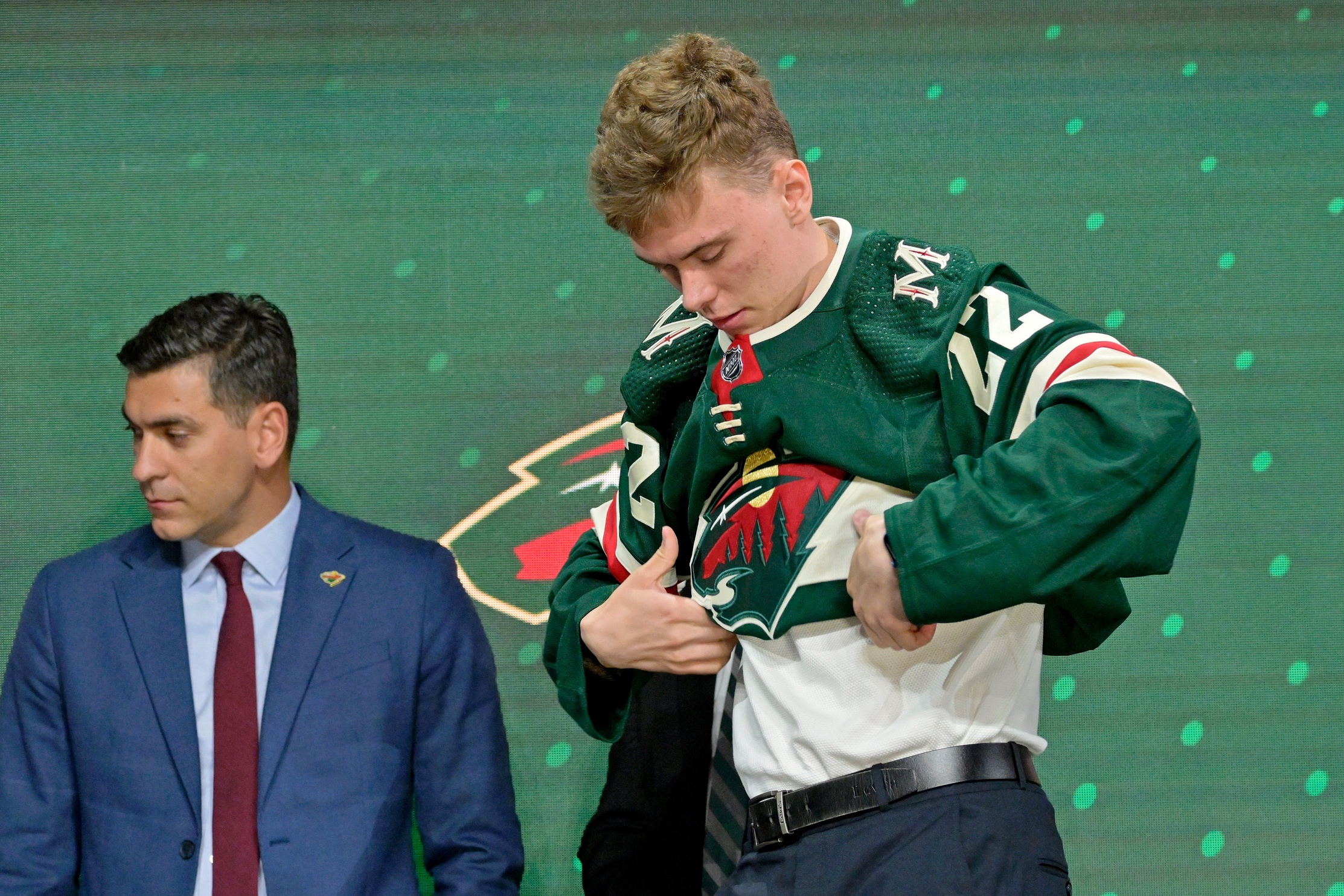 Image courtesy of © Eric Bolte - USA TODAY Sports
Last month, The Athletic's Corey Pronman placed the Minnesota Wild at No. 10 in his NHL Pipeline Rankings. You don't get a banner for having the best – and definitely not 10th-best – prospect system, but that's good news for Wild fans. He gave each of the Wild's top-20 Under-23 players a ceiling and a role for their future outlooks. In response, I made a mock roster for two years from now, when these prospects will be jumping into the NHL.
Just seeing the names of prospects who haven't played in the NHL might not be helpful for us picturing the future. So let's match these prospects with a former Wild player as their ceiling (in parentheses) so you can better imagine that prospect playing in today's NHL. 
Let's take a look at the projected 2025-26 Wild opening night roster. 
FORWARDS 
Danila Yurov (Zach Parise) - Marco Rossi (Mikael Granlund) - Kirill Kaprizov 
Matt Boldy - Joel Eriksson Ek - Marat Khusnutinov (Mats Zuccarello) 
Charlie Stramel (Alex Tuch) - Caedan Bankier (Erik Haula) - Liam Öhgren (Nino Niederreiter) 
Freddy Gaudreau - Connor Dewar - Brandon Duhaime 
DEFENSEMEN 
Jonas Brodin - Brock Faber (Jared Spurgeon)
Carson Lambos (Alex Goligoski-plus) - Kyle Masters (Marek Zidlicky-plus) 
Daemon Hunt (Nate Prosser-plus) - Jared Spurgeon
GOALIES 
Jesper Wallstedt 
Jesper Wallstedt
You'll see there's no one listed by Wallstedt's name, because his ceiling doesn't compare to past Wild goaltenders. He's the top prize, and the Wild have to be laughing at how the Edmonton Oilers failed to draft him by letting the Wild trade up and snatch the top goalie prospect. Goaltending is the toughest position to predict, but Bill Guerin knows how to properly develop his prized possession. He's not rushing Wallstedt to be their savior. He's going to get more North American experience, and with so much talent coming into the AHL, he'll have the supporting cast for it as well. It's all up to him now. 
Danila Yurov (Zach Parise)
Danila Yurov should turn out to be a better playmaker than Parise, and maybe a better player overall due to his versatility. Parise scored 0.72 points over his career, which is 59 points per 82 games. Yurov has the talent to do that, he just hasn't gotten much ice time in Russia to show it.
Still, he manages to be a top-5 Wild prospect due to his ceiling alone, according to Pronman. Imagine if he played more minutes. Would he have jumped over Charlie Stramel or Marco Rossi in this ranking? That's why Kirill Kaprizov is stoked, and we should be stoked for this new friendship! This dynamic duo will give teams so much headaches, especially since Yurov has Parise's bulldog spirit. 
Marco Rossi (Mikael Granlund)
As a prospect, Wild fans hoped Granlund would become a first-line center. But the 2010 ninth overall pick never became that. But what if Rossi can be the center Granlund wasn't? They don't even need to rush him into that role right now. The Wild won't be contending in the next two years. Why can't they wait for more prospects to come over to play with Rossi so he can finally click? Look at what Kaprizov and Zuccarello did for Ryan Hartman. That's what Yurov and Kaprizov can do for Rossi. Granlund scored 0.69 points per game, or 57 per 82 games. Is this a realistic goal for Rossi, or can he be better than this? 
Marat Khusnutdinov (Mats Zuccarello)
Khusnutdinov can become a more versatile version of Zuccarello. Khusnutdinov's waiting for this KHL year to end so he can come over with Yurov. Imagine him taking over for Marcus Johansson full-time once his KHL two-year contract is up. Khusnutdinov's going to share center duties with Eriksson Ek whenever the officials kick him out of the faceoff circle. Along with Stramel, they can be a line Minnesota can start against any team. Khusnutdinov's a dangerous spark plug. 
Charlie Stramel (Alex Tuch)
As loaded as the top two lines are, their third line can be the team's most exciting line in 2025-26 due to their heavy play and speed. The only reason I can see Pronman ranking Stramel at 4th is because of the fact that Stramel's power forward style screams "Alex Tuch." Stramel may not be as dynamic as Tuch, but can still make an impact on both ends five-on-five. 
Tuch only plays wing, which might be where Stramel can maximize his value. For now, though, he needs to take advantage of the new coaching system in Wisconsin. Joe Pavelski is the last Badger player who made it big in the NHL, and he's been a net-front goal-scorer for almost 20 years. Stramel isn't the pure sniper Pavelski is, but he can be a more effective power forward. LET'S GO STEAMROLL! 
Caedan Bankier (Erik Haula)
While Haula didn't light the lamp in St. Paul, he knew how to light up the crowd with his speed. Bankier may not be as fast as Haula, but he brings a similar game to the table. Do you see how Haula's making more of an impact around the NHL instead of being stuck on the Wild's fourth line? I'd like to picture Bankier in that role.
Bankier will be a steady player for the Wild. He won't produce a lot of points but expect him to be a puck-possession player thanks to his size and skating ability. Bankier is a playmaking center who can play with pace, which should help lift Stramel's stats up some more. 
Liam Öhgren (Nino Neiderreiter)
Öhgren rounds out the third line. He feels like a mix between Zucker and Niederrieter, but I ended up using Nino as the comparison because Niederreiter played more of a responsible game. Öhgren can play center if needed as well, since he has the passing ability to do so. He's a smart player who understands the game and has NHL size. 
Hopefully, Öhgren's recent injury isn't so serious that it stunts his development. Ultimately, he's best suited to play shutdown minutes, while also getting a chance to produce points on the power play. Both Zucker and Niederreiter average 42 points per 82 games over their career, which is still an achievable ceiling. We Wild fans are sleeping on Öhgren. 
The Grinders
Foligno, Dewar, and Duhaime get contract extensions in my projection. All three are vital players in the locker room, especially Foligno. However, I'm making Foligno the 13th forward, which he's best suited for because he's suffered more injuries recently. Like his brother Nick, Marcus is following his family's footsteps as a great veteran locker room leader on a Cup-contending team. 
Brock Faber (Jared Spurgeon)
The defense is also going to be a strength for the team. Minnesota will likely have a reliable defense where they can play all three pairings effectively. Faber's going to take over for Spurgeon when it's all said and done. Faber brings more of a two-way game than a stay-at-home game, which sounds a lot like the Captain's game. He should keep Brodin young, and this pair will take on the highest load. 
Carson Lambos (Alex Goligoski)
Lambos has more to his game than we think. While not going to be a franchise defenseman, what if Lambos can be more stable version of Goligoski? He can play in all situations, and the Wild will be absolutely fine. 
He can play both ends because he's above average as of now. Lambos might not have that elite skill, but should still be a top-4 defenseman, nevertheless. Why can't he support a powerplay of Kaprizov, Rossi, Yurov, and Eriksson Ek? He has the skating ability, smarts, and can create enough from the point to be effective. Hopefully, Lambos can master his next stride. 
Kyle Masters (Marek Zidlicky)
Kyle Masters' rightfully deserves to be in the mix for top-four defenseman consideration, as Pronman didn't share any flaws about him. Besides, what's a defense without an offensive defenseman? In Masters' case, he understands his assignments defensively. 
With the way his game has grown since the 2021 Draft, the Wild might've hit the jackpot. However, it's too early to tell for sure, and we'll have to see how it plays out over the next two years. Zidlicky scored 0.51 points for 42 points. Is that too high of a goal? Mind you, prime Spurgeon scored 43 points in 82 games in 2018-19 at the age of 29. Did anyone think that would happen when Spurgeon was Masters' age? A second power play unit of Boldy, Stramel, Ohgren, Khusnutdinov, and Masters sounds lethal. 
Daemon Hunt (Nate Prosser)
We wrap things up with someone Pronman has severely underrated. Hunt is a shutdown defenseman who plays with an edge, and Spurgeon will mentor as he finishes his career. What if Prosser had better skating and puck-carrying ability? That's Hunt's potential. Hunt will be a staple on the team's third pairing and penalty kill. 
This mock team is a bona fide contender if these prospects can follow in the past Wild player's footsteps. Maybe not the best team in the league, but this could be the most responsible and well-rounded team in franchise history, and potentially the most talented. The cavalry's coming to join Kaprizov and help his Wild to take off! He has talent at every position on the way, along with the best goalie prospect in the world. The Wild can be the team that gives their superstar the best chance to win.
3

1