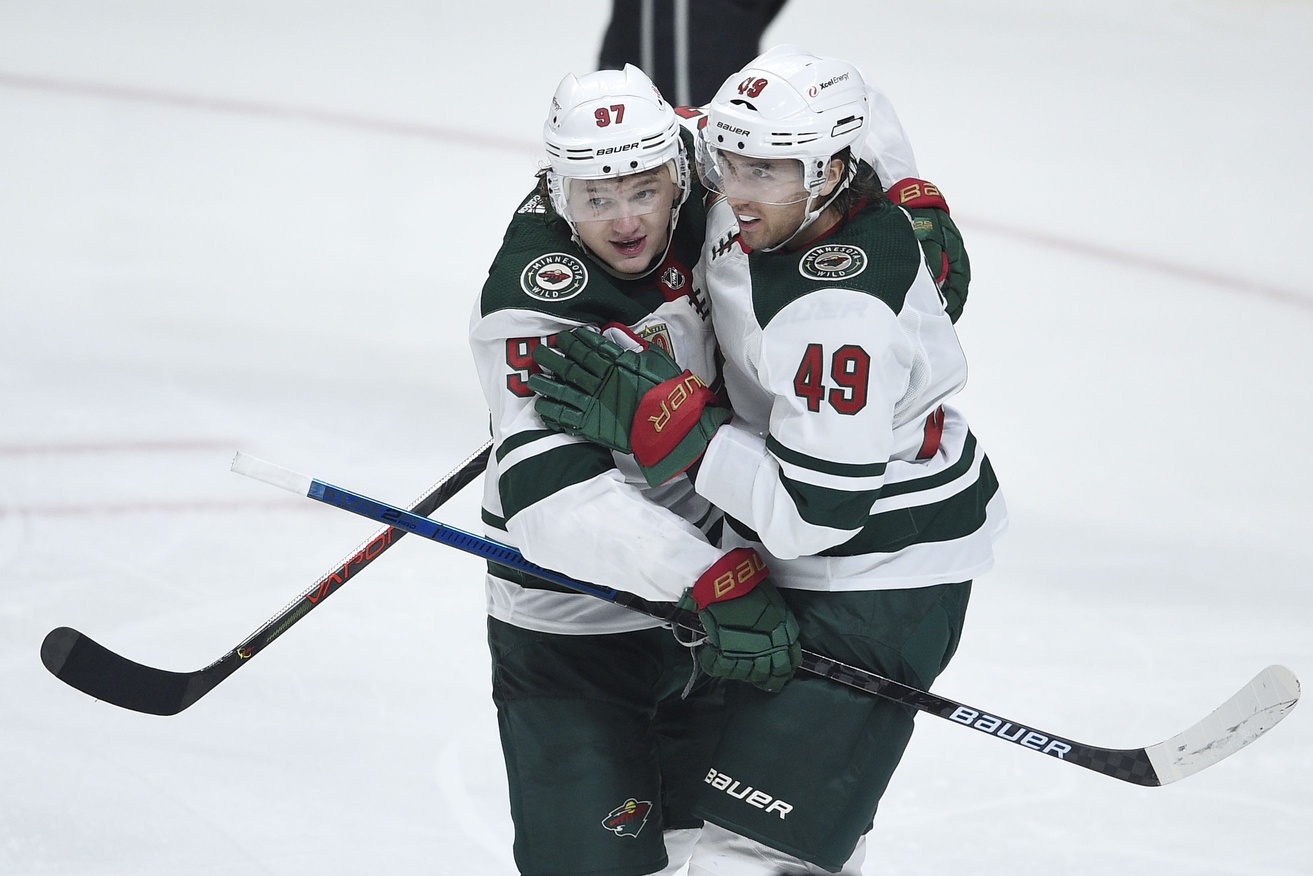 It wasn't long ago that Kirill Kaprizov was an absolute lock for the Calder Trophy. He held a healthy lead in the scoring race, with no other rookie matching his level of dominance. His limitless skill, juxtaposed against the historically talent-starved Minnesota Wild, grabbed the attention of the NHL.
That Calder win is no longer inevitable. In fact, he might find himself falling behind in the race very soon. Jason Robertson of the Dallas Stars is taking the league by storm, finding himself on highlight reels almost every game. Since March 7, Robertson has 11 goals and 28 points in 26 games. He's currently on a five-game point streak which includes three multi-point nights.
In total, Robertson has 14 goals and 35 points in 40 games. Kaprizov has scored in three straight, extending his lead to three points (19 goals, 38 points in 45 games). Kaprizov has a small cushion, and Minnesota and Dallas both have 11 games remaining. Still, Kaprizov can't count on a win, even if he winds up with a higher point total than Robertson.
If current per-game paces hold up over the final 11 games, Kaprizov will have 47 points to Robertson's 45. Kaprizov would have the lead, but that's a toss-up. Some voters may acknowledge Robertson's higher points-per-game average (0.88 to Kaprizov's 0.84). Others may give more weight to 5-on-5 scoring, where Robertson is second in the NHL with 3.14 points per hour (Kaprizov is 17th with 2.63). Others may, fairly or not, give an edge to the 21-year-old Robertson over the 23-year-old KHL veteran.
The point isn't to make an argument for one of these fantastic rookies over another. The point is to say that the way things stand now, the Calder race is a toss-up. For Kaprizov to secure a win — which would be the Wild's first major award win in franchise history — he's going to have to separate himself from Robertson.
With the way things are going for Kaprizov, that's going to be tough to do.
He hasn't fallen off a cliff or anything. It's just that, like the rest of the team, he hasn't been quite the same since the Colorado Avalanche destroyed Minnesota in two games in March. Since March 18, Kaprizov has nine goals and 13 points in 18 games. Obviously, the nine goals are great, but that lull has allowed Robertson to make up ground with 10 goals and 20 points in that same stretch.
Even more alarming is the drop-off in his 5-on-5 play. Kaprizov had 21 5-on-5 points in 27 games before the Av-pocalypse. Since then, he has just six in 18 games.

Why's that? Because in an instant, the Wild went from being an elite 5-on-5 team to the worst in the NHL. You can draw a line on the calendar at March 17, and the before and after looks like two different teams. Before, you had a club that dominated play and generated more shot quality than anyone but Colorado and the Carolina Panthers. After, they've been a bottom-five possession team that generates fewer scoring chances than anyone. Yes, that includes the Buffalo Sabres.
What happens when you see an entire team nose-dive like that? Forget how to play an exciting, up-tempo style of hockey?
You have to see adjustments, which are nowhere to be found with coach Dean Evason. 10K Rinks discussed the vanishing chemistry between Kaprizov and center Victor Rask last month. It's not gotten better since. Kaprizov has played on a line with Rask for about 62% of his 5-on-5 minutes since March 18. They've controlled 37.8% of the expected goal share, according to Natural Stat Trick. Of the eight 5-on-5 goals scored with Kaprizov on the ice, just three have come with Rask alongside him.
Despite five weeks of ineptitude from the duo, Evason has made almost no adjustments outside of a three-game separation. All it took was one three-assist night from Rask to get him back alongside Kaprizov. He's mustered one assist in seven games since.
Rask proved he belongs in the NHL this year, an admirable bounce back from two difficult years in St. Paul. Still, there's a massive difference between someone who can play and someone who can support a star player.
Rask scored two goals on 29 shots over his previous 30 games, showing he's neither a volume shooter nor a finisher. At his best, he can dish a pretty pass, but he's often been plagued by poor puck-handling in traffic. He doesn't defend well and drive play to the offensive zone. His lack of speed makes him one of the worst Wild players in transition.
To emphasize, the problem isn't Rask. It's his coach putting him in a role above his head and continuing to do so despite overwhelming evidence that it doesn't work. One can point to a lack of options when it comes to centering Kaprizov, which is true, but any other options have been wildly unexplored or quickly abandoned.
When Michael Jordan was in college, there was an old joke that the only person who could hold him under 20 points a game was his coach, Dean Smith. It was a touch unfair — North Carolina won a championship with Jordan, after all — but the core point was that Jordan could've posted much bigger numbers had it not been for his team's system.
A similar joke could be made about how Evason is the only person who could stop Kaprizov from hoisting the Calder. Since March 18, the Wild's inability to generate scoring chances, and Evason's unwillingness to experiment to jump-start his offense, have dwindled Kaprizov's lead in the Calder race down to nearly nothing.
You can argue that Evason's job is to win games, not individual awards, and that Minnesota's still winning games. That's true to a point, but it's not like the Wild have played well by any stretch. Getting out-shot on a nightly basis and relying on a hot goalie and the power play is no recipe for long-term success. You can ask the 2013-14 Avs where winning games with terrible underlying numbers gets you in the playoffs.
Finding a way to get Kaprizov in the offensive zone regularly is best for everyone involved. It's going to maximize Minnesota's chances at getting home-ice advantage in the playoffs while also giving Kaprizov ample opportunity to separate himself from Robertson in the Calder race. It's hard to say what the solution is, but Evason showing a willingness to make any adjustment to the status quo would be a great start.
All data is from Evolving Hockey unless otherwise noted.