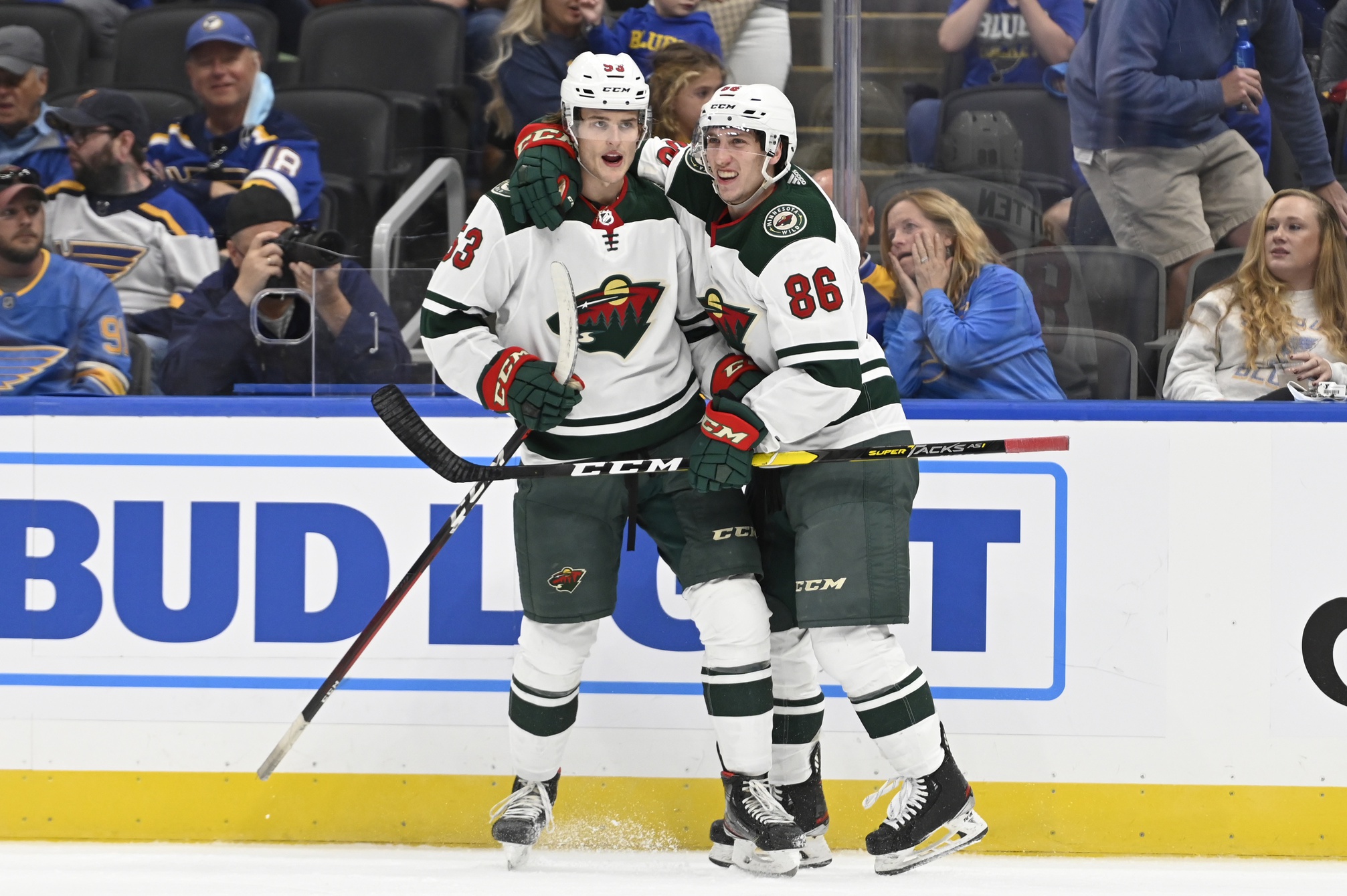 The Minnesota Wild finally looked like themselves again after beating the New York Rangers 5-2 on Tuesday night.
Minnesota's win over a surefire playoff team may be the first step in breaking out of their slump. The Wild are injury-free for the first time since December, and they finally looked like the team that dominated the first half of the schedule. The downside is injuries are bound to happen again with 27 regular-season games left to play in a little over a month and a half.
To prevent another month-long slump, the Wild should consider promoting Adam Beckman. Yes, every Wild fan is patiently waiting for them to call up Marco Rossi. But as many already know, if he plays under 10 NHL games (including playoffs), his entry-level contract starts next year, perfectly lining up with the expiration of dead cap money from the Zach Parise and Ryan Suter contract buyouts. Therefore, it seems that Bill Guerin is reluctant to let him play in the NHL regularly this year.
Now that the Wild are finally healthy, a Beckman promotion might have to wait until a mainstay is out of the lineup. But his shoot-first mentality and confidence in the locker room may be what the Wild need to avoid another slump down the stretch. With the trade deadline on March 21st, it would be advantageous for the Wild to fix their problems using their system rather than potentially overpaying for a rental they can not afford to re-sign after the season.
Beckman had an excellent 2021-22 NHL preseason, but his stats indicate he's had an average AHL season so far. However, he was solid in his short stint in the NHL this year and even had an assist on a late game-tying Ryan Hartman goal in Pittsburgh, which the Wild went on to win in a shootout. He is great in the locker room, and if Minnesota sustains another injury, Beckman and his confidence maybe give that room a boost.
Marcus Foligno, an alternate captain and respected veteran, was very impressed with the way Beckman carried himself in the locker room. "I love Becks. He's just one of these young kids that has come along, and he's just infectious in the room. Very chatty, very talkative, and I think it's just great. But not only is he talking the talk, he's walking the walk, and that's great to see. He's really making a name for himself being noticeable this camp."
"I like to shoot the puck and stuff," said Beckman, "but I like to be an energetic guy in the room, too, just trying to get everybody excited and happy to be out there and just make it fun. That's kind of my personality."
That is the exact player Minnesota's front office staff has to love. A team-first guy who can put the puck in the net.
Beckman could also help the slumping power play by doing what he does best, shooting the puck. Dean Evason has been adamant that the Wild's struggles come when they try to get too cute with the puck or try to do too much. Perhaps another offensively-minded player focused on getting the puck on net could help their second power-play unit.
The 75th overall choice in 2019 lit up the WHL with the Spokane Chiefs, scoring 97 goals and 196 points over just 153 games from 2018-2020. In the 2019 season, he earned the Bob Clarke Trophy as the WHL's top scorer, was named the Western Conference Player of the year, and was selected as a Western Conference First Team All-Star. Not bad for a third-round pick.
In the AHL, Beckman is currently averaging roughly a point every other game while playing on the third line. However, he has played on the first line alongside Viktor Rask and Nick Swaney in the past two games.
A large reason Beckman's AHL stats are not overwhelming is that he is generally stuck playing in a bottom-six role. Towards the end of the 2021-22 preseason, there were talks of Boldy, Rossi, and Beckman playing on a first-line for the Iowa Wild to start the season. Then Matt Boldy broke his ankle in the second-to-last preseason game and derailed those plans. Since then, we have yet to see Beckman given a consistent look in a top-six role.
Let's hope the Wild do not skid again, and they can build off of their beautiful 5-2 win over a strong New York Rangers team. But if they do, Adam Beckman is patiently waiting in Iowa to prove that his strong preseason was no fluke.