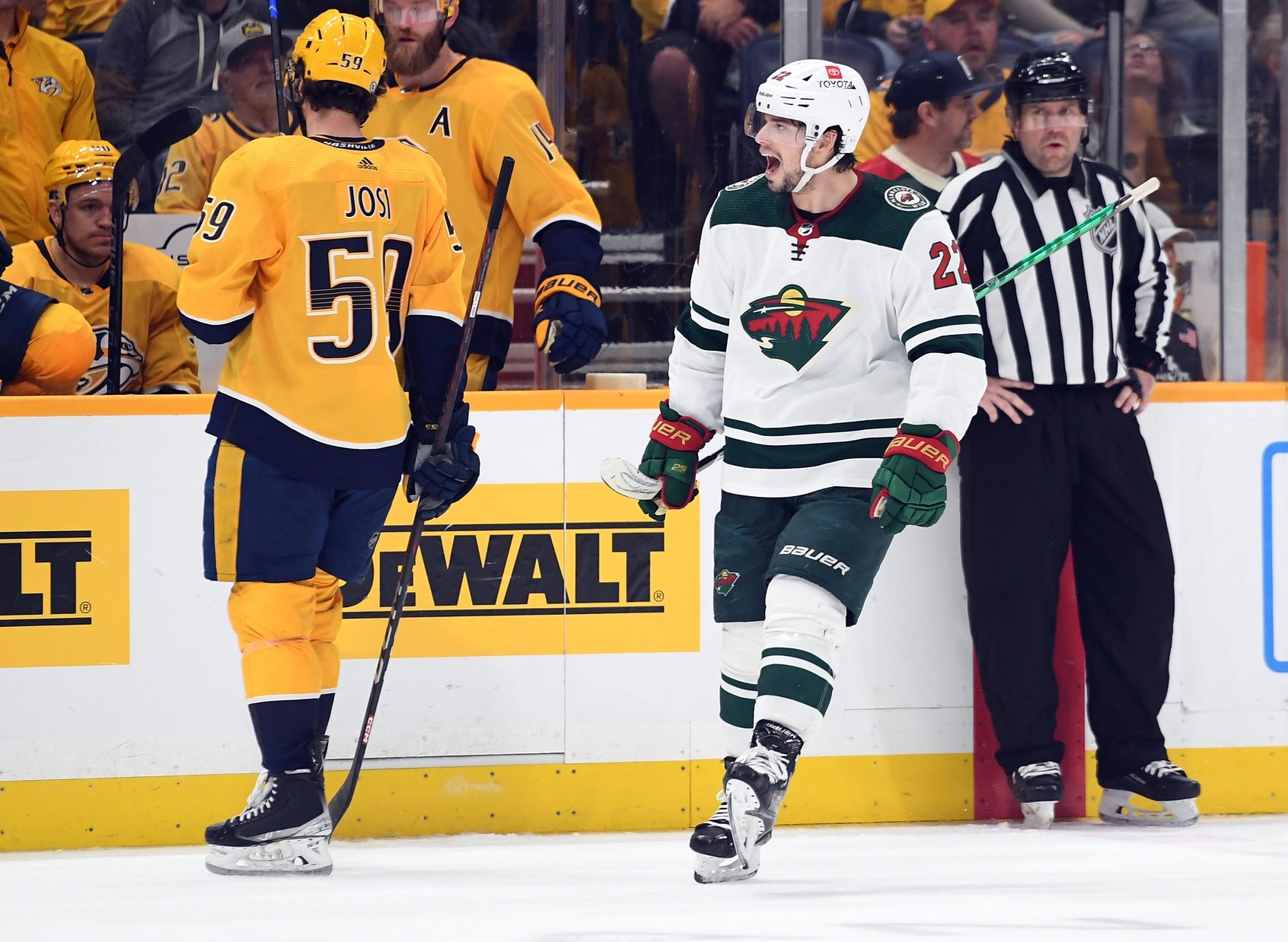 The Minnesota Wild had it all in the 2016-17 season. A team fighting for the top of the Western Conference. Several breakout seasons from young players. The motivation to finally get an aging core over the postseason hump. Attractive trade assets to work with.
Yes, the Wild had it all. But everyone else? Nope. And that was the problem at the trade deadline. Minnesota wanted to get one more piece to compete against the likes of the Chicago Blackhawks, Anaheim Ducks, and Los Angeles Kings. But when they looked around, all the bad teams had nothing to sell.
The Wild did (and still do) get a lot of flak for trading for Martin Hanzal at a premium price. On the one hand, it was a ridiculous price for a third-line center. On the other, though, they needed to add at the deadline and entered a seller's market. What else could they have done? Trade a first for Patrick Eaves? Bring a 39-year-old Jarome Iginla aboard? Re-acquire Thomas Vanek or Justin Fontaine? Them's the breaks. Sometimes you get unlucky with a bad market.
But could this happen to the Wild again? They have Kevin Fiala, an 85-point forward who they can't afford and (probably) don't particularly want anyway. They should be able to pry at least a top prospect and more for him. If the market was as barren as the 2016-17 deadline, they might be able to pick up two first-round picks and a real prospect.
What happens if this turns into a buyer's market, though?
It's not just Fiala's status as an 80-point player that makes him such a valuable trade chip. It's that he's a young 80-point player and that those players don't change teams often. How many under-30, former 80-point forwards were traded in the past decade? Two immediately come to mind: Phil Kessel and Taylor Hall.
As for former 80-point forwards that have changed teams via free agency before 30, that list also has only four players. Alexander Semin, Zach Parise, John Tavares, and Artemi Panarin. Lower the threshold to 70-point forward, and we count Rick Nash, Mark Stone, Bobby Ryan, Matt Duchene, and Loui Eriksson.
So, depending on how generous you want to be and whether we missed anyone, only six or 11 younger forwards of Fiala's caliber changed teams in the past decade. Do the math, and that's either just over once every two years, or just over once every year. In a typical offseason, Fiala is the only big fish in the pond. Maybe there's one more for 31 teams to fight over.
However, Fiala might be one of four this year, perhaps even more.
Let's say you're a team with cap space to burn and a need for an impact forward. Trading for Fiala makes a lot of sense, but he will cost you. Not just in terms of prospects but in dollars. He'll almost certainly want to get paid what he's worth, which is a cap hit that's at least in the $8 million range on a long-term deal.
That's a lot. But you'd probably be willing to do that to add a young, impact player who should be productive for years.
Except for one thing: Why would you trade for Fiala when all it costs to land Johnny Gaudreau or Filip Forsberg is money? Both forwards are pending unrestricted free agents, and neither are sure bets to re-sign with their current clubs.
The Calgary Flames have $26 million in cap space this summer. Theoretically, that's enough to sign Gaudreau, even if he cashes in on the nearly $11 million per season Evolving Hockey projects from him. Then you look at the rest of their cap situation.
Matthew Tkachuk is a restricted free agent who, even a short-term deal, will command nearly $10 million. If he signs for eight years, expect that to be more like $11 or $12 million. Andrew Mangiapane will also command a sizable raise. That's about all of Calgary's cap space between those three players, with eight roster spots left to fill out.
The Nashville Predators are in a much better position to sign Forsberg. They have no major RFAs, 18 roster spots filled, and $23 million in cap room. But while Nashville can comfortably afford Forsberg, does he want to stay there? They just got manhandled by the Colorado Avalanche in a brutal sweep last month.
Even worse, aside from Forsberg (and goalie Juuse Saros), virtually every other important Predator is or turns 30 this summer. Their next-best scorers under 30 were Tanner Jeannot (41 points) and Philip Tomasino (32 points). Is that a situation he should tie the rest of his career to?
The advantage Fiala has in this cost/benefit analysis is youth. Fiala is two years younger than Forsberg and three younger than Gaudreau. That means a seven-year deal for Fiala ends after his age-32 season, instead of 34 and 35 for Forsberg and Gaudreau, respectively.
Still, those two star UFAs need to fall pretty far not to be worth something approaching their deals. This season alone, seven forwards age-34 or older crossed the 60-point mark this season. An eighth, Evgeni Malkin, was over a point-per-game with 42 in 41 games. Being 34 isn't necessarily a death sentence for star players.
Besides, if it doesn't work out, how many general managers will still be in their jobs in seven years? Odds are, things are going to go really well, or it's someone else's problem.
Even if both Gaudreau and Forsberg re-up with their teams, Fiala will not be the only big fish available. The Chicago Blackhawks are going nowhere and have just two years of team control left on Alex DeBrincat. If Chicago's looking to sell this offseason, DeBrincat is their best chip.
At 24, he's not only younger than Fiala but probably better, too. Over the past two seasons, only five players have more goals than DeBrincat's 73: Auston Matthews, Leon Draisaitl, Connor McDavid, Kirill Kaprizov, and Alex Ovechkin. He also has a superior track record of driving play.
So if you're talking to Bill Guerin, and the asking price is a touch too high, what's stopping you from calling Chicago and asking about DeBrincat. In the same way, Minnesota hopes to pit teams against each other to raise Fiala's price, but more options give buyers the potential to pit teams against each other to find the lowest offer available.
DeBrincat may not be the only other impact forward available to teams on the trade market. J.T. Miller is 29, which makes him a less attractive option than any of the other names mentioned, but he's coming off a 99-point season and has one year remaining on his deal at a reasonable price. The Winnipeg Jets might move on from Mark Scheifele, as well. Scheifele is also 29, but his contract is two years at a steal of a $6.125 million cap hit. He's a two-time 80-point guy — at center, no less.
Beyond that, there are some long shots that could be put into play. If Calgary signs Gaudreau, can they also afford to give Tkachuk what he wants? If not, he'd undoubtedly be valued more highly than Fiala.
So, too, would former Rocket Richard winner David Pastrnak, who goes UFA in a season. There are already rumors he's not happy with the Boston Bruins. If that's true, he'll have buyers lining up for him.
None of this is to say that Guerin can't still get what he wants for Fiala, necessarily. If a star player leaves their team, that certainly opens up an avenue for another buyer. A smaller-market team that may not attract someone like Gaudreau or Pastrnak could also target Fiala. And hey, maybe only one or two of these other names actually are put into play this offseason.
It is to say that it's not very likely that Guerin will be the only GM (or agent, in Gaudreau and Forsberg's case) dangling an impact forward on the market. But if there are three, four, or even five other great options for teams, that makes trade waters much murkier to navigate.
That very well could impact Fiala's value in ways Guerin may not have calculated. If so, then his plan to flip Fiala may turn into the same sort of market-driven blunder the Hanzal trade was.