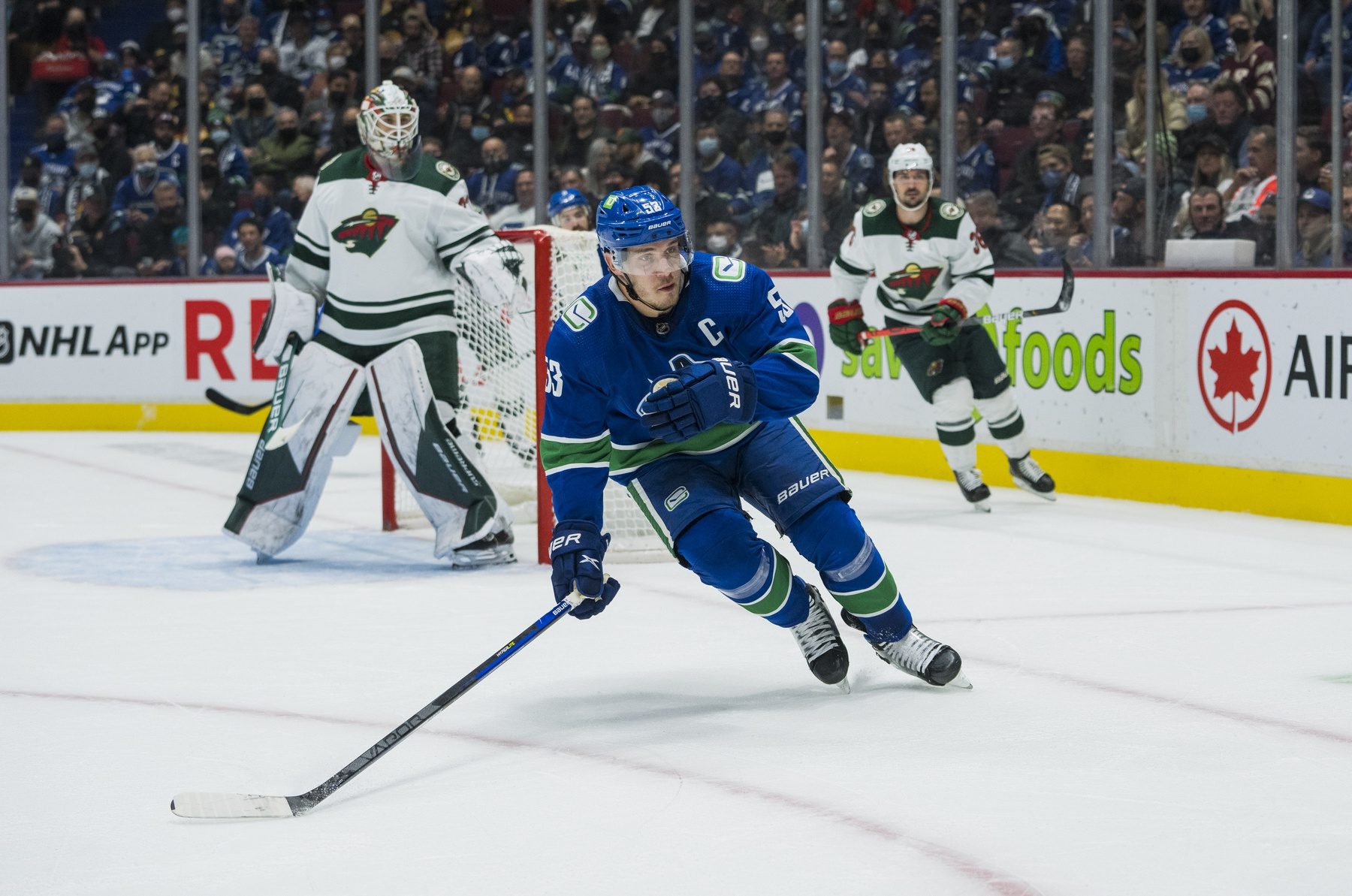 It sure seems like the Minnesota Wild could use a Mikko Koivu-type to anchor the top of the lineup. Luckily for them, the Vancouver Canucks are floundering, facing a cap crunch, and have that type of center in Bo Horvat, a pending free agent. Horvat fits the bill for the kind of center Minnesota needs, as he's Vancouver's version of Koivu. However, he packs more goal-scoring upside, which the Wild need because they don't have much scoring punch at center. Not to mention, Horvat brings some physicality with his skill.
Minnesota hasn't had a player like that since Eric Staal, who was that player for a brief period in Minnesota. Sure, he wasn't seen much in the playoffs, but he was the first to tie Marian Gaborik's single-season record of 42 goals, and he held it until Kirill Kaprizov broke it last year.
Horvat seems well on his way to the 40-goal mark this season. With 10 goals in his first 12 games, he's currently on pace for 68 goals, which is insane. Of course, we can expect some regression, but that's the kind of scoring punch Horvat can bring down the middle. How would Wild fans feel about an answer to goal-scoring centers like Auston Matthews, Connor McDavid, and Leon Draisaitl? Horvat is not quite on their level, of course. But if this is the start of a breakout year, he may not wind up far behind them.
Horvat's scoring has been on an upward trend for a while. In his first six seasons, he scored 120 goals, or 22 goals every 82 games. Then in the 56-game COVID season, he scored 19 goals, on pace for 28 goals in 82 games. He showed that breakout wasn't a fluke last year with 31 tallies. Now, even if his scoring rate dips to his last two seasons' pace the rest of the way, he'll hit 37 goals. If Ryan Hartman can score 34 goals alongside Kaprizov, what can Horvat score? 50? More?
Evolving Hockey has Vancouver's playoff odds at only 34%. If they're going nowhere, the Canucks can sell high on Horvat, who they might not be able to afford after recent extensions for Elias Pettersson, Quinn Hughes, and J.T. Miller. Minnesota's rumored to be a good landing spot for Horvat. And Minnesota sure could use him. The Wild have lacked many pure goal-scoring centers, especially when playoff time rolls around. 
Horvat's last playoff appearance was in the 2019-20 season when he scored 10 goals in 17 games played. Add in his first playoff stint, where he scored a goal and four points in six games, and this is a player on pace for 39 goals and 57 points per 82 games in the playoffs. Horvat, 27, is entering his prime. And after his recent breakout, he has the potential to grow more -- especially when his fearlessness playing in front of the net combines with Kaprizov and Mats Zuccarello feeding him pucks left and right. Minnesota could've used that against the St. Louis Blues this past spring.
They also could've used better special teams, and frankly, they still could. Horvat would help with that. If Minnesota wants to improve their penalty kill, Horvat can be the player who can anchor a shorthanded unit. He will make it more opportunistic because he is aggressive on the forecheck and create opportunities for himself. You can see that already, as he has two shorthanded goals. Can you get behind a top unit penalty kill of Matt Boldy and Horvat? They'd dominate possession like it was Minnesota on the power play. That's how you set yourself up for the playoffs.
Horvat's power play presence will change their second unit's dynamic. The top unit consists of Boldy, Kaprizov, Calen Addison, Zuccarello, and Eriksson Ek. They're doing well enough that you don't want to touch it. Horvat allows them to spread the wealth around, though. He'd give Rossi a sniper to play with, which is the foundation for a unit with the potential to provide support to the first unit and give them a breather every now and then.
Speaking of Rossi, Horvat will relieve a ton of pressure on Rossi, and we may see a complete shift in Rossi's game. He'd no longer be burdened with having to be Minnesota's top center savior. Horvat allows Rossi to develop into a true top center by taking on a secondary role, as he can take notes from Horvat to become the next-level player we need him to be. Being able to dominate in a secondary role while letting Horvat take on the most difficult assignments can only add confidence for him.
As for Horvat's potential linemate Kaprizov, he's already breaking records without playing with a true top center. Horvat will give Kaprizov the defensive support of a Freddy Gaudreau, just with a lot more offense. Horvat can go head-to-head with the league's heavy hitters, like Nathan MacKinnon, and still produce. That's a defensive one-two punch for the ages with Eriksson Ek, and those kind of minutes just aren't right for a player of Rossi's age and experience.
Kaprizov will enjoy setting up tic-tac-toe plays with Zuccarello so that Horvat can finish off plays. They have lacked a true finisher down the middle, and Horvat can finish plays Hartman couldn't in the playoffs. If Kaprizov's banking in 100-point upside already, think of what he can do with a true goal scorer centering him. McDavid and Draisaitl are likely going to have competition for the Art Ross Trophy. Horvat gives the top line even more upside while pushing other players down the lineup to beef up the scoring depth. That's what playoff teams need.
Horvat, Eriksson Ek, Rossi, and Gaudreau at center turns their center situation from a weakness to a strength in the playoffs. They can all be warriors in their own way. This team has wingers now, with Kaprizov, Boldy, Zuccarello, and eventually Shaw. They need centers who they can thrive with. Horvat's providing Staal's goal-scoring and Koivu's defense on the top line. Eriksson Ek can remain one of the league's best shutdown centers. Rossi can thrive with Boldy on the third line and break out offensively. Gaudreau completes the Bottom-6, taking on top competition by being great defensively and adding scoring depth.
And the Wild have the assets to get pretty much any deal they want done. This team's prospect pool is ready to soar, but there's still a question mark at the center position. The Wild have high-upside wingers in Danila Yurov and Liam Öhgren. Other than Rossi, though, who's really an up-and-coming center? Marat Khusnutdinov might be more productive at wing than center. Servac Petrovsky, Rieger Lorenz, Caedan Bankier, and Hunter Haight are long shots to reach the NHL. Who knows what their ceilings are?
The headliners would likely start with Minnesota's 2023 first-round pick to start the negotiations, especially since the 2023 draft is hyped up. Sure, Bill Guerin will only have a second-round pick next year in the first three rounds. But while it'd be nice to participate in the first round, unless you're landing a top pick like Connor Bedard or Adam Fantilli, the Wild are better off acquiring Horvat. It's unlikely they draft within the Top-10 or Top-15 with how Minnesota's played since Marc-Andre Fleury righted the ship, which isn't too likely to land a star talent. While Judd Brackett has a track record of snagging good prospects later, it's hard developing a top center late in the first round.
Between top options like Yurov, Öhgren, and Brock Faber, as well as plenty of B-prospects, the Wild can make pretty much any deal happen and still be fine. They have that arsenal, so why not use it to get Kaprizov and company deep into the playoffs? While Horvat isn't exactly a cornerstone center like McDavid, MacKinnon, and Matthews, he's a high-end two-way center who shoots the puck a ton and is built to succeed alongside talented wingers. He's proving it now, even as Vancouver struggles. The math on this is very simple: He plays center, which is highly valuable in the NHL. The Wild needs centers. Therefore, they should trade for Horvat.