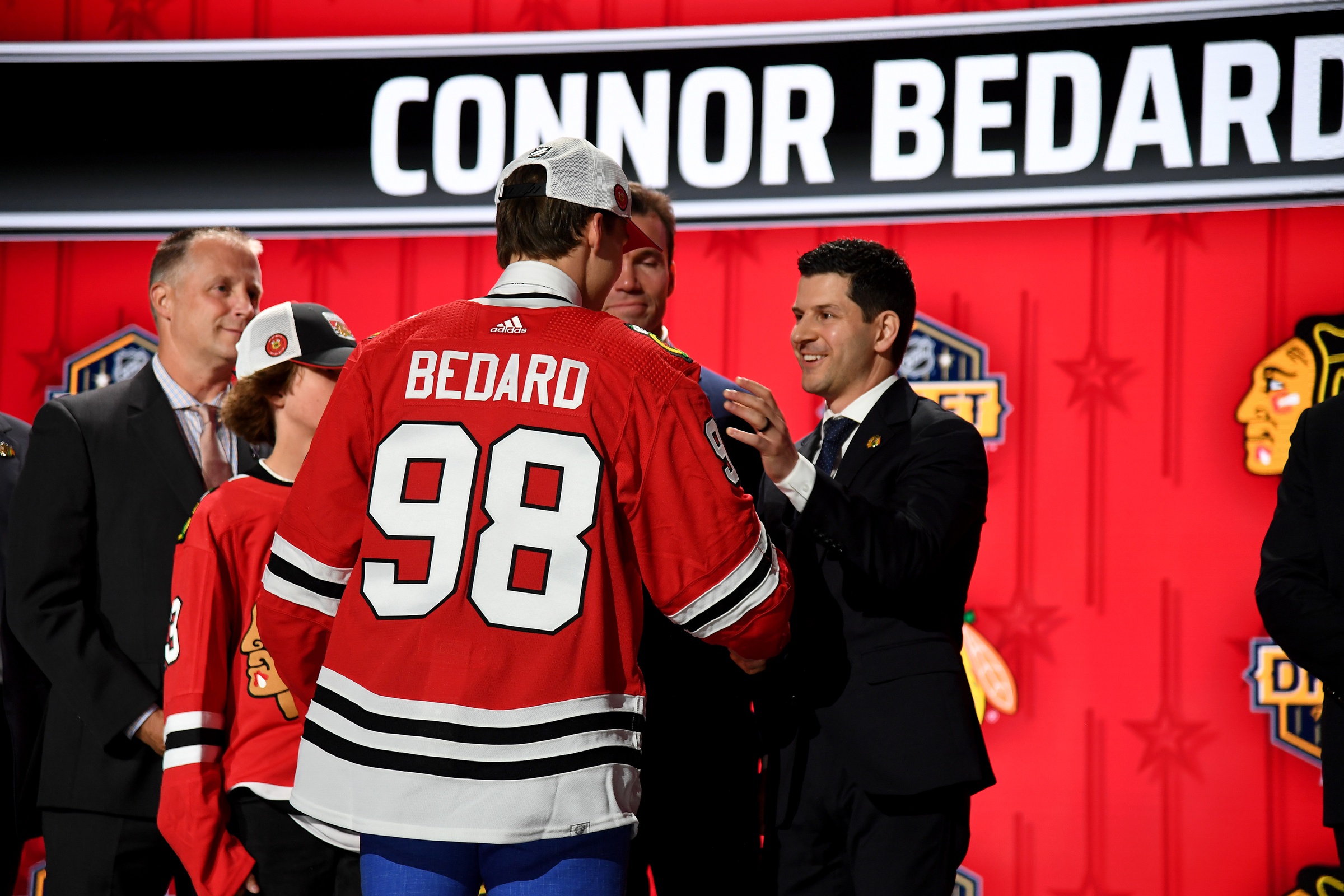 Image courtesy of Christopher Hanewinckel-USA TODAY Sports
Connor Bedard's NHL journey apparently will start in the State of Hockey. The Minnesota Wild are hosting their annual Tom Kurvers Prospect Showcase this weekend, and when the Chicago Blackhawks unveil their roster tomorrow, it's expected that their No. 1 overall pick and generational prospect will be there. 
Nominally, this is Bedard's first test on his way to the NHL, but it's very likely he'll ace it. On the Wild's roster alone, there are eight prospects who played in the Western Hockey League with Bedard last season. (The St. Louis Blues, who are the third team in the showcase, haven't released a roster as of Tuesday morning.) The same WHL that Bedard lit up to the tune of 2.5 points per game.
But for one game on Saturday against the Blues, Minnesota fans can marvel at Bedard's skill before he attempts to posterize the Wild's prospects the following day. Then the real fun begins on December 3, when Bedard's Hawks come to the Xcel Energy Center: Having a generational player in your division for the next 15-20 years.
It's splitting hairs, perhaps, but the Wild have done a decent job at avoiding generational players being in their division. If we're measuring this by players who have won multiple Hart Trophies during the Wild's existence, Connor McDavid is over in the Pacific Division, while Sidney Crosby and Alex Ovechkin have been siloed off to the East. The two players likeliest to join that club in the next two years, Leon Draisaitl and Auston Matthews, are also out of the Central.
Even if we want to lower the bar to players who have won just one Hart Trophy, just three (Joe Sakic in 2000-01, Peter Forsberg in 2002-03, and Patrick Kane in 2016-17) were able to terrorize Minnesota as a division rival. Even with the Norris Trophy (for best defenseman) and Vezina Trophy, the winner has belonged to the Wild's division a combined five times over a 20-plus year history.
Your luck has to run out sometime, I guess.
It's possible that the Wild will have Bedard's number over his career, to some extent, at least. But historically, Minnesota hasn't not fared well against these types of generational players. It's not surprising, they're generational for a reason. But a quick look at the biggest "Wild Killers" of all-time shows that the generational players haven't merely been great against Minnesota. They've raised their game to heights not seen before.
Let's start our examination with Ovechkin, whose 19 goals are tied for 20th all-time against the Wild, alongside Nathan MacKinnon. Except MacKinnon put up those numbers over 50 career games against Minnesota. Ovechkin did that in just 21(!!!) games, throwing in another 17 assists for fun. If you're keeping score at home, we're talking about 0.90 goals and 1.71 points per game.
Is it a small sample size? Of course. Are those numbers any less incredible for that fact? Absolutely not. Those numbers represent the highest goals per game total Ovechkin has against any franchise. The points per game is his second-best, but only if you want to count the eight points he has in four games against the Seattle Kraken.
We're not done here. Ovechkin is increasingly likely to pass up Wayne Gretzky's goals record. If Ovechkin played every game against the Wild and kept that pace up, he'd have cruised past 900 goals by the end of the 2017-18 season. That's how incredible he's been against Minnesota.
He's not the only generational talent to run all over the Wild. Sidney Crosby averages 1.26 points for his career, but his 32 points in 22 games represents a jump up to 1.45 points per game. He's only humiliated the Arizona Coyotes, New York Islanders, and Philadelphia Flyers to a greater degree over his career.
The latter two teams show the worst-case scenario of having Bedard-level prospect coming of age in your division. If you want to call 22 games a small sample size, sure, who can argue? But the Islanders and Flyers have been in Crosby's division since Day 1. It's not even as if they've been in the gutter the whole time. The Islanders made the playoffs in eight of Crosby's 17 seasons, and the Flyers did it nine times, including a Stanley Cup Final appearance.
That didn't stop Crosby from hanging 41 goals and 132 points on the Isles in 82 career games, or from dominating Philly to the tune of 53 goals and 124 points over 83 contests. And God help a team that finds itself in the Flyers position when it comes to the playoffs. The Penguins have taken three of four series from Philadelphia, with Crosby racking up an absurd 15 goals and 34 points in 22 (playoff!!!) games. 
It's been a house of horrors so far, but the track record Minnesota has against generational players isn't all bad. It might sound silly to say that the Wild have "only" held Connor McDavid to 9 goals and 22 points in 20 games, sure. But if you condense McDavid's career to a 20-game sample, he'll have 11 goals and 30 points. His career splits show that he's hung over a point per game against 31(I know we're doing this a lot, but !!!) of the league's 32 franchises. 
So Minnesota has to be happy with "The Other 97" only getting 1.10 points per game on them. Thank you, Jonas Brodin, for being one of the few players who can frustrate the best player in hockey for stretches. Maybe it'll be OK?
But until that proves out, you have to worry. Besides, even if the Wild can contain him, it's not like Bedard won't have some competition for being the "Wild Killer" anyway. MacKinnon (a step below generational, but still a perennial Hart Trophy candidate) may "only" have 49 points in 43 games against the Wild, a 1.14 points per game rate in line with his career 1.07 mark. Still, include his playoff series against the Wild a decade ago, and that jumps to 59 points in 50 games (1.18). The presence of running mate Mikko Rantanen (35 points in 31 games vs. Minnesota) doesn't help the Wild put a lid on MacKinnon, either. 
Among likely Central Division playoff teams for next year, there's also Roope Hintz. This might seem like recency bias, but his playoff series just bumped him over the 20-game vs. the Wild threshold for his career. He's now fourth in points per game all-time against the Wild, with 15 goals and 28 points (1.23 per game) in just 22 games. Only Ovechkin, Crosby, and Peter Forsberg (1.30 ppg) have dominated the Wild more. That also represents a leap from a career 0.79 point per game mark. He's had Minnesota's number.
But let's not worry too much about what tortures a generational prosect can inflict on the Wild. It's only September, after all. We'll get a preview this weekend of what Bedard can do against Minnesota. But after that, we'll have about three months of existential dread before the Bedard Era comes to St. Paul.
2