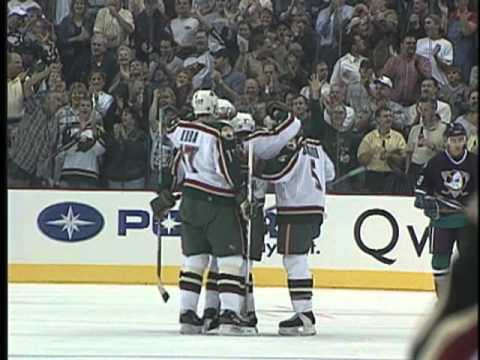 On Thursday night, the Vegas Golden Knights make their first-ever trip to St. Paul for a meeting with the Wild. As we checked in at the end of October, we saw that the Golden Knights were outgunning the expansion Wild -- the last expansion team (with Columbus) to enter the league -- in just about every category.
It does make sense for the Golden Knights to be doing a tad better because their owner Bill Foley paid $420 million more than Bob Naegele did to get a team in the league.
So since the Wild and Golden Knights are about to meet for the first time, let's check in once again to see how the two teams compare at the end of November in their inaugural season.
Game by game results
Minnesota (7-14-4-1 overall record):

Vegas: (15-7-1 overall record):

Stats
Minnesota
Goals For/Game: 2.0
Goals Against/Game: 2.6
Power Play: 10.2 percent (26th in NHL)
Penalty Kill: 84.2 percent (14th in NHL)
Leading Scorers
Scott Pellerin - 2 goals-11 assists--13 points
Jim Dowd - 1-12--13
Maxim Sushinsky - 7-4--11
Antti Laaksonen - 6-5--11
Marian Gaborik - 6-4--10
Lubomir Sekeras - 6-4--10
Wes Walz - 6-4--10
Goaltending
Manny Fernandez - 6-5-1, 2.27 GAA, .911 SV%, 1 SO
Jamie McLennan - 1-9-3, 2.80 GAA, .900 SV%, 1 SO
Vegas
Goals For/Game: 3.5
Goals Against/Game: 2.9
Power Play: 20.5 percent (15th in NHL)
Penalty Kill: 79.7 percent (18th in NHL)
Leading Scorers
William Karlsson - 13 goals-9 assists--22 points
Jonathan Marchessault - 8-13--21
James Neal - 12-7--19
David Perron - 6-13--19
Reilly Smith - 6-13--19
Goaltending
Maxime Legace - 5-5-1, 3.66 GAA, .870 SV%
Malcolm Subban - 5-4-1, 2.09 GAA, .928 SV%
Oscar Dansk - 3-3-0, 1.78 GAA, 946 SV%, 1 SO
Marc-Andre Fleury - 3-1-0, 2.48 GAA, .925 SV%
(Stats via NHL.com and Hockey-Reference. Schedules via Hockey-Reference)
If the Wild can say one thing they had better than Vegas at this stage, it's that they had much better health from their goaltenders!
---
Never Miss an Episode of Giles & The Goalie!