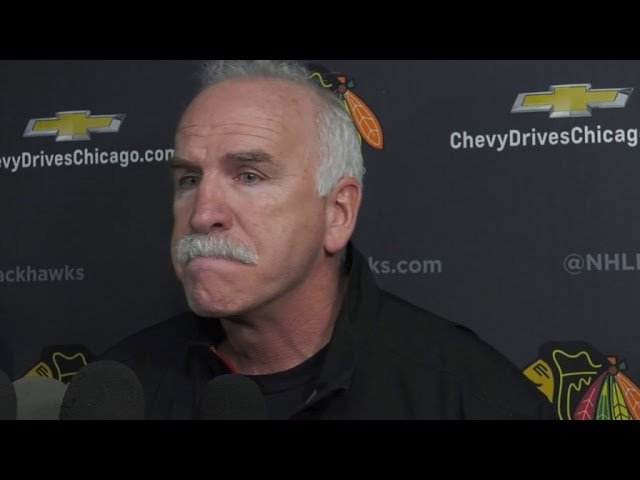 With the trade deadline just three weeks away (Feb. 26) teams in the NHL are deciding whether they are going to buy or sell.
The Central Division is an absolute logjam at the moment as all teams are in contention for a playoff spot. This week we will highlight each team and look at their status ahead of the deadline. A ringer, per se, who covers each team a bit more closely will answer some questions for us to provide an update on said team.
Kicking off the series this week is the Chicago Blackhawks, and helping us look at the boys of the Windy City is Faxes From Uncle Dale.
Chicago currently sits last in the Central Division and is walking a fine line between being too far out of a playoff spot with just two months remaining in the season.
Onto the questions...
Q: Corey Crawford was a Vezina candidate before going down and now might not return at all this season. Is there hope for him to return?
A: There is some hope but not much. And the Hawks are always extremely wishy-washy about these things. They only "produced" him at the arena when there was finally buzz about people wondering where the hell he was, and then it all disappeared again.
They made some noise about him coming on the current road trip, but that didn't happen and no one bothered to ask any more questions. They're getting close to the threshold of whether it would even be worth it at this time. I'd say if he's not even skating in the next couple weeks, he's not coming back.
Q: If Crawford can't return this season, is the season lost for Chicago, who is just struggling to stay in the playoff picture?
A: Pretty much. No matter how well the Hawks play they're going to give up a ton of chances -- and good ones -- and they need top-tier goaltending to get away with it. Anton Forsberg and Jeff Glass haven't been bad, but they haven't been good either. Neither is going to go on a run that would allow the Hawks to rip off seven or eight in a row, which is what it's going to take for them.
Q: Besides Crawford missing time, what has been the biggest problem with the Blackhawks this season?
A: They've honestly been let down by their veterans. Alex DeBrincat, Nick Schmaltz, Connor Murphy and now Anthony Duclair have all been good, but they just haven't gotten enough from Jonathan Toews and Brandon Saad, whether that's through bad luck, bad finishing or just not being good enough.
Brent Seabrook has been awful and yet still gets used a lot. Duncan Keith has been very up and down, as he is having a hard time recalibrating his game without the first step he used to have. They also lack depth. Even if all the vets were firing, they don't have a third line to speak of.
Q: What does the trade deadline look like for Chicago? Desperation moves from Stan Bowman to keep his job?
A: No. Bowman is under no threat whatsoever. It appears he finally wrestled control from Q (head coach Joel Quenneville) and the higher-ups this summer and is being allowed to try and turn a lot of the roster over to the youngsters, a rebuild on the fly if you will. If there's another Duclair-like deal out there, where he can add someone for now and the future, that's all he'll do. I wouldn't be shocked if he tries to pawn Artem Anisimov off on the Penguins or something, but I doubt they'll be very active.
Q: If Chicago does indeed miss the playoffs, does either Bowman or Quenneville -- or both -- take the fall?
A: As above, Bowman is certainly safe despite the calls from the unwashed. I'd be floored if Q left either, but I won't totally dismiss it. It wouldn't be a firing, though. He'd have to leave, and I don't know what job he'd rather have right now. The relationship between front office and coach has always been weird here but gets no play because the Hawks usually win. It is now.
Q was completely in the dark on the Niklas Hjalmarsson trade -- a good move, by the way -- and has been petulant about it, scratching Murphy for no reason for some games. He's been weird about how he deploys the kids and the vets, and it's not clear that he's on the same rebuild-on-the-fly page. It would not come completely out of left field that if he felt they couldn't win next year he'd jump, but I just can't see him ever being fired. Then again, if the Hawks want a Pittsburgh or Boston-like revival for their vets, both those teams canned coaches (and GMs, to be fair). You'd be amazed how much water "TREE CUPZ" draws, though.
Thanks to Faxes From Uncle Dale for contributing to this post. You can follow their work on the Blackhawks at faxesfromuncledale.com or on Twitter @RealFansProgram.
---
Never Miss an Episode of Giles & The Goalie!