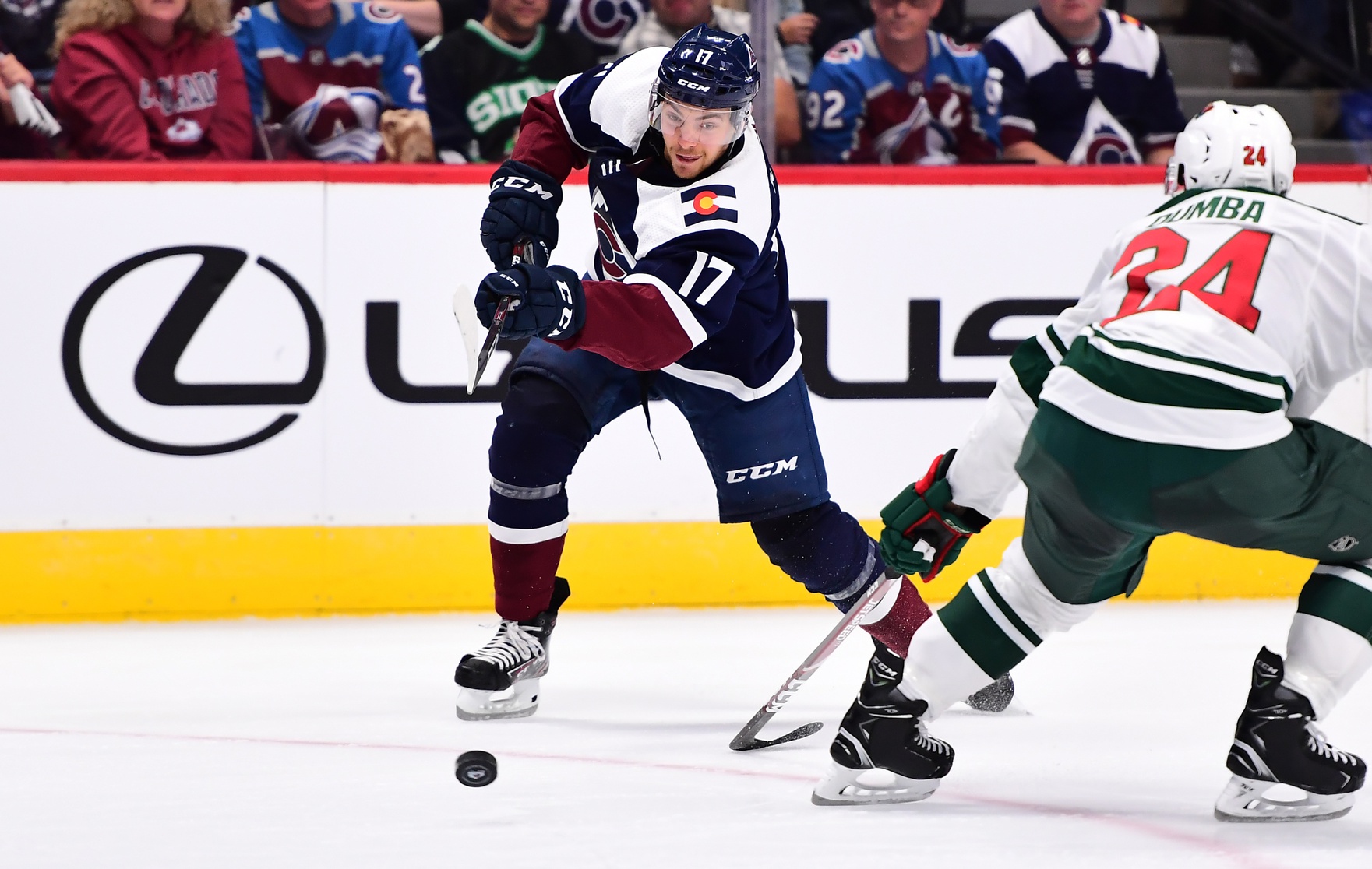 On the one hand, the Minnesota Wild's trade with the Colorado Avalanche on Tuesday was a footnote. The Wild sent Nico Sturm, a bottom-six forward who wasn't in their future, to Denver. In return, Minnesota got Tyson Jost, a bottom-six forward who wasn't in the Avs' future.
Yes, Jost was a former 10th overall pick in 2016, but the shine's come off him since. In five fullish seasons in Colorado, his career-highs are 12 goals and 26 points despite being on a loaded team. Joe Sakic, a general manager who has fleeced many teams, concluded Jost was never going to break out in Denver.
Or, given Sakic traded Jost to a division rival, would never break out at all.
If both players continue their trajectories, this trade is a wash. Sturm's currently a speedy, defensively-minded penalty-killer with size. Jost is a speedy, defensively-minded penalty-killer with skill. But the hope for Minnesota is they can tap into Jost's potential in a way that the Avs never could. Can the Wild turn one team's refuse into a crucial member of their future?
Looking at Jost's numbers, the first thing that jumps out is how little he pops in any category. From a scoring perspective, he averages 0.55 goals and 1.33 points per hour at 5-on-5 throughout his career. The League average since 2016-17 is 0.48 and 1.29, respectively.
As for his underlying numbers, they're typically fine but not great. Before falling off a cliff this year with a 47.1% expected goal share, he controlled 56.4% of the xG share over the past two seasons, about average for an elite Avs team. Looking more granularly, he gave Colorado a slight boost on defense while dragging down the offense a touch. Corey Sznajder's microstat tracking indicates that while Jost is speedy, his transition game is average.
[caption id=attachment_120512" align="alignnone" width="800]

Courtesy of Evolving Hockey[/caption]
So should there be any hope that a fairly average player who turned 24 this week can go from just a guy to a guy?
Minnesota's going to have to hope the potential he showed as a prospect is still there. Jost had a reputation for his speed and goal-scoring chops as a prospect in Penticton and the University of North Dakota. He flashes those attributes, but perhaps not quite the way speedy scorers usually do.
Jost doesn't create much of his offense off the rush, except as a supporting option, nor is he usually the primary puck-carrier on his line. Where he does well is using his speed to find open ice for passes in the offensive zone or race to loose pucks and rebounds. Once he finds that space, he has the hands to beat the goalie from the circles and in.
It might be hard to fathom how a skilled player could post such low point totals on a team with the likes of Nathan MacKinnon, Mikko Rantanen, Gabriel Landeskog, Nazem Kadri, and Andre Burakovsky. The answer? He never got much play with the most skilled players in Colorado.
Jost's most common linemates were Logan O'Connor and Nicolas Aube-Kubel. In previous years, that distinction went to the likes of Valeri Nichushkin, Joonas Donskoi, J.T. Compher, Matt Nieto, Alex Kerfoot, and Colin Wilson. Any bad players? No. But in terms of setting up a young, skilled player to succeed, that's maybe not the best situation.
Now, did Jost never get an extended run in the top-six because he didn't have the skills to earn it, or was he just truly squeezed out by a numbers game? The Wild certainly hope it's the latter. The question is, though, will Jost face a similar numbers game in St. Paul?
If Jost sticks at the wing, Minnesota's top-nine slots are spoken for. Jost isn't displacing Kirill Kaprizov, Mats Zuccarello, Kevin Fiala, Matt Boldy, Marcus Foligno, or Jordan Greenway anytime soon. So either Jost needs a shot at replacing Ryan Hartman or Freddy Gaudreau at center, or he's in the exact same spot as he was in Colorado. Minnesota won't unlock any potential with a fourth-line assignment.
The other reason they can hope that Jost will find his game with a change of scenery: They've certainly rehabbed a struggling young player's career before. Several times over the last decade, in fact.
The Ur-example of this is Nino Niederreiter. The fifth overall pick in 2010, Niederreiter had size, speed, and skill. The New York Islanders fell out of love with him quickly, though. First, they put him into the NHL at 19, where he had a historically awful season, scoring a staggering one goal and zero assists through 55 games.
The following season, a rift grew between team and player, and the Islanders buried Niederreiter in AHL Bridgeport. The Wild took a chance on him, trading bottom-six grinder Cal Clutterbuck in perhaps the finest swap of player names in league history.
The on-ice results weren't bad for Minnesota, either. Niederreiter was an elite shot-suppresser who chipped in 20-plus goals for the Wild three times. Yes, Minnesota eventually moved on, hitting the eject button on him at age-26. By then, though, they got 434 games, 110 goals, and a whopping 25.6 Standings Points Above Replacement out of him. Not bad for a guy they pulled off the scrap heap.
Fiala is another former high first-rounder the Wild bought low on, then turned into gold. Like Jost, the Nashville Predators also sold Fiala when he was at his lowest point. Fiala had more success than Jost, with a 20-goal season already under his belt. But both Fiala and Jost cost their teams a point in the standings at the time of their trades.
Fiala ended up a brilliant player for the Wild once he and the team bought into each other. As Fiala earned more responsibility, his production rose. He's currently fourth in franchise history in points-per-game.
But perhaps better comparables are Foligno and former first-rounder Hartman. The Wild acquired Foligno after his age-25 season and Hartman after his age-24 year. Both players flashed early offensive potential, but their teams soured on them when it never fully came to fruition.
Still, they were both solid players in bottom-six roles. Their impacts in the three years before arriving in Minnesota look similar to Jost — solid defense, but underwhelming offensively.
[caption id=attachment_120511" align="alignnone" width="800]

Courtesy of Evolving Hockey[/caption]
Foligno and Hartman thrived with the Wild. Foligno became arguably the best defensive forward in the league and eventually added a goal-scoring element to his game. Hartman's had brilliant stretches centering Kaprizov and Zuccarello, with a career-high 23 goals this year. Add in late-blooming offense for guys like Mikael Granlund, Jason Zucker, and Joel Eriksson Ek, and Minnesota might just be the place where Jost can flourish.
Of course, buying low on these post-hype youngsters doesn't always work out. Paul Fenton didn't succeed after bringing in folks like Ryan Donato or Victor Rask once they fell out of favor with their teams. Still, the reclamation project track has worked out for Minnesota more often than not. And Evolving Hockey's player comparables have him tracking alongside some interesting names like Niederreiter, Jared McCann, Wayne Simmonds, and Nick Foligno.
The Wild are in a no-lose position with the Jost trade. If he doesn't break out, he's a fine, replacement-level-ish forward that cost a player Minnesota wasn't re-signing in Sturm. If the Wild can find untapped potential in him, then they got a free Niederreiter-type player for essentially nothing.
All stats courtesy of Evolving Hockey unless otherwise noted.