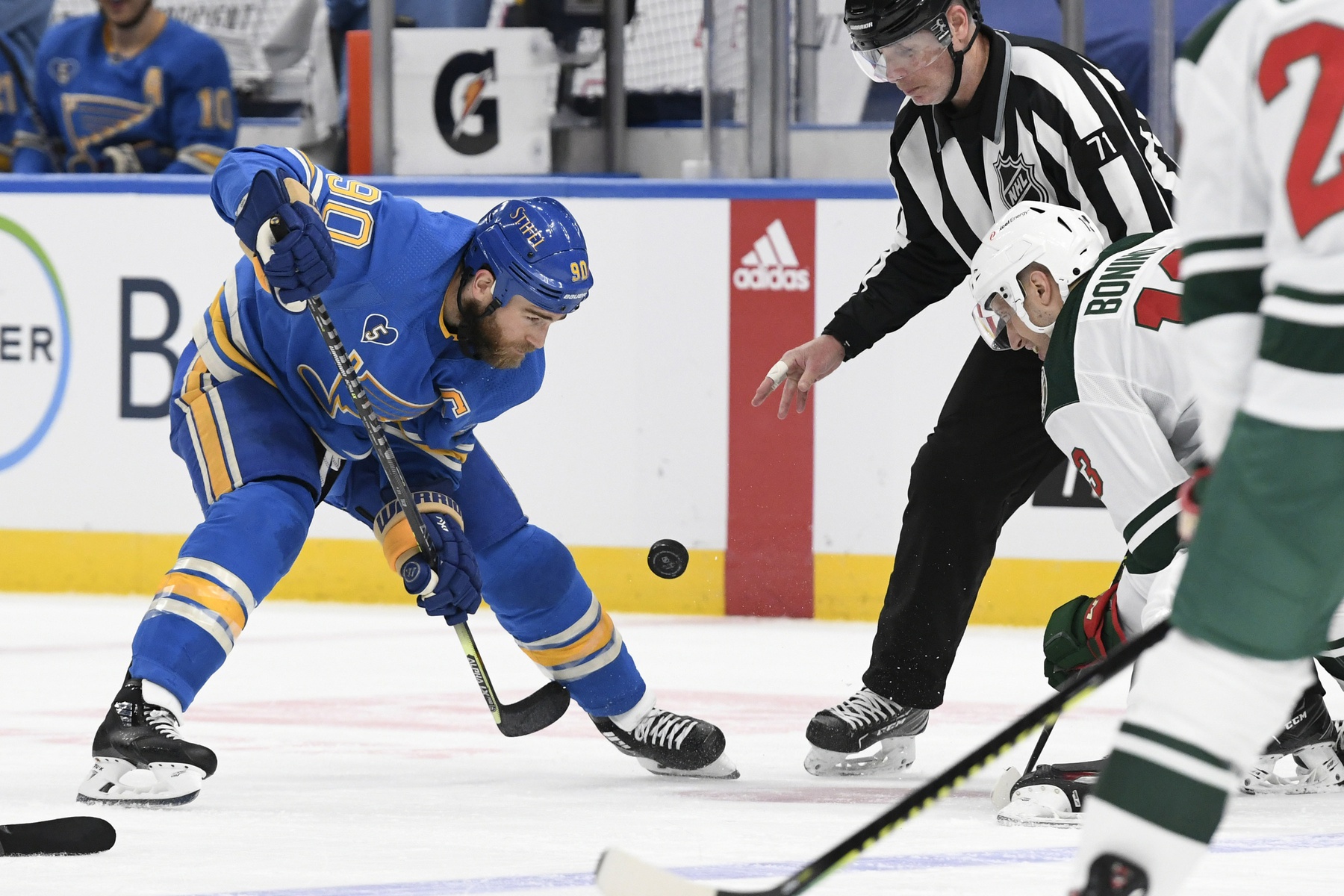 Watch a Joe Mauer

, and you'll know that he's not the worst actor in the world. Definitely not incredible, but he can deliver his lines pretty smoothly and is fairly charming while playing up his Extremely Midwestern public image.

 

You would never know it from watching him announcing the 2021 Winter Classic back in February of last year.

 

 

It could be that Justin Morneau, for all his acclaim as a color commentator, isn't giving Mauer much. Perhaps Mauer was shaking off the rust that comes with not being in front of a camera for a while.

 

Most likely, though, feigning enthusiasm for announcing a game against the St. Louis Blues was just too big of an ask. It would have been a tough task for anyone.

 

The Winter Classic was NBC's flagship event — the only innovation from the network's decade-plus TV partnership. A prestige outdoor game that was to be the NHL's answer to events like the NBA's Christmas Day programming. Minnesota, an also-ran when it comes to national attention, had been desperate to be selected for the game. The Wild finally got it, but a monkey's paw curled, and the Blues were selected as an opponent.

 

NHL and NBC executives explained the reasoning behind their choice at the time: They could count on fans in St. Louis to watch a hockey game on NBC. The Blues had recently won a Stanley Cup, hosted a highly-rated Winter Classic at Busch Stadium in 2017, and the league figured their fans would travel up I-35 to attend the game in person.

 

It's a choice that's aged poorly. Alex Pietrangelo bolted from St. Louis last offseason, removing one of few players with some name recognition. Goal-scorer Vladimir Tarasenko has just 32 games under his belt these last two seasons. Their only real star player is Ryan O'Reilly, who is basically Canadian Mikko Koivu, and Jordan Binnington, an average goaltender who got hot that one time against, ahem, the Wild.

 

Then there's the fact that Wild fans don't care about the Blues. The Colorado Avalanche and Minnesota have a fierce rivalry fueled by the players' and fans' hatred for each other. The dynamic between the Winnipeg Jets and Minnesota fans is intense, but with an undercurrent of friendliness. The Dallas Stars formerly being the North Stars has some pull, as does the Chicago Blackhawks' status as the Wild's playoff tormentors last decade.

 

The Blues? They might as well be the Arizona Coyotes.

 

But here's some good news, this terrible fate for the Wild's Winter Classic can be averted. First, the pandemic postponed the game into Winter 2022. By then, NBC is officially out of the picture because their rights to televise NHL games will have expired.

 

Enter TNT, the network that televises the NBA's Christmas games, as the TV home of the Winter Classic. Along with ESPN, their job will be to drag hockey from niche sport status into the national consciousness. To do this, they're going to have to do just about everything differently than NBC did. Injecting some personality other than "Old Man Yells At Cloud" would be a great start, but it runs deeper than that.

 

The NHL has a stunning aversion to marketing their stars, even as the talent has never been more brilliant. With their army of Hockey Men dinosaurs devoted to an old-school, team-focused way of doing things, NBC was happy to follow suit. As it turns out, it's harder to market hockey by admonishing Connor McDavid for not playing enough defense than it is to promote what he can do.

 

TNT understands from their work with the NBA that star-power drives fan interest. Look at their Christmas Day slates. They're full of big markets, star power, or both. If you're a Milwaukee or New Orleans, you'd better have a Giannis Antetokounmpo or Zion Williamson, or you're not invited.

 

Any TNT executive looking at the matchup of their first Winter Classic has to be asking who the Giannis or Zion on these teams are. Kirill Kaprizov's nightly showings on highlight reels would satisfy that answer for Minnesota. But without a similar star on the Blues, it becomes tough to entice anyone outside of the Twin Cities or St. Louis to watch this game.

 

St. Louis is the ultimate NBC choice of a team to spotlight, and that's the kind of choices that keep the NHL on the fringes of American sports. The TNT choice is Colorado, enabling them to spotlight mega-stars like Nathan MacKinnon, Cale Makar and Mikko Rantanen to a new audience. TNT should throw its weight around and secure a new, more compelling opponent for the Wild in the 2022 Winter Classic.

 

Maybe it's hard to stop the wheels in motion on this Winter Classic, or TNT would ruffle feathers with the NHL and St. Louis. Too bad. TNT is dropping about $300 million per year into the NHL's pocket, and they — not the league — are the ones who know how to promote a product.

 

Colorado was the ideal opponent all along, but the NHL and NBC couldn't get out of their way. Now TNT can fix it and bring a game that fans in Minnesota and beyond can enjoy. One with real star power and two teams that hate each others' guts. What sells better than that?

 

And who knows, it might even bring a little juice to a St. Louis-Minnesota rivalry that has absolutely none.