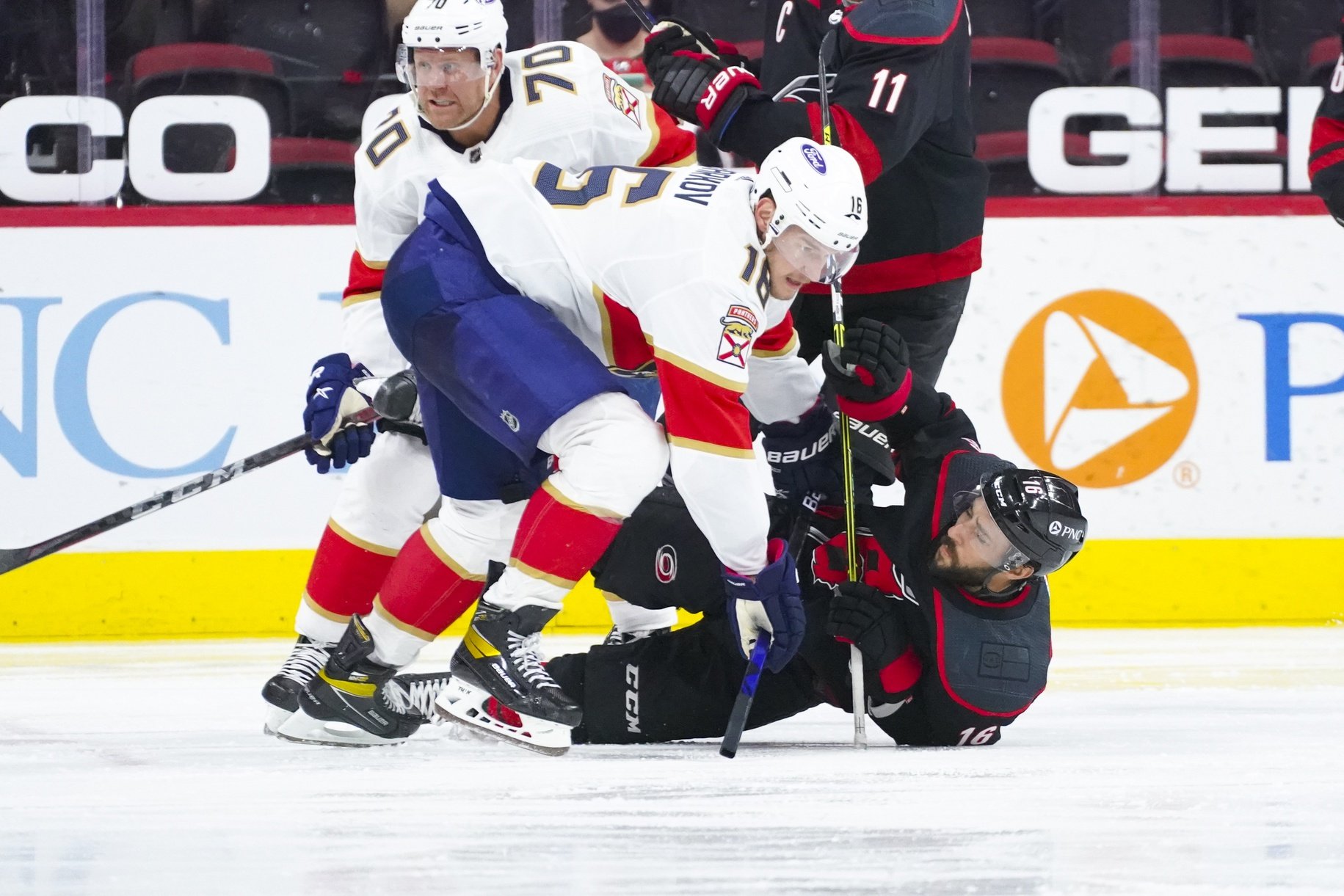 The Minnesota Wild are trending in the right direction, but several things still need to be accomplished before they reach contender status. And the center predicament is a major element that needs attention.
Marco Rossi will earn some playing time this upcoming season, which should provide some clarity at that position. If he proves he is ready to make an immediate impact in the NHL, the need for a top-six center suddenly decreases. But if he displays he may need more time to develop, his presence might justify shopping for a center next summer.
Ultimately, a decision has to be made by the end of the season.
If the Wild end up shopping for a center, next summer is a prime opportunity with a rich crop of pivots hitting the market. The potential upgrades include Aleksander Barkov, Tomas Hertl, Mika Zibanejad, Vincent Trocheck, even a solid second-line center like Ryan Strome or Nazem Kadri. However, Barkov is probably a pipe dream because there's a good chance he signs a long-term deal with the Florida Panthers, and all of them will demand a decent salary.
Of course, there are plenty of centers who the Wild could trade for down the line, but there is no reason to waste assets when suitable options are available. Acquiring a No.1 center -- or a top-six center for that matter -- will almost certainly contradict what Bill Guerin has preached when he says, "don't mortgage the future."
This was recently validated in Kevin Kurz's mailbag. He wrote that it would take a first-round pick and at least one potential high-end prospect in return for Hertl. Surrendering a package like that for Hertl, who potentially could be available on the market next summer, is not worth it. Now, imagine what it would take to acquire a high-end center under team control.
The Wild have no business being in the market for a top-six center next summer unless they make the appropriate moves, given their current financial picture.

Projected Cap Space: $15.45 Million
Dead Cap: $12.75 Million
RFA's: Kevin Fiala, Jordan Greenway, and Kaapo Kahkonen
UFA's: Victor Rask, Nick Bjugstad, Nico Sturm, Alex Goligoski, Jon Merrill, and Jordie Benn
Fiala will be looking for a long-term deal after the Wild brought him to arbitration this summer. If the 25-year-old winger has a strong year, the expectation for his next contract should be in the ballpark of $7 million, potentially more.
There's a strong chance that Greenway will be moved in the next year unless he unleashes his offensive potential this season. The arrival of Matt Boldy and the lack of a top-six role are just a few reasons why it makes sense to deal Greenway. The power forward will become a restricted free agent with arbitration rights next summer, which increases the likelihood of a trade even more to provide cap relief.
Like Greenway, Kahkonen will also be an RFA with arbitration rights next summer. His next contract should be relatively affordable, probably in the $2 million range.
The dead cap from the Zach Parise and Ryan Suter buyouts will begin to sting next offseason, increasing roughly $8 million in total. The Wild aren't likely to re-sign Rask or Benn, and it would be surprising to see them re-sign Merrill because they opted to sign him for one year and signed Dmitry Kulikov for two.
The Sturm extension should be affordable, most likely in the Ryan Hartman range. The only uncertainty is whether there will be mutual interest in a team-friendly extension with Goligoski. He will be 37 next summer, so there should be hesitancy from Minnesota's side, especially given the desire to get younger and faster.
The clear takeaway is that the Wild don't have the financial flexibility to add a top center via free agency in their current financial state. If they decide to add a center from the outside rather than be patient with Rossi, the only way to make it happen would be to move money out. Realistically, the Wild will probably have to deal both Greenway and Matt Dumba to pursue a center.
Unfortunately, they are the most likely cap causalities because there isn't much roster flexibility. After all, Mats Zuccarello, Jared Spurgeon, and Jonas Brodin all having no-move clauses. Dumba's partial no-trade clause will come into effect too, which makes things interesting. The tough thing is that the Wild can't move Dumba unless Calen Addison shows he can have a legitimate top-four role in the NHL. If he's not quite ready, trading Dumba would leave a massive hole on the right side.
There's still the chance that Rossi becomes a threat right immediately, which would eliminate the need for a center. Remember, Rossi was one of the most NHL-ready prospects in the 2020 draft, which is why he was such a steal at No. 9.
With that all said, the harsh reality is that the Wild are operating next summer with significant dead cap due to the buyouts and may need a center to fill out their roster.