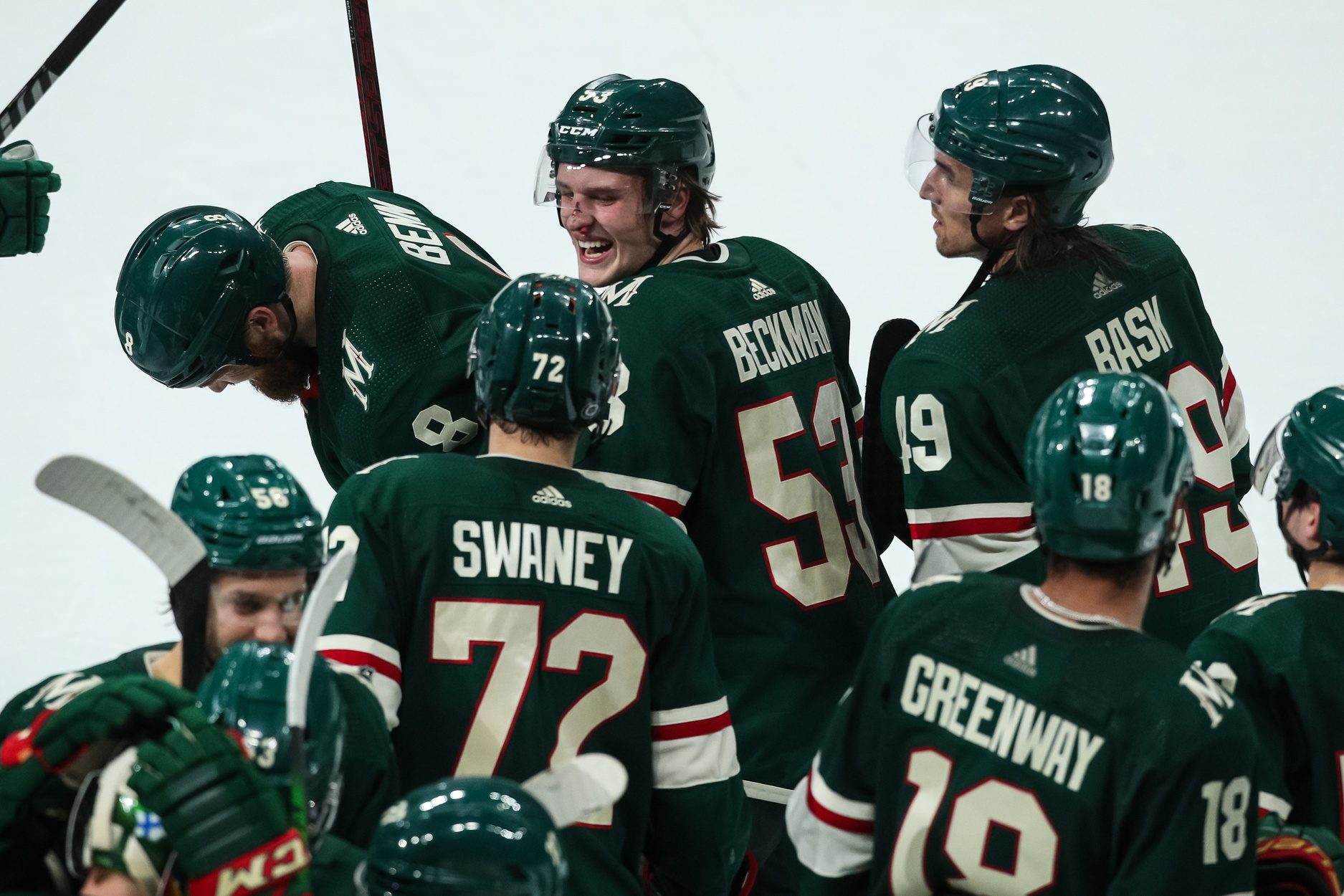 The best thing you can say about the Minnesota Wild's road trip is that it's over. The Calgary Flames capped off Minnesota's Canadian excursion with a thoroughly dominant performance on Saturday night, showcasing why they're the hottest team in the NHL.
The Wild were outworked, outsmarted, and out-skilled in every phase of the game. Sloppy passing, lazy breakouts, and defensive breakdowns galore allowed Calgary to execute their game plan to perfection. It was easily the worst defensive performance of the season. Minnesota allowed 5.41 expected goals on 35 shots (per NaturalStatTrick). Regardless of how sharp Kaapo Kahkonen looked early on, teams rarely allow that many quality chances and win.
The Wild head back to St. Paul, having lost five of their last six and desperately needing a spark. They get two days off before hosting Calgary on Tuesday. That marks the first of seven games in 11 days for an already fatigued club. The good news is that four of those games are against bad Eastern Conference teams.
Reading the subtext in Bill Guerin's recent media availabilities, you don't get the sense that he'll make a big splash at the trade deadline. Guerin has made it clear that he likes his team and is in no rush to make changes. It makes sense. The Wild look far less like the Cup contenders they did two weeks ago, and more like the fringe playoff team many of us expected them to be in the preseason. While it may be unpopular, it's understandable why management is hesitant to go all-in on this season.
On the latest Worst Seats in the House podcast, The Athletic's Michael Russo reported that Joel Eriksson Ek, Marcus Foligno, and Mats Zuccarello are dealing with nagging injuries. If that's the case, there's no need to risk a long-term injury. With the schedule as congested as it is and the playoffs a near certainty, everyone in the lineup should have a clean bill of health.
So could we see a few call-ups from the Iowa Wild this week? It worked earlier in the season. Remember when Minnesota recalled Matt Boldy and Connor Dewar and the team immediately went on a ten-game point streak? Boldy has since resurrected (and potentially saved) Kevin Fiala's Wild career. Dewar has impressed despite limited ice time.
The obvious call-up is Marco Rossi, who is eligible for seven more games before his ELC becomes ineligible to slide to next year. They could wait until the playoffs to burn those seven games, but what happens if the Wild advance past the first-round and Rossi plays well enough to keep his spot? Does he stay, and the Wild burn a year anyway? Or do they send down a promising young rookie mid-series?
If they're truly committed to sliding the contract, what harm can arise from playing him against inferior opponents like the Philadelphia Flyers or Buffalo Sabres? With Ryan Hartman rapidly declining from the blistering pace he was on earlier in the season, Rossi is the only prospect in the system with the skillset to center Kirill Kaprizov. Even if it's temporary, Rossi could help Kaprizov get back on track, especially if Zuccarello misses time.
Mason Shaw joined the team in Canada but didn't play. He made a brief cameo back in December but only played 17 minutes in two games. But Nico Sturm and Brandon Duhaime really struggled on the road trip. Perhaps Shaw could step in for one of them and bring something different to the table. He has 33 points (13G-20A) in 41 AHL games this year, including his first career hat trick back in January.
Adam Beckman is another interesting option. He almost won a roster spot out of training camp with a big preseason. Beckman's AHL numbers leave a bit to be desired (8G-16A in 44 games), but he's been primarily playing in a bottom-six role with Cody McLeod on his opposite wing. He's also riding an early-season Fiala run of bad luck, shooting 6% on 133 shots, tied for eight in the AHL.
Like Shaw and Rossi, Beckman made a brief cameo with the big club but ultimately failed to stick around past three games. If the Wild need a scoring-winger to fill a role in the top-nine, Beckman fits that mold.
With 13 points in his last 11 games in Iowa, Mitchell Chaffee is quickly becoming one of Iowa's best players. He now has 22 points (11G-11A) in 26 games played, and he could be next in line to earn his NHL debut. Minnesota recalled him earlier in February but sent him back down just two days later. Chaffee has developed solid chemistry with Rossi, so those two could combine for a makeshift scoring line if needed.
Minnesota needs a spark and they need it soon. They're still a great team, but the Wild are in a bit of a freefall right now. Will results turn around with more Iowa players playing? Who knows? What will change is that the lineup will consist of young, energetic, and most importantly healthy players as they embark on the busiest portion of the schedule over these next two months.