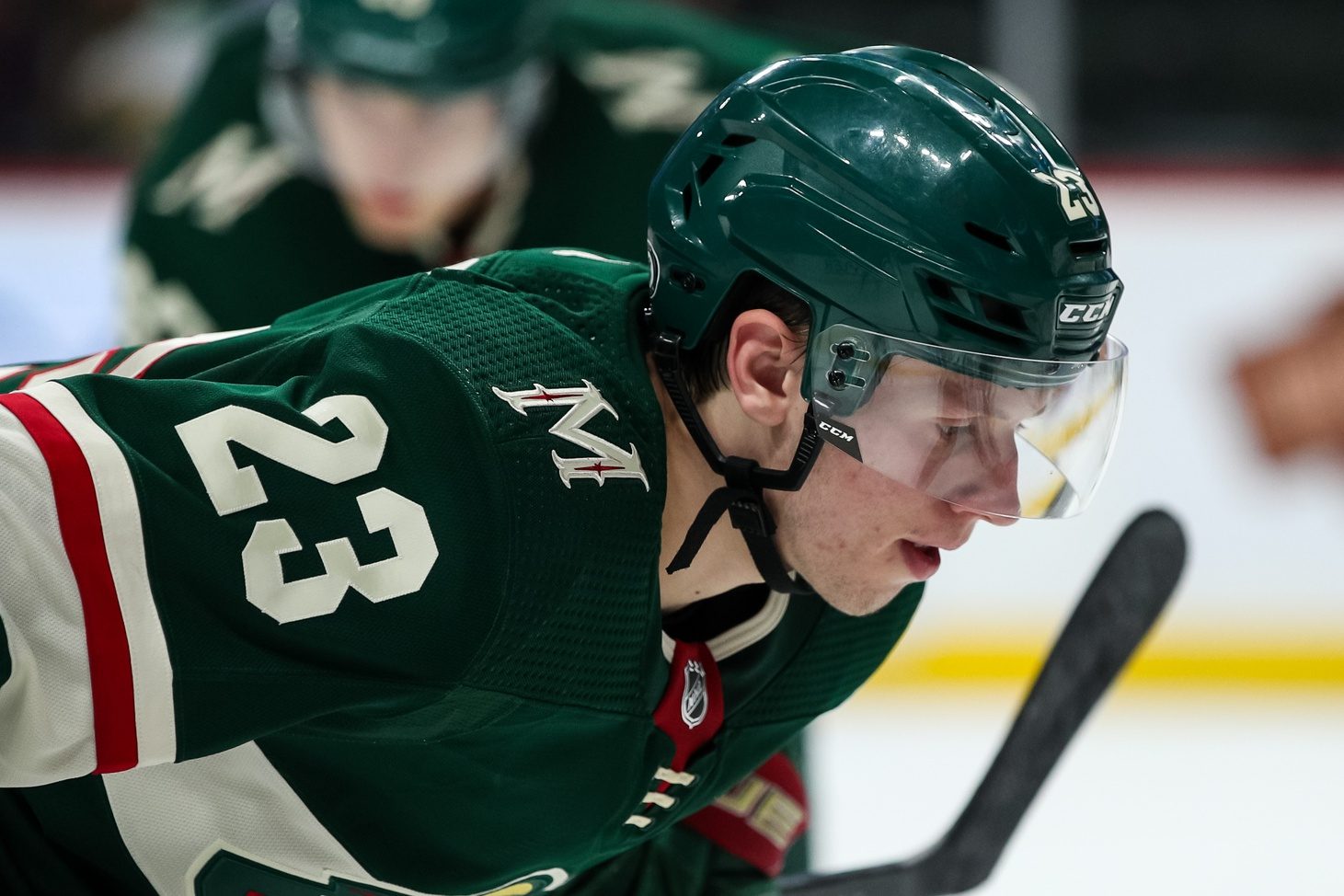 After seeing Kirill Kaprizov's brilliant rookie season last year, Minnesota Wild fans have to wonder, How do you top that?
How about having two highly-touted rookies entering the lineup on the same day?
It's like any great sequel: Give the thing everyone loved about the first one, but more. That's what the State of Hockey has to look forward to Thursday night in Boston. Matt Boldy and Marco Rossi, the Wild's first-rounders from 2019 and 2020, will make their debuts.
The hype around these two prospects is enormous. Boldy dominated at Boston College, helped lead Team USA to World Junior Gold, then tore up the AHL. Rossi is a center, the white whale Minnesota's chased for years and racked up 120 points in the QMJHL his draft year.
They've started this season in the AHL, where their legends grew. A couple of lower-body injuries limited Boldy to 10 games, but he still has 10 points in Des Moines. Rossi leads the Iowa Wild with 23 points in 21 games. He's one of the AHL's top-20 scorers despite being one of the league's 20 youngest players.
The AHL is a top-tier league, and finding so much success so young is rare. Boldy has 28 points in 24 career AHL games. Among all Under-21 AHLers with 15-plus games since 2000-01, Boldy's 1.17 points per game ranks ninth. That's just ahead of NHL stars like Logan Couture (1.15), Jordan Eberle (1.15), and David Pastrnak (1.14).
Rossi isn't far behind on that list, either. His 1.10 points per game are tied for 18th, just a touch behind Mikko Rantanen (1.11) and ahead of David Krejci (1.07), William Nylander (1.03), and Eric Staal (1.00).
Prospects that dominate the AHL to that degree don't come around often. And there's almost no history of two of them making a team at once. Except for one instance.
In the 2005-06 season, Anaheim Ducks prospects Ryan Getzlaf and Corey Perry spent time with the AHL's Portland Pirates from late November to early January. Both tore up the AHL to a mind-boggling degree. Getzlaf racked up 33 points in 17 games, and Perry added 34 points of his own (including 16 goals) in 19 games. To this day, they're the highest-scoring Under-21 AHLers of this century.
They obviously didn't stay there for long, and how Anaheim brought them along may prove instructive to how Minnesota might use their dynamic duo this year.
When teams send top prospects to the minors, a common refrain is, We want them to play 20 minutes, not 12. The idea is that the more minutes a player gets, the more situations they see and the more they develop. But Anaheim didn't give Getzlaf and Perry 20 minutes right away. Far from it.
The Ducks were legitimate contenders, boasting Teemu Selanne and a solid supporting cast of Andy MacDonald, Joffrey Lupul, and Chris Kunitz up front, as well as top defensive forwards Rob Niedermayer and Samuel Pahlsson. They didn't need Getzlaf or Perry to take on 20 minutes in all situations.
Instead, they could take things slow with their stud prospects. Getzlaf played under 13 minutes a night that season, and Perry under 12. Presumably, Anaheim deployed them as a change-of-pace line in sheltered situations with a healthy dose of power-play minutes.
Conventional wisdom would suggest their development would be stunted because of the limited ice time. But it worked out in the short and long term. Getzlaf had 39 points in 57 games, and Perry had 25 in 56 (with 14 and 11 on the man advantage, respectively). That time readied Getzlaf for the playoffs, where he played nearly 16 minutes a night and scored seven points as the Ducks made the Conference Finals.
The following season, they saw a slight uptick in minutes at age 21. Getzlaf logged 15:04 per night, with Perry getting 12:28. Once again, they saw offensive success, with 58 and 44 points in 82 games, respectively.
Only that year, they were truly ready for the playoffs. Getzlaf was Anaheim's leading scorer (17 points) and logged the most ice time of any forward (21:43) during the Ducks' Stanley Cup run. Perry finished tied for second in scoring with 15 points in 16:30 a night.
From that moment forward, their development was complete. Both were integral members of a Ducks team that was a perennial contender. Perry won a Rocket Richard and Hart Trophy in 2010-11. Getzlaf finished runner-up to Sidney Crosby in Hart voting for the 2013-14 season and surpassed 1000 career points.
Granted, the Wild's duo hasn't posted AHL numbers to the absurd degree Getzlaf and Perry did. It should be noted, though, that Anaheim's duo had the benefit of playing together in the AHL. Thanks to injuries and illnesses, Rossi and Boldy have only played seven games together, and one of those was cut short because Rossi sustained an injury.
In those six full games, though, they've been dynamite. Each has nine points in those six games (1.50 per game), and they've shown undeniable chemistry playing together. That's getting pretty close to the Getzlaf/Perry tier.
And once Minnesota is healthy, they'll have the luxury of using Rossi and Boldy in the same way Anaheim used Getzlaf and Perry. Kaprizov has his line set with Mats Zuccarello and Ryan Hartman. Joel Eriksson Ek, Kevin Fiala, and Marcus Foligno showed brilliant chemistry. Minnesota can let defenses prepare for those lines while giving the Rossi-Boldy connection some breathing room against softer match-ups.
Can this development strategy get them to contribute when the playoffs arrive? Only time will tell, but these two prospects have very bright futures.
According to Byron Bader's Hockey Prospecting, Rossi has an 80% chance at stardom (scoring 0.7+ career points per game). Bader's algorithm names Dale Hawerchuk, Pat LaFontaine, Jack Eichel, Pierre Turgeon, and Eric Lindros as his five closest statistical comparables. That's three Hall of Famers, a player with a 1,300-point career, and a young player on the cusp of being a perennial All-Star.
Boldy's odds are slightly lower, but his numbers still suggest a 50% likelihood of being a star. His top comparables include Hall of Famer Joe Nieuwendyk, Jozef Stumpel, Maxim Afinogenov, Kyle Connor, and Zach Parise. You can count Connor and Parise as two players who were big-time contributors and playoff performers in their age-21 seasons.
Both players may not be here to stay once the Wild get healthy. But if they do, know that this is a perfectly viable development path for this duo. Easing young players into responsibility on a contending team worked for Perry and Getzlaf in Anaheim. It worked well for Henrik and Daniel Sedin in Vancouver. A similar strategy can work for Minnesota and push their ceiling to new heights.