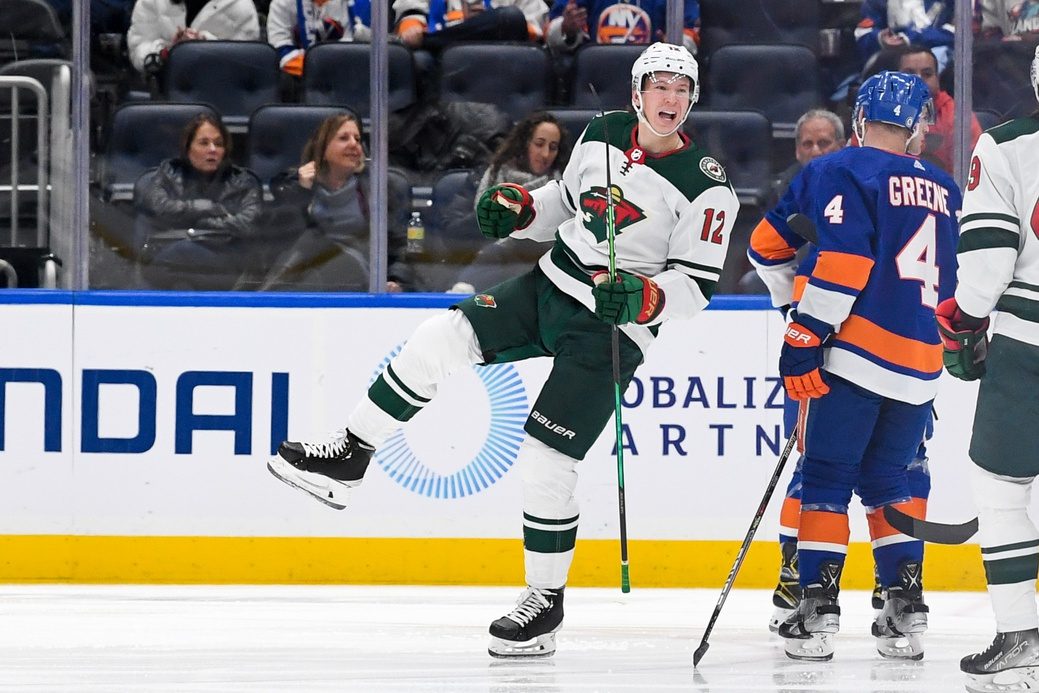 Friendship ended with Kirill Kaprizov. Now Matt Boldy is the hot new Minnesota Wild rookie. For the second consecutive year, the State of Hockey is witnessing a dazzling first-year player taking the NHL by storm. On Wednesday's game against the Chicago Blackhawks, he became the first rookie in Wild history to score 10 points in his first 10 games.

 

Yes, that includes Kaprizov, who compiled eight in his first 10 games.

 

We know how Kaprizov's story went from there. He kept taking the league by storm, wrapping up the shortened season with 27 goals, 51 points, and a near-unanimous Calder Trophy win. With the way Boldy's playing, could Minnesota add yet another Calder to their shelves?

 

 

Boldy's first 10 games have been impressive, but he has a tougher road to walk than Kaprizov did. Kaprizov had the advantage of being a pre-season front-runner for the award, then faced relatively light competition. The Dallas Stars' Jason Robertson made a late push, but Kaprizov fended him off with 11 goals in his last 13 games.

 

Boldy has a much tougher rookie class to claw to the top of. The Detroit Red Wings have two stars in Lucas Raymond (35 points in 47 games) and Moritz Seider (29 points as a defenseman). Florida Panthers center Anton Lundell's recent five-assist game boosts him to 32 points in 43 games.

 

Oh, and there's this year's version of Kaprizov: Trevor Zegras of the Anaheim Ducks. As anyone who watched Boldy in the World Junior Championships knows, Zegras is a human highlight reel. He has 32 points in 42 games, with a penchant for making impossible-looking plays.

 

 

Zegras is such a star already that he got invited to the Breakaway Challenge at the NHL All-Star game. When Boldy was recently asked if he had any tips for his teammate from Team USA, he replied, "No, he's a lot more creative than I am. I'm interested to see what crazy stuff he'll do." Turns out, it was a

channeling Dodgeball's Peter LaFleur.

 

Boldy shouldn't sell himself short, though. He may be on skates, but he plays the game like Nikola Jokic of the NBA's Denver Nuggets. His skill is sublime, and he can dance through defenders and thread passes that others can only dream of. Just as crucially, he has the size (6'3") and strength to protect the puck in traffic and win board battles.

 

One skill or the other is tough to defend on its own. When combined, Boldy is a nearly unstoppable force. What if you took Nino Niederreiter and gave him Pierre-Marc Bouchard's hands? Folks, meet Matt Boldy.

 

 

Crowning Boldy as the real deal after 10 games feels like jumping the gun a bit. Still, it's hard to look at what he's doing and not think he has an It Factor. But how does he fare against his fellow star rookies? Let's rank his point production per hour in all situations against the top 20 rookie scorers:
Matt Boldy, 3.64

Rem Pitlick, 2.85

Lundell, 2.72

Michael Bunting, 2.72

Zegras, 2.62

Raymond, 2.47
Small sample or no, this is impressive work by Boldy, who also ranks at the top in 5-on-5 scoring. His 16.7 shooting percentage and team shooting percentage of 11.6% might be running a bit high, but not much more so than other rookies. Lundell's Panthers shoot 13% with him on the ice. Bunting's Maple Leafs shoot 10.9%. Boldy also takes shot attempts more frequently than any rookie other than Arthur Kaliyev, so he should continue scoring even if he cools down a touch.
Gaudy scoring numbers are nice, but Boldy pairs those by tilting the ice heavily in Minnesota's favor. Here's how he stacks up against his rookie class in controlling the expected goals share at 5-on-5:
Matt Boldy, 62.2%

Seth Jarvis, 61.3%

Bunting, 60.7%

Connor McMichael, 58.2%

Philip Tomasino, 55.6%
Absent from the top 5 are Zegras (8th, 53.3%), Lundell (9th, 53.2%), Raymond (16th, 49.3%), and Seider (48.2%). Granted, Boldy is surely not getting as much attention on the third line as, say, Zegras or Raymond. Still, you can't take away from just how dominant Boldy has been. His unique playstyle would probably give defenses difficulty even if they didn't have to focus on Kaprizov's line.
But Boldy's biggest roadblock to a Calder isn't his rookie class. It's time. Boldy didn't get a call-up until Game 31 of the season, thanks to a couple of injuries. That means that no matter what, Boldy can only play a maximum of 51 games.
This hurts him in two ways. One, he's almost certainly not going to be able to compile Calder-winning counting stats. Even if he finishes the season at a point-per-game rate — a feat accomplished by only five rookies in the salary cap era, per Stathead — he can only max out at 51 points. Zegras, Raymond, and Lundell are all playing at 60-point paces.
The second issue is the tendency of the voters. The Pro Hockey Writers Association tends to give rookies that played the whole season the benefit of the doubt in voting. In the last 30 years, the only skater (in a full season) to win the Calder with less than 75 games was Pavel Bure, who played 65 games in the 1991-92 season.
The ultimate test in this dynamic came in the 2015-16 season. A broken clavicle restricted Connor McDavid to 45 games as a rookie. His scoring was historic, scoring 48 points to become one of those five aforementioned rookies. But voters deferred to Artemi Panarin, who also had a Calder-worthy season and played 80 games. McDavid may have outproduced Panarin on a per-game basis, but it wasn't enough to give him the edge.
Still, if Boldy keeps his play up, he should be considered worthy of being nominated. Despite playing in just 10 games, he's already been worth 1.8 points in the standings to Minnesota. That's already 145th in the NHL, equalling the full-season impact of young stars Brady Tkachuk, Sam Bennett, and William Nylander.
Knowing that, it's not surprising at all to see Boldy about to creep up into the top 5 of his rookie class in Evolving Hockey's Standings Points Above Replacement.
Bunting, 4.1

Lundell, 3.5

Jarvis, 2.6

Seider, 2.3

Zegras, 1.9

Matt Boldy, 1.8
It's basically impossible to keep up this pace over 82, or even 41 games, but he's made up a lot of ground in a very short time. If he can maintain anything like this stretch going forward, it won't be long at all before he forces his way into the Calder conversation. If that happens, Wild fans can rejoice at having yet another incredible young talent in their team's arsenal, regardless of whether Boldy has a trophy to show for it or not.