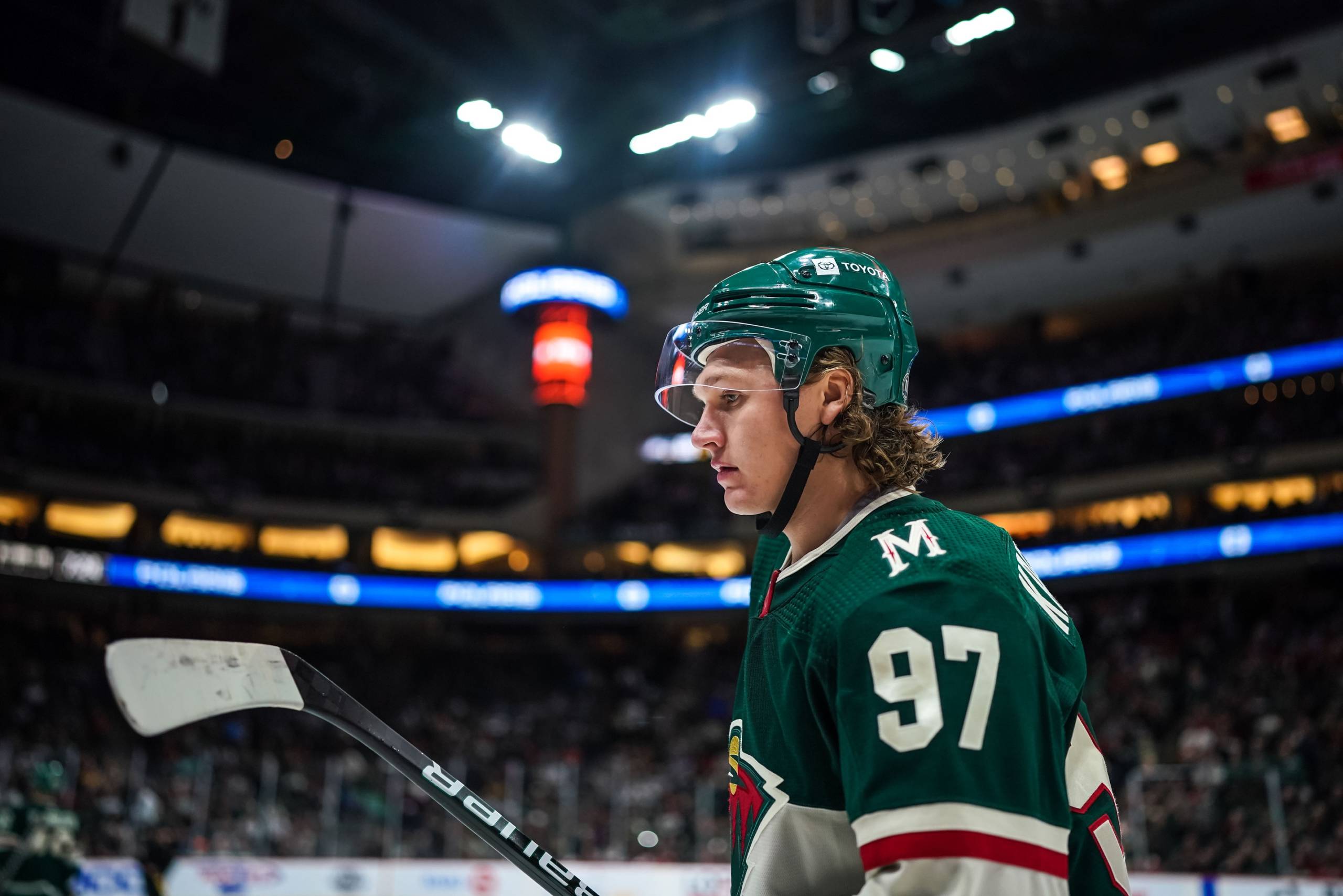 Kirill Kaprizov hasn't looked nearly as dangerous as last season. Kaprizov's got 13 shots on 25 attempts through five games, but that doesn't tell the whole story. Look at his shot chart from the start of this year, then look at it from last season.

Your eyes aren't fooling you. Last year, Kaprizov could (and did) shoot from anywhere, but especially the ultra-dangerous areas in front of the net and the high slot. This year? The middle of the ice is practically blank. Kaprizov still found the high slot sometimes, but there's that's about it. It's a very perimeter-oriented game from a player who couldn't be kept from the net in his rookie season.
Wild fans bore witness to what may be Kaprizov's least impactful games in an NHL uniform this past weekend. He mustered only three shots, none of which were particularly dangerous in Saturday's overtime win against the Anaheim Ducks. Sunday's performance in Tennessee was even worse. He had no shot attempts until the third period when the Nashville Predators had the game out of reach with a 5-2 lead.
Here's the part where we put in some caveats. Yes, we're only five games into the Wild's season. Sure, slumps can happen over a small sample size, sometimes for no particular reason at all. Yes, Kaprizov leads Minnesota with five assists, and is second in overall points. No, nobody would be shocked if he went out tonight and torched the Vancouver Canucks for a rooster trick.
Still, it's worth asking why one of the league's deadliest shooters has been so ineffective on that end.
It looks like teams are ripping from the playbook the Vegas Golden Knights used in the playoffs. Take the rush away by any means necessary. Harass him at all times. Don't let him beat you, dare his teammates to beat you.
Let's look at his performance against Anaheim and see that in action. On his first shift of the game, we can already get a hint at the issue. Joel Eriksson Ek scoops up a loose rebound, then sets up Kaprizov for what should be an easy exit. Except two Ducks are on him instantly, with a third one in Hampus Lindholm cutting off his only escape route.
It takes 60% of the Ducks defense to do it, but they're well-positioned enough so that they can suffocate him from all options. That failed rush led to an Anaheim goal, and even though Minnesota won, it still set the tone for the game.
Here's another killed rush, this one a 3-on-2 led by Mats Zuccarello. Josh Manson has a choice of whether to let Eriksson Ek blow past him or stay in front of Kaprizov. He stays disciplined and opts for the latter, then immediately falls down to block a would-be high-danger pass to Eriksson Ek.
That discipline was the key to Anaheim defending him, and they stayed in front of him all game. Jonas Brodin couldn't even get a drop pass to him without him running into a Ducks player.
And here's one more failed rush for good measure, this time with Jamie Drysdale doing some textbook defending. He's smartly positioning himself to keep Kaprizov along the wall, and his stick in the passing lane to Matt Dumba. Instead of dumping the puck to let Eriksson Ek retrieve it, he appears to try forcing a rebound for his center to clean up. It doesn't work here.
On some level, you get it. Star players are there to make star-level plays. But if defenses are going to dedicate themselves to taking the rush away, there's got to be an adjustment. Kaprizov and Eriksson Ek both proved to be good at forechecking to get the puck last year; perhaps it's time to lean on that more?
Of course, defenses are still determined to keep Kaprizov to the perimeter as much as humanly possible. Even on some of his best plays of the night, Anaheim doesn't let him anywhere near the crease.
Kaprizov may have set up one-timers to Kevin Fiala and Zuccarello, but Kaprizov himself is not a threat to score. That's exactly what the Ducks want here. If they get beat by Fiala, or Zuccarello, or Eriksson Ek, so be it. They were determined not to get roasted by Kaprizov, and they didn't.
They also got him off his game in the first period by having Max Comtois go after him physically in the corner. Kaprizov's frustration got out, and they took coinciding minor penalties. That's a win for Anaheim, as Kaprizov was off the ice for two minutes. He also took another minor penalty for a stick infraction, his fourth in five games. Kaprizov won't shy away from contact, but it can make him less effective through taking excess penalties.
The Los Angeles Kings, Winnipeg Jets, and Nashville all borrowed from this playbook this season. To be clear, just because there's a strategy to defend someone doesn't mean it's always going to work. Everyone in the NHL has exploitable weaknesses. You can even defend Connor McDavid, sometimes for minutes at a time.
It's just a matter of finding adjustments. How can Kaprizov find more space? Maybe all he needs to do is go to town on the forecheck with Eriksson Ek. Perhaps coach Dean Evason should put Fiala on his line temporarily, to force opponents to back off Kaprizov a bit.
Whatever the solution is, the Wild need to figure it out soon. Depth scoring is great, but what made Minnesota special last season was Kaprizov being a superhuman. A less dangerous Kaprizov makes this team less dangerous, and less fun to watch.