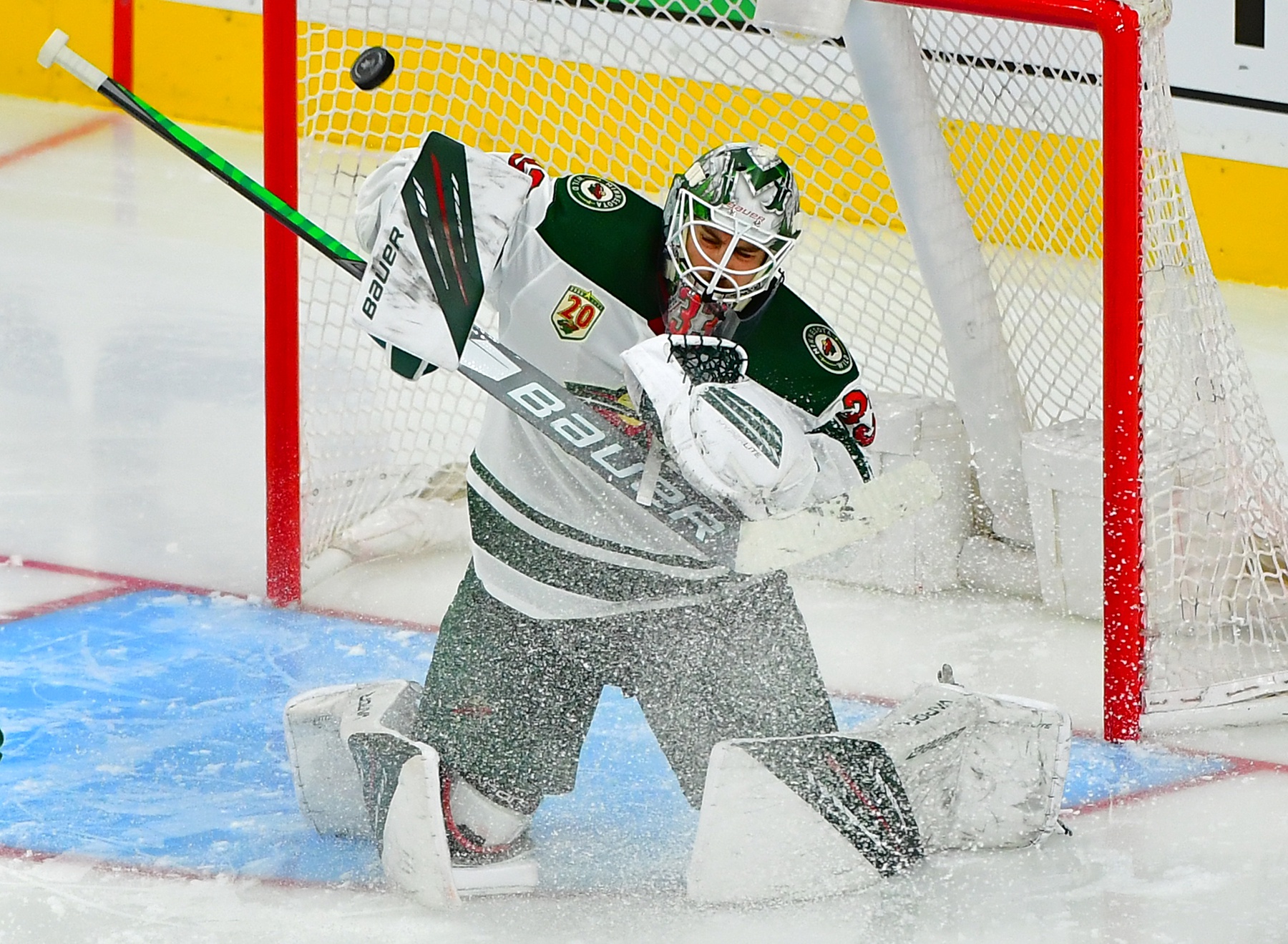 The Minnesota Wild may have wanted the matchup with the Vegas Golden Knights, but just because they wanted it doesn't mean it would be any easier to earn an appearance in the second round. While the Golden Knights possess superior talent, Minnesota had the edge in wins over Vegas this season. The Wild have a bit more scoring depth throughout that head coach Dean Evason isn't afraid of rolling with. He's also not afraid to put Cam Talbot up against the tandem of Marc-Andre Fleury and Robin Lehner. Beating the Golden Knights is possible; it's just not likely against this year's William M. Jennings Trophy winners.
Emphasis on the word "likely."
Minnesota defied the odds and stole Game 1 by defeating the Golden Knights 1-0 in overtime. Talbot made 42 stops to get the shutout and moved to 4-1-2 for the season and 7-4-2 for his career (regular season and playoffs) against Vegas. 
Talbot was superb right from the opening faceoff. He stopped 19 shots on goal in the first period alone as the Wild got off to another patented slow start. Minnesota fed off their netminder's poise and steadiness in the final 43:20 of play and rose to the Golden Knights' level. And while Fleury offered up his best on the other end of the ice, including flashy glove saves, Talbot outlasted the future Hall of Famer to put the Wild up 1-0 for the series.
Looking at the division and ranking the goalies that made the postseason, it's easy to crown the Golden Knights as kings of the West. After all, Fleury and Lehner won an award for giving up the fewest goals. However, a case can be made to slot Minnesota next in line. That might sound insane because Philipp Grubauer of the Colorado Avalanche has a legitimate case for the Vezina Trophy. That said, the Avs have struggled to find a decent backup. After trying (and failing) to use Hunter Miska and Jonas Johansson in that role, they've called on former Wild goalie Devan Dubnyk to plug that hole. Dubnyk hasn't been good since leaving Minnesota. He might think he won the lottery after being acquired before the trade deadline, but the Avalanche will have issues getting to the Cup if they have to rely on him for any extended time. 
After a season of brutal goaltending from Dubnyk and Alex Stalock last year, GM Bill Guerin made a huge bet by identifying Talbot in free agency. With help from rookie goalie Kaapo Kahkonen, Guerin elevated a position of need into one that could ultimately win games in the postseason.  
Things looked a bit dicier once the Wild clinched a playoff spot back on April 25th. Dean Evason's team had 10 games left in the regular season and could have decided to rotate resting days among the top forward groups, bring up prospects, and, likewise, rotate both Talbot and Kahkonen in and out more evenly. 
Before the Wild clinching, Talbot was contributing significantly to the team's success. Minnesota's defense has long been a strength. It's said that any goalie can be buoyed by the strong team defense, but the Wild needs their goalie to rise to the occasion when that wavers. They were expected to give up 65.81 goals during those 27 games. Talbot only gave up 61 goals in that span. That's nearly five goals saved above expected and was good for a .926 save percentage. A wise coach would do everything he could to keep his No. 1 goalie rested, sharp, and healthy. 
Instead, Evason rode Talbot for most of the games that didn't include back-to-back starts. The team defense stayed strong, only giving up 13.28 expected goals -- or 2.21 expected goals per game. The goalie faltered down the stretch by giving up 24.77 goals over six games played. He cost the Wild almost 12 more goals than should have been scored and was near Dubnyk-level with a .860 save percentage.
There was more than a substantial amount of worry about the goaltending going into this series. It looked like Talbot had peaked, and the crash back down to his career average was imminent. Talbot bucked those recent trends and turned out a jewel in Game 1. Minnesota can build confidence with that win, not just because they notched a victory in a game where they weren't at their best, but also because they can feel confident that the goaltending has returned to a level that allows them to sustain a forecheck and pressure the Golden Knights' defensemen. 
It's not often players can go to Vegas and come away playing with house money. That's what the Wild were able to do with a victory in Game 1. The odds still may be stacked against them in this series, but the goaltending might be their ace in the hole. Guerin bet on Talbot to do exactly this in the postseason. Now it's time to let it ride.