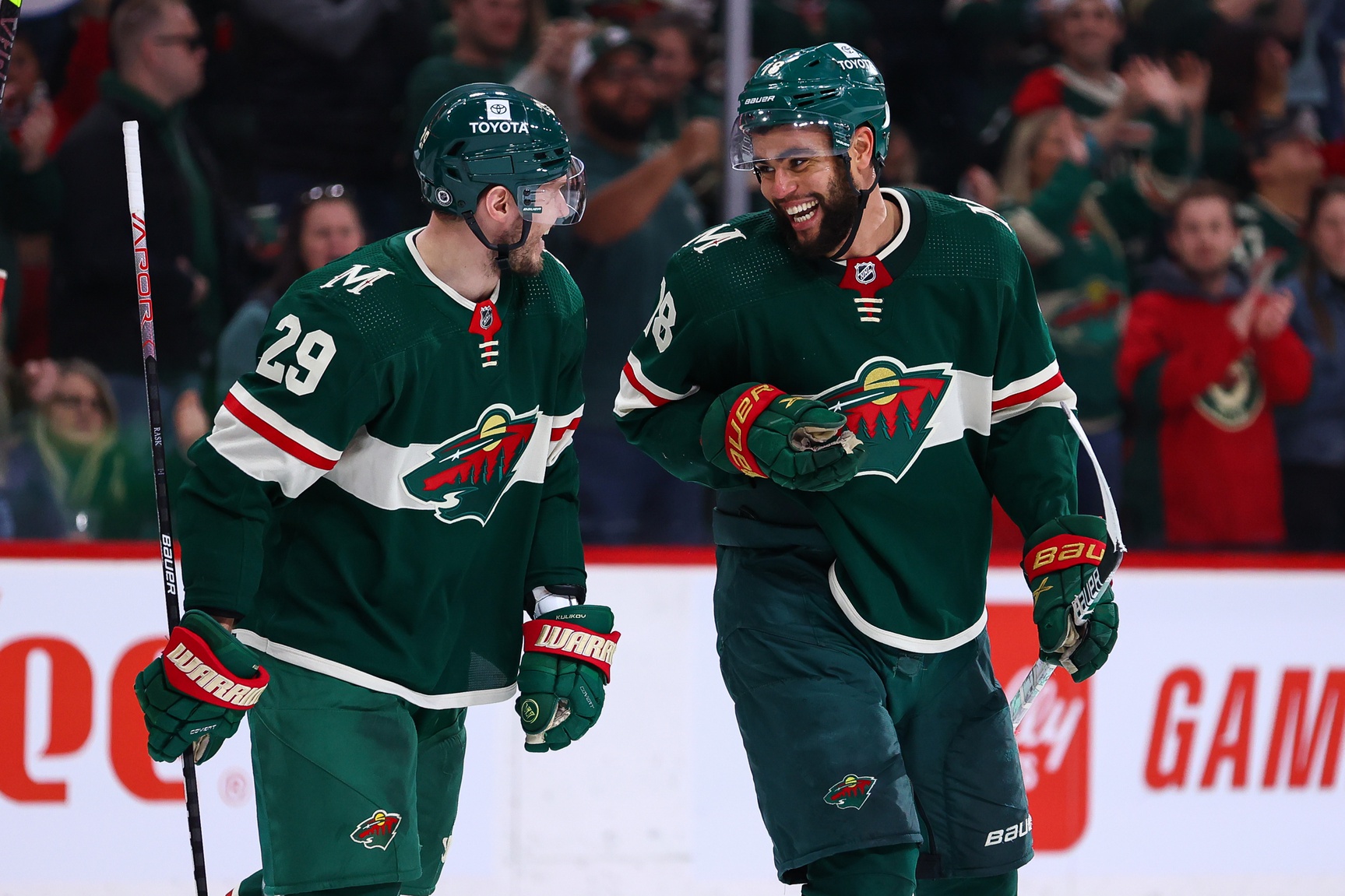 Top defensive prospect Calen Addison has produced solid results in his limited NHL experience. But he's never had a real opportunity to prove he's ready for full-time duty in St. Paul. That will likely change this upcoming season after the Minnesota Wild traded Dmitry Kulikov to the Anaheim Ducks for future considerations.
Trading Kulikov opens up $2.25 million in cap space, bringing Minnesota's cap space to $5.738 million. That flexibility could be useful down the line this season. Or maybe Bill Guerin uses it now to make a trade or free agent signing in the coming days.
The writing was on the wall for Kulikov when the Wild re-signed Alex Goligoski and Jon Merrill to multi-year extensions, then traded for shutdown defender Jake Middleton. On top of that, Addison played well in over 74 AHL games these past two seasons. He deserves an opportunity.
So Kulikov became expendable. In fairness to Kulikov, he had a solid regular season showing in 2021-22. He scored 24 points, controlled 53% of the expected goal share, and was worth 1.1 wins.
While Kulikov isn't a special teams specialist, he became a solid two-way defenseman. Last season, the 31-year-old was among the best in the league in joining the rush. Kulikov was also incredibly proficient at defensive zone retrievals and above-average at exits, as evidenced by data tracked by Corey Sznajder as part of the All Three Zones Project.
Kulikov formed a solid third pair with Merrill, earning a 54% expected goals rate at 5-on-5. That ranked 40th among all defensive pairs who played at least 250 minutes last season. Maybe Kulikov shouldn't have been the odd man out, but the Wild already committed to Merrill for the next three years.
It didn't help his case that he played poorly in his two playoff appearances. Kulikov made costly mistakes and had glaring defensive breakdowns in Games 1 and 6. That was the last time the Wild saw him in action, which was likely at least a factor in the decision. Recency bias is a thing, after all.
Loosening up the defensive logjam was a necessity this offseason. While depth is essential as the season progresses, there's no reason to have someone like Kulikov or Merrill in the press box. More importantly, Minnesota had to give Addison the opportunity to flourish in an elevated role. With Merrill injured to begin the season, Addison now has that opportunity.
The Wild might have been able to fetch a mid-round pick for Kulikov at the trade deadline. But they needed that space now, and there's no way the Wild would get that this summer. Future considerations — NHL-speak for "nothing" — isn't an ideal return for Kulikov. But cap space is valuable in the current financial landscape and is an asset.
Minnesota's not the only team to make a move like this in the offseason. The Sean Monahan trade is one example of that. Even the Vegas Golden Knights traded Max Pacioretty, who has 75 goals in 158 games over the past three years, for nothing. Just "future considerations" and to clear his $7 million salary.
Not only does Addison deserve a spot in the lineup, but the Wild needs to give him an audition. It's unlikely that they will re-sign Matt Dumba, who is entering the final season of his deal. So this allows the front office to make an informed decision for 2022-23 when they have to judge whether Addison fits in the long-term picture.
Adding Brock Faber in the Kevin Fiala trade this summer makes things even more interesting. The Wild now have two solid defensemen on the right side.
Addison, 22, has flown under the radar during his call-ups with the Wild. Still, there's not much more he could have done to impress the front office. Addison typically did everything right; his mistakes were few and far between. In 15 games last season, Addison had four points and was worth 0.4 wins -- an 82-game pace of 2.2. Addison also led the Wild with a 59% expected goals rate in limited duty over the past two seasons.
With Kulikov gone, Merrill returning from injury may even help Addison rather than squeeze him out of the lineup. Merrill and Addison controlled 62% of the expected goal share at 5-on-5 together last season. That sounds like a brilliant third-pairing for Minnesota to have up their sleeves.
While the Wild didn't get anything in return for Kulikov, who exceeded expectations in his time in Minnesota, the cap space and ability to add Addison to the mix are significant assets. The Wild will need Addison as part of an influx of young talent next season to be competitive in a tight Central Division.
All Data Via Evolving-Hockey, Natural Stat Trick and Hockey-Reference