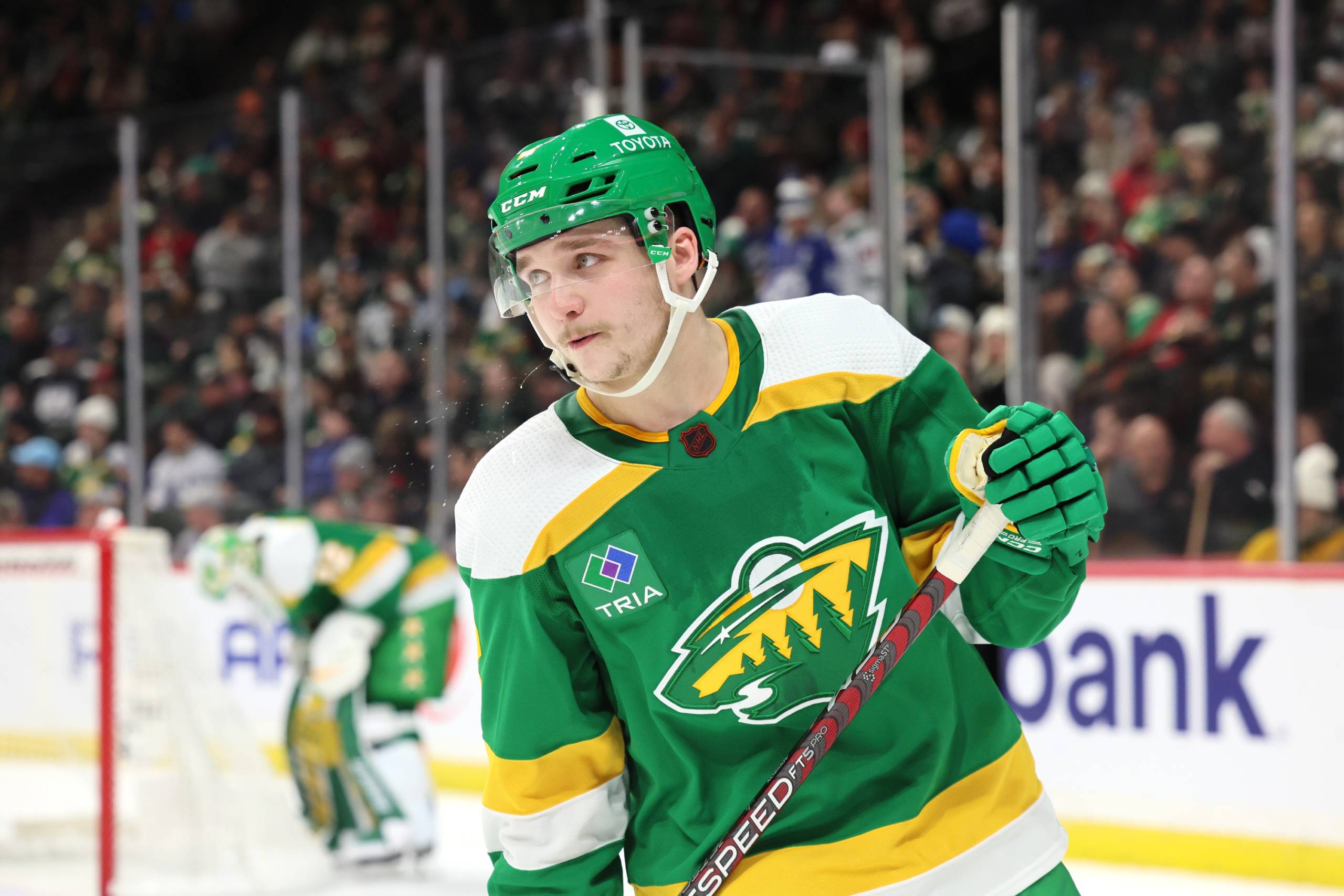 The Endless Matt Dumba Trade Rumor Cycle hasn't even ended yet. Still, the Minnesota Wild are already embarking into the storm clouds of another series of endless trade rumors for another right-shot defenseman. The inheritor of Dumba's position of constantly being in the rumor mill? Calen Addison.
Before even making the NHL full-time, Addison, the principal return in the Jason Zucker trade (along with the draft pick that became Carson Lambos) was already out there in the rumor mill this summer. The Athletic's Michael Russo and Joe Smith reinforced this in their Trade Deadline Preview last week, saying:
Don't be surprised if the Wild considers moving him in the summer. His ability to defend has been a concern largely because of his size, he's going to be due a significant raise and the Wild have two quality right-shot defensemen coming in the pipeline with Brock Faber and David Spacek.
Given that these rumors persist despite the 22-year-old producing a half-point per game (24 in 47 games) and tying Jared Spurgeon for the team lead among defensemen with 24 points, that's gotta mean something, right? The Athletic isn't throwing that out for no reason.
Then again, it's hard to look at the situation and think trading Addison makes any sense.
That isn't to say Addison is a perfect player or that their concerns about his defense are without merit. His defensive contributions this year have been below replacement level and in the 29th percentile in the NHL.
[caption id=attachment_143686" align="alignnone" width="734]

Courtesy of Evolving Hockey[/caption]
But wait a second: What are people saying is holding the Wild back from the elite teams? Is it that their sheltered third-pairing defenseman isn't very good at defending? Or is it that they can't score?
Come on. We all know it's the latter. And Addison has helped the Wild score this year, especially on the power play.
Sixty-eight defensemen have played 50-plus power play minutes this year. When Addison is on the ice, the Wild are scoring 11.2 goals per hour. That's fifth in the NHL, only behind Tyson Barrie, Morgan Rielly, Miro Heiskanen, and Rasmus Dahlin. Those are elite power-play quarterbacks on the league's most deadly special teams units.
How has Spurgeon done on the power play this year? The drop-off in talent from the first to second unit drives some of this, but he's 61st this year, with Minnesota scoring only 4.0 goals per hour.
Looking at the past two years, when Spurgeon was on the No. 1 unit of a Kaprizov-driven power play, Minnesota scored just 7.7 goals per hour. That's not bad, and in good years he can get up to the 9-10 goal per hour range. However, the overall picture is far from elite.
Time will tell if Addison can stay elite on the power play, but he easily passes the eye test with his quick puck movement and creativity. And it's not like Addison is riding the wave of a crazy shooting percentage bender from his teammates, either. With Addison on the ice, the Wild average 70.5 shots and 10.6 expected goals per hour on the power play. That's third and seventh among those 68 defensemen, respectively.
Why give that up so quickly? Or at all? Especially when Minnesota has never had a defenseman put up the results Addison is doing now. Here are some of the best power play quarterbacks in Wild history and how they drove goals/shots in their personal best seasons in each category:
[caption id=attachment_143690" align="alignnone" width="1764]

Data courtesy of Evolving Hockey[/caption]
Addison's rookie season is a boost of 10 to 15% over the peak offensive output of his predecessors. It's notable since there are some incredibly good power-play quarterbacks on there, too. Brent Burns is going to the Hall of Fame, and Ryan Suter might, too. Spurgeon even has a chance. But Addison outstrips all their best, and it's not close.
As for Addison's flaws, he's still been one of the Wild's most valuable overall defensemen this year. Evolving Hockey's Expected Goals Above Replacement (xGAR) model has Addison worth 1.4 points in the standings this year. That doesn't sound like much, but it's second among Wild defensemen. Addison's strengths more than cancel out his weaknesses.
Again, why give up on that?
Yes, the Wild have tough decisions coming up, with players like Filip Gustavsson, Brandon Duhaime, Sam Steel, and Mason Shaw being restricted free agents next year, along with Addison. But how much is Addison going to cash in on one year and fewer than 100 NHL games? 22-year-old defensemen don't tend to break the bank on short-term deals. Are we talking $3 million, tops?
There should be room for that, even in the middle of a cap squeeze. With their 5-on-5 scoring being in the gutter, the last thing they can afford to do is potentially tank their power play.
It's not like they're full of NHL-ready backup plans once Addison and Dumba are gone, either. Faber can probably play next year, but his effectiveness as a rookie is very much a question. A prospect like Spacek is years away from contributing. So Minnesota would have to bring in someone anyway, in all likelihood, eating away at whatever cap savings they'd get by trading Addison in the first place.
Maybe you could see this as the Wild selling high on a guy they don't totally believe in going forward. In a vacuum, that can be a smart move. But if we're talking about a rookie defenseman on his second contract as a potential cap casualty, you've got to wonder: Who would they sell Addison high for?
Minnesota wouldn't be able to get back anyone making a reasonably-sized salary for term. You can throw out virtually every established player off the jump. Addison isn't going to be the centerpiece of a trade that brings back a key veteran who can help the Wild win in the next two years.
So, what then? Do they sell off their power-play quarterback and team-controlled rookie defenseman for draft picks and prospects? That makes no sense, either. Minnesota's system is pretty stocked, and Addison's not bringing back a first-round pick or A-tier prospect who can move the needle for them long-term. It's just sacrificing current value when you have Kaprizov, Matt Boldy, and Joel Eriksson Ek in their primes.
This can only make sense if a player is 1) cheap and 2) reasonably ready to help now. To do that, you're probably looking at a pending, somewhat underperforming RFA.
The prize in this category is Alexis Lafreniere, the former No. 1 overall pick who is lost playing for the New York Rangers, with 6 goals and 22 points in 48 games. Betting on his talent could make a lot of sense for Minnesota, though with Adam Fox patrolling the Rangers' power play, you wonder about the fit for New York's side of things.
[caption id=attachment_143698" align="alignnone" width="759]

Courtesy of Hockey Prospecting[/caption]
Aside from that? The market is risky. Oliver Wahlstrom, Shane Pinto, and Vitali Kravtsov have somewhat intriguing skills, but are they more certain bets than Addison being strong on the power play? No, not even close. As for non-RFAs, Alexander Holtz is a surer bet, and he seems somewhat out of favor in New Jersey. He doesn't hit RFA status until Summer 2025, either. That might be extremely attractive to Minnesota.
But other than a high-upside play like Lafreniere or Holtz, though, any Addison trade is going to have one major question surrounding it: Why? He's having a solid season, should come at a manageable (if tight) cost in the short term, and helps in an area Minnesota's needed their entire existence.
He's 22, with plenty of time to improve his defense. And if he never does and is just a power play specialist playing third-pairing minutes? Great. There's a place in the league for a player like that.
Either way, very few paths to making the Wild better involve tossing Addison aside. They won't be able to replace what he's doing on the power play internally, nor do they have the cap room to upgrade elsewhere. It's almost guaranteed that the best course of action is to give their young player patience to see if he can take the step from "good" to "great" with experience.