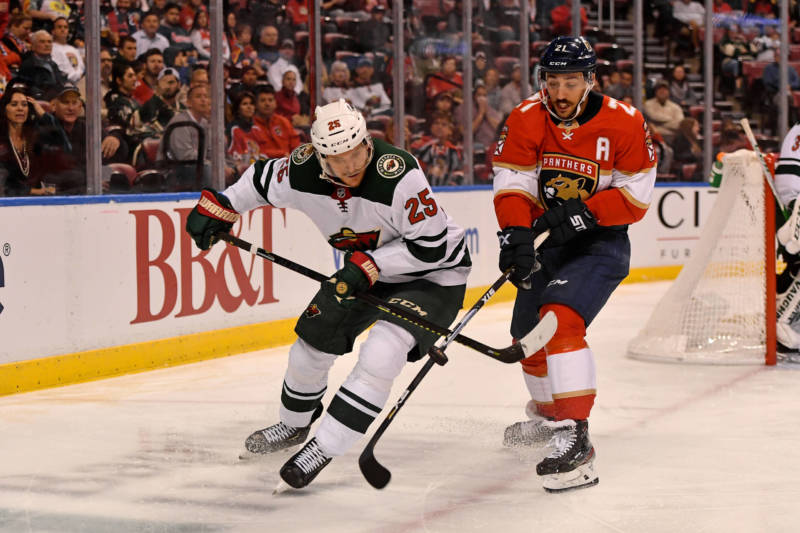 Trade winds have begun to blow in Minnesota. After taking months to evaluate his new team, Wild general manager Bill Guerin is rumored to be "open for business."
According to reports, Jason Zucker, Jonas Brodin and Mathew Dumba have been getting some interest as Minnesota has slipped out of the playoff chase. Of those three, it is Brodin who has been garnering the most interest from specific teams. Per reports, those teams are the Carolina Hurricanes, Colorado Avalanche, Toronto Maple Leafs and the Vegas Golden Knights.
Brodin is a curious case. He's never been an offensive juggernaut like Erik Karlsson or Brent Burns. He's not a punishing defenseman like Dustin Byfuglien or Zdeno Chara. Yet, Brodin has remained a highly-effective defenseman as part of Minnesota's top four.
Skating is Brodin's best asset. He can skate backward and side-to-side about as well as most people can skate forward. It allows Brodin to have great gaps against opposing forwards. Then you add in his stick placement and use, and it's allowed the Swede to be in the top 20 for the last three seasons in thwarting unblocked shot attempts per 60 minutes. He also trails only his teammate, Jared Spurgeon, for expected goals against per 60.
It's tough to put a value on a player's defensive impact because goaltending, whether for good or for bad, can make any defenseman look better and/or worse. Since offense is the name of the game in hockey, determining his offensive impact is important as well.
Brodin is certainly no offensive dynamo. However, he's quietly having his best offensive season. With 18 points already, he's just seven points shy of his career-best 25 in 2016-17.
Brodin's value couldn't be any higher at this point. Trading him could fetch a decent haul, that is, if Guerin can incite a bidding war.
Compare that to the value of Dumba, who has had some good years in the past. Look no further than the last three seasons. He put up 106 points in 190 games from 2016-19. We all know what happened last season with his incredible scoring run until Matthew Tkachuk and the Calgary Flames made the Wild defenseman answer "The Code" for a perfectly legal hit on Mikael Backlund in the game prior.
[caption id=attachment_60140" align="aligncenter" width="547]

Jan 16, 2020; Saint Paul, Minnesota, USA; Minnesota Wild defenseman Matt Dumba (24) talks with Tampa Bay Lightning forward Steven Stamkos (91) after a whistle during the third period at Xcel Energy Center. Please Credit: Brace Hemmelgarn-USA TODAY Sports[/caption]
Dumba's 106 points during that span was better than Justin Faulk, Mattias Ekholm and Aaron Ekblad. However, that kind of production has completely fallen off this year. While he continues to insist that he feels great after recovering from the torn pectoral muscle, his numbers haven't been good. Currently, Dumba's 13 points in 47 games has him ranked 94th among all NHL defensemen. If a GM was looking to capitalize on high value, they'd have to pitch to other GMs about what Dumba has accomplished in the past.
That's a tough sell when the cause of the downturn in production coincided with an injury.
Defense is not Dumba's game either -- certainly not to the level that Brodin can play. That doesn't mean that Dumba doesn't have loads of value, but when focusing on the present, Brodin just has more. If Guerin is looking to maximize value for Dumba, he's likely not getting that this season unless No. 24 can turn back into a points machine.
Minnesota needs to win trades if it is going to be a player at the trade deadline. In order to win trades, the Wild need to make trades that abide by the economic investment strategy of "buy low, sell high." Even if the team is not performing to their best, Guerin needs individuals to play well in order to get the most in return. Brodin has been playing very well; Dumba has not. It makes all the sense to trade Brodin right now, while he's healthy and playing well both offensively and defensively.
What does not make sense is trading Dumba at this point. This isn't to say that he can't or won't be traded in the future. However, one must have to think other GMs across the league will want to see him prove on the ice that he's back to his old self before shipping off a pick and a prospect, or another established NHLer.
Rumors will continue to swirl as more names and teams get involved and the deadline gets closer. The 2020 NHL Trade Deadline will come at 3 p.m. Eastern on Feb. 24. A year ago, the Wild's trades were met with severe scrutiny. With Kevin Fiala, Ryan Donato and Victor Rask not playing well, the fact that Paul Fenton failed to get more out of those deals is still being felt today.
Guerin will surely need to find ways to win any trade he makes this year. As long as he sticks by the "buy low, sell high" strategy, those trade winds should bring success with 'em.
Stats courtesy of NaturalStatTrick.com and Evolving-Hockey.com