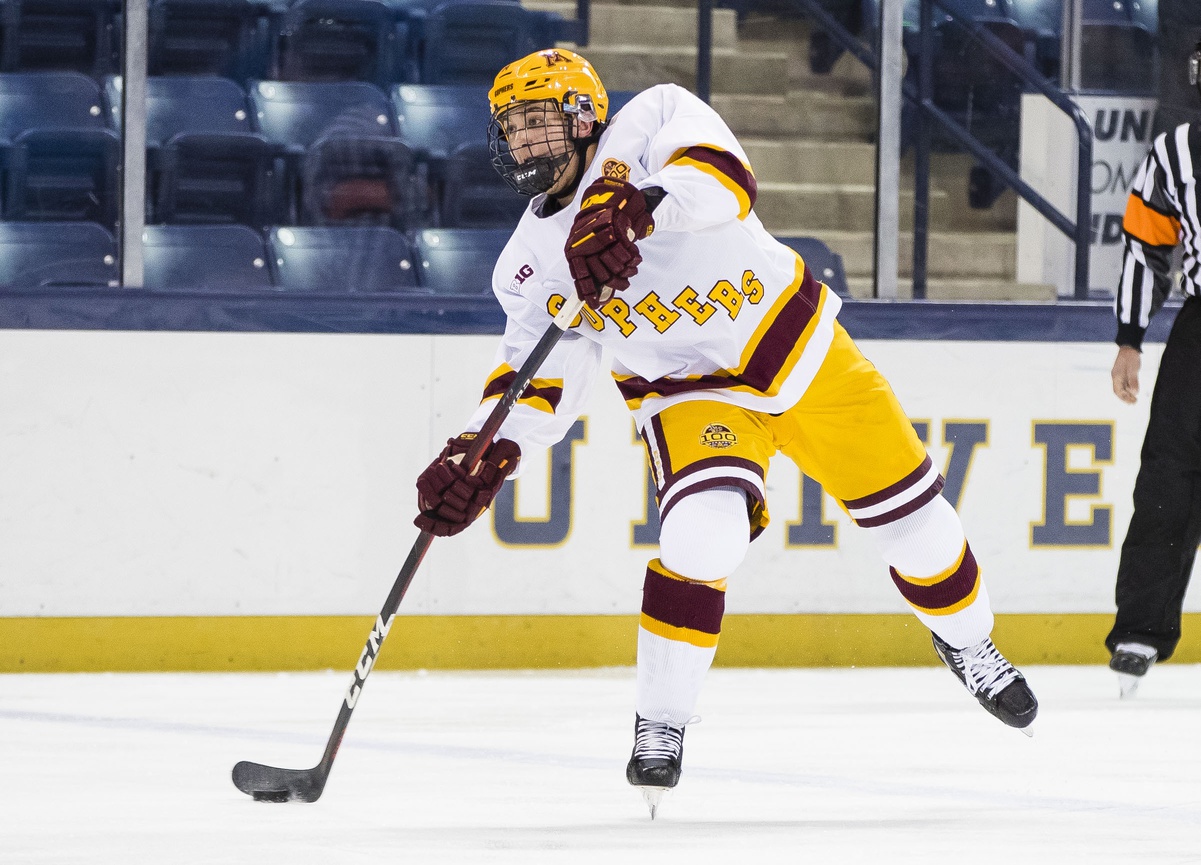 Image courtesy of © Michael Caterina-USA TODAY Sports
Brock Faber read the starting lineup card in the locker room ahead of his NHL debut in Chicago on Monday. Moments after reading "me," he ripped the paper in half and tossed it in the garbage can. Whether intentional or not, it showed Faber wasn't caught up in the moment. He carried on with the readiness needed to make an immediate impact at the highest level.
It translated to the ice, too. The former University of Minnesota Gophers captain put together the best performance from the Minnesota Wild's blue line on Monday with Jared Spurgeon, Jonas Brodin, and Matt Dumba out due to load management.
Only 48 hours after a heartbreaking overtime loss to Quinnipiac in the National Championship, Faber led Wild defensemen in ice time with 21:49 TOI. Minnesota's loss in the final left a teary-eyed Faber emotional on the ice, while teammate Mason Nevers consoled him.
"A lot of highs and lows obviously," Faber told the media a day after signing his three-year entry-level contract. "One of the hardest things I've ever gone through, for sure, and it's gonna sting for a while."
Yet the Wild's top defensive prospect, paired with fellow former Gopher, 37-year-old Alex Goligoski, made a lasting first impression in his debut. There were no signs of wear and tear. At 5-on-5, he led the team with an on-ice expected goals share of 73.84%. The next best? Goligoski at 61.05%. And I bet you can guess who ended the game as the only Wild player to not surrender a high-danger scoring chance against – indeed, that is Faber. 
Faber recorded one shot on goal, two shot attempts, and six blocks. He also ended the game as a plus-1 and nearly notched his first NHL point. Faber's shot had been blocked before it reached the net, but it landed on Marcus Johansson's stick. Faber also played over a minute on the penalty kill.
If Faber's almost perfect debut for a 20-year-old straight out of college doesn't show he's ready right now, I don't know what will convince you. Or the Wild's coaching staff, who revealed their trust in him throughout the game. The case for putting Faber in the playoffs is simple: The Wild haven't been good defensively. 
Since March 1, the Wild's 2.82 expected goals against per hour at 5-on-5 ranks 22nd in the NHL. The only reason the Wild have stayed afloat is because they've been bailed out by Filip Gustavsson and Marc-Andre Fleury, who have combined for a league-high .942 5-on-5 save percentage since March.
To be fair, defensive stalwart Brodin was sidelined for the first half of March due to injury. But nonetheless, the Wild haven't lived up to their defensive reputation over the past few month. That simply can't be the case in the playoffs against the offensive firepower of either of their first-round opponents in the Dallas Stars or Colorado Avalanche.
Minnesota's defensive core is underwhelming right now outside of Spurgeon and Brodin. Klingberg is likely going to earn the edge in the playoffs due to reputation and because the Wild acquired him at the deadline. But he's been arguably the worst defenseman on the team at 5-on-5 during his time in St. Paul.
The 30-year-old has two goals and nine points in 16 games, four of which have been recorded on the power play, but Klingberg isn't what he used to be. At 5-on-5, the right-shot defender has earned on-ice expected goals percentage of 41.82% with the Wild, and his defensive issues coupled with his tendency of turnovers and ill-advised errors have lingered with him since his Dallas days. The Wild are not a better team right now with him on the ice, and it's difficult to envision that being any different less than a week from now when it matters the most. While Klingberg is no doubt a strong puck mover, his negative impact on both sides of the puck is a waste of a lineup spot.
Then there's Calen Addison, who the Wild have healthy-scratched nightly. Justified or not, he hasn't exactly made a statement to stay in the lineup when Minnesota has called upon him, like Monday night in Chicago. Addison often makes the same mistakes despite receiving a message. He's the least of the team's concerns, though. Jake Middleton and Jon Merrill also are playing some of their worst hockey in a Wild sweater, to add to the issues on the blue line as of late.
To be clear, the objective isn't for Faber to enter the lineup, save the day and repair the Wild's defensive identity. But he can help them recover it with his Brodin-esque defensive ability. Faber is a smooth skater, one of his strengths, an exceptional defender with his stick, and has the ability to escape from opposing players.
It wouldn't be fair to disclude Faber's significant offensive improvement, either. He's much more active offensively, especially as his NCAA season with the Gophers moved along. Faber notched 27 points in 38 games this season, almost double his 14-point season a year ago. 
However, Faber needs to improve his shot output. He had only 39 shots on net this season – about one per game. While he's more of a puck distributor, his blend of skating and smarts coupled with his instincts should help him develop more of an offensive game.
It might be a high-risk, high-reward decision to place Faber right into the playoffs – a completely different beast. However, it's a gamble worth taking to get an edge in Minnesota's 10th trip to the postseason in the past 11 years.
If the Wild want to ice the best playoff lineup, Faber's name better be on that lineup card again. But regardless, he showed the Wild a glimpse of who he can become, and there's no question he will be a valuable part of Minnesota's blueline next season.
All Data Via Evolving-Hockey, Natural Stat Trick, and Hockey-Reference.
2