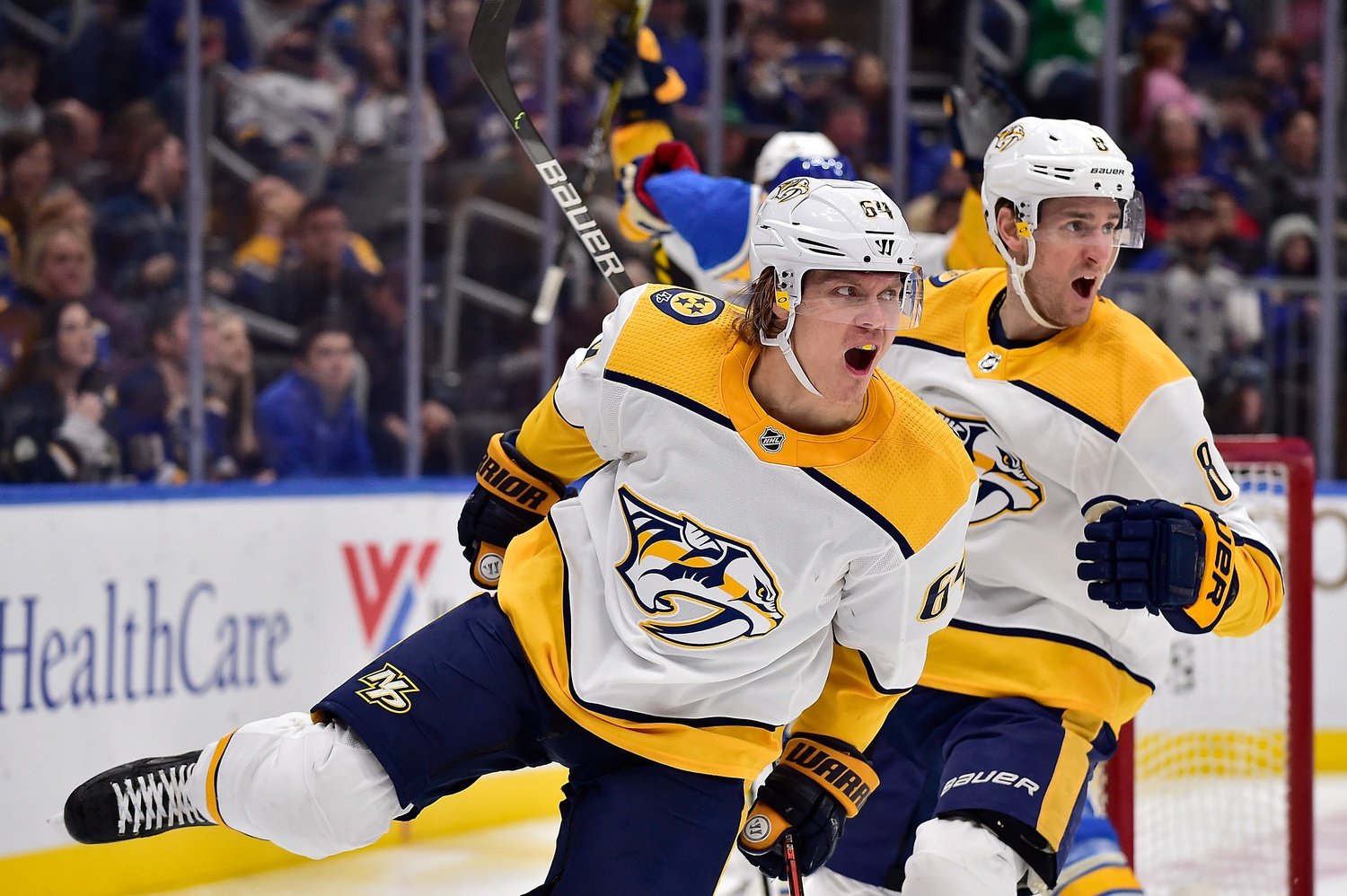 Most Minnesota Wild fans entered this offseason feeling buyer's remorse after Mats Zuccarello's first year in St. Paul.
A disappointing 37-point season isn't a great first impression for a player with a five-year, $30 million contract. No matter how sour his first year was, Zuccarello and Minnesota are married to each other. There was little else for them to do than ride it out and see if he would improve in Year 2.
Sadly for all involved, things have taken a turn for the worse. On Friday Michael Russo reported that Zuccarello underwent arm surgery that will force him out of the lineup for the start of the season. There's no timetable on his return, but in what will be a shortened NHL season, every game counts.
What's the Wild to do? Fortunately for Minnesota, free agency is a buyer's market, and the guy Zuccarello replaced is very available: Mikael Granlund.
Granlund's Lost Year
The only reason you won't know who Granlund is would be if you only started to follow hockey during the pandemic and somehow picked the Wild as your favorite team. He needs no introduction. Granlund scored 69 points per 82 games in his last three years with the Wild and was good enough to be traded straight-up for superstar Kevin Fiala.
So why is he available?
The Nashville Predators had one full year of Granlund and things didn't work out. Granlund put up a measly 35 points in 79 games and didn't click at all with Nashville's top-6 or power play.
Ironically, Granlund has been Nashville's Zuccarello. Considering the cost, Preds fans may rue the Granlund acquisition even more than Wild fans do Zuccarello.
The drop-off Granlund experienced was shocking. From the start of the 2016-17 season to the time of his trade, Granlund ranked 25th among NHL forwards with 7.5 Wins Above Replacement. In Nashville, he sat at 0.1, exactly replacement level.
His ability to drive play on both sides of the ice? Evaporated. His power-play prowess? Gone, with just eight points on the man advantage. Granlund couldn't move the puck in Nashville, going from 12 carry-ins per hour (very good) at 5-on-5 from 2016-19 to just 7.5 (pretty bad) last year.
Still, even with a disaster year, Granlund is just 28 years old with a track record of NHL success. He didn't forget how to play hockey and should come at a bargain on a one-year deal. Why shouldn't Minnesota sign him?
You Can't Go Home Again?
The biggest argument for signing Granlund is his familiarity with Minnesota. He's comfortable in the area, had success in the organization and would be received well by the fanbase. He'd be able to fill in the hole left by Zuccarello, and the Wild could perhaps use another playmaking winger even with a healthy Zuccarello in the lineup.
While nostalgic Wild fans may pine for their own Ricky Rubio-esque homecoming story, it should also be noted that Granlund would not come back to the same team. Virtually all of the players he had success with are gone. Over half of his 5-on-5 minutes were alongside Jason Zucker, who was traded to the Pittsburgh Penguins. Almost all of his time was alongside centers Eric Staal or Mikko Koivu. Not only are both gone, but there also aren't even comparable replacements.
It's not just the players, either. Granlund's career didn't take off until Bruce Boudreau took over as coach, and now he's gone. Dean Evason has expressed interest in going towards a more up-tempo system, but that might not be great for Granlund. He thrived in Boudreau's defense-first system, struggled under a faster-paced Nashville team, only to play better under defensive-minded John Hynes.
Not that there wouldn't be anything going for Granlund. He'd have the opportunity to be a set-up man for Fiala or Kirill Kaprizov, both of whom might be even more offensively gifted than Zucker. Adding a playmaker in Granlund gives Minnesota the flexibility to play Fiala and Kaprizov together or apart, too.
If Minnesota wants to compete, Granlund could be a great low-cost fix to the Zuccarello injury, while still helping the team out when fully healthy.
Time to go all-in?
Of course, that depends on whether Minnesota wants to go all-in and compete for the playoffs this season. Do they? It's hard to say. General manager Bill Guerin addressed his biggest need credibly, signing Cam Talbot this offseason. At the same time, Guerin has sent veiled intentions.
Minnesota's been perfectly content to enter next season with winger Marcus Johansson slated to center the first or second line. That's a massive mismatch to be giving up on a nightly basis. Things get worse if Joel Eriksson Ek can't elevate his game into a top-6 role. As for reinforcements, Minnesota is reportedly leaning towards delaying first-round center Marco Rossi's debut until 2021-22.
There are pros and cons to Minnesota going all-out to compete vs. biding their time. With the team wanting to re-sign Fiala and Kaprizov long-term next offseason, it's definitely in Minnesota's best interest not to turn this season into a miserable slog. At the same time, the biggest source of optimism for this franchise stems from their growing prospect strength. If Minnesota happens to get another top-10 pick this year, that only helps their future.
A pre-season injury to a crucial player like Zuccarello might give us the most clarity on what Guerin wants to do this season. If they want to maximize their chances at a playoff spot, there's a stopgap available who can do just that. If not, it's a good indication that 2021-22 is the real ETA for a playoff berth.