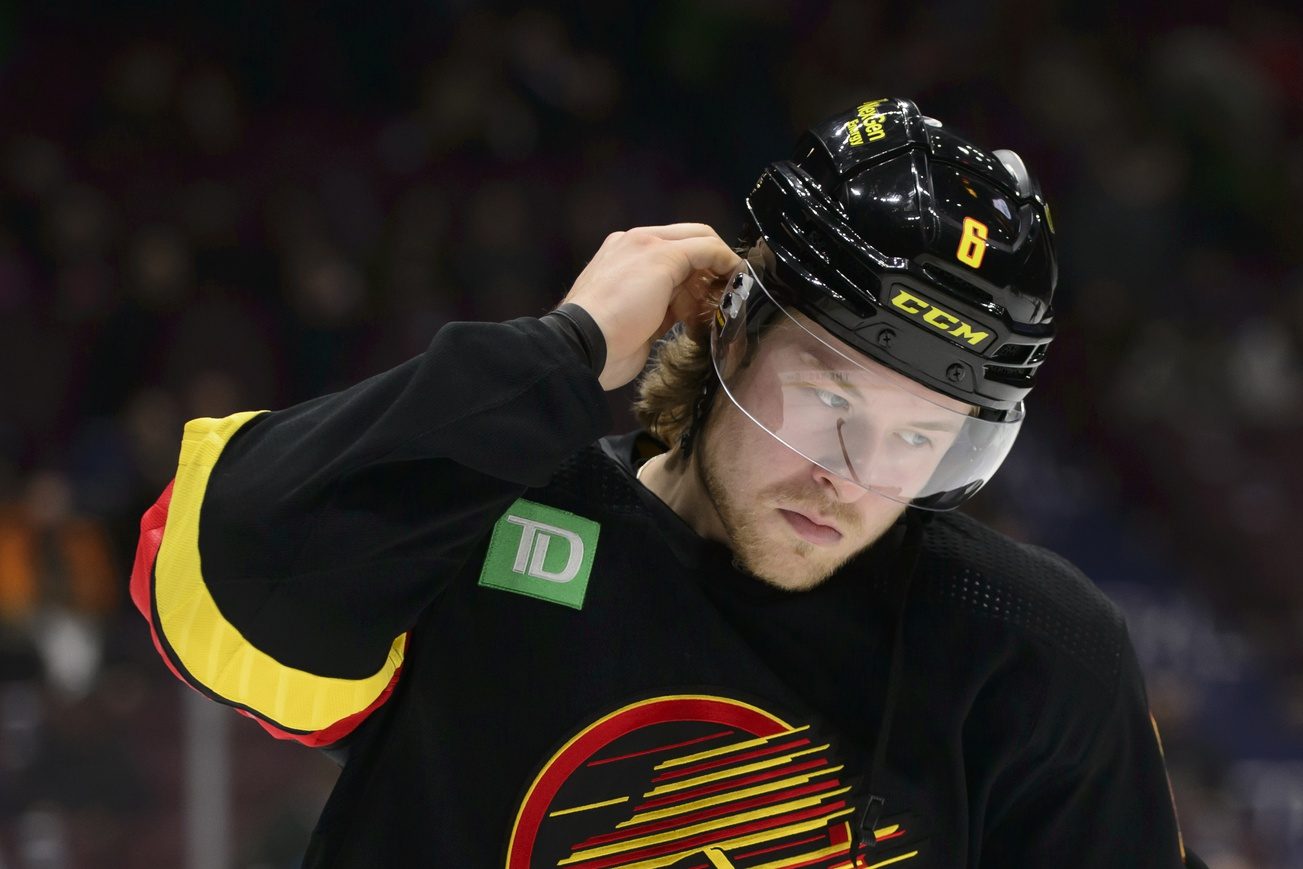 It's not a shock that the Vancouver Canucks are trying to trade young winger Brock Boeser. His potential trade saga has been public, and it's been difficult for him. Boeser's agent, Ben Hankinson, is trying to facilitate a way to bring the Burnsville native home. The Wild could, and should, make a reunion possible.

 

Vancouver's treatment of Boeser is strange. The organization was at a crossroads after firing long-time general manager Jim Benning for his confusing personal decisions and bringing in a new president, Jim Rutherford, who is known for confusing personnel decisions. Benning and Rutheford like signing aging grinders and fourth-liners to large deals with the term. They like to target tough guys, guys with grit like Antoine Roussel, Jay Beagle, Brandon Tanev, and Tyler Myers to name a few. Those contracts all aged (as everyone predicted when they were signed) poorly.

 

The Canucks then let Bruce Boudreau coach while the rest of the hockey world knew they were going to fire him, which led to an

press conference from the beloved former Wild coach. The Canucks then signed their streaky and not defensively-inclined point leader from last year, J.T. Miller, to an 8-year extension, only to

they're thinking about trading him.

 

Then they traded their long-time captain, Bo Harvat, (which was smart), and brought in a new coach in Rick Tocchet, only to continue to underperform. Now fans are split on whether the Canucks should extend Elias Pettersson. They've also driven their best goalie since prime Robert Luongo, Thatcher Demko, into the ground. His body is giving out playing in front of the porous Canucks defense.

 

All of those mistakes and mishaps and missteps mean only one thing.

 

The Canucks are a mess.

 

If you're looking for a comparable feeling, go back to the day that former Wild GM Paul Fenton signed Mats Zuccarello to a $30 million deal, then compared him to a lizard.

 

That about sums it up.

 

The Canucks are an organization in disarray, and the Wild should take advantage of that.

 

Boeser signed a 3-year extension at the beginning of this season. His current contract is worth almost $20 million total and carries an average annual value (AAV) of $6.65 million.  It would be a difficult cap number for the Wild to manage. But they could make it work with the right moves and the right price.

 

"There's just been so much talk over the last few months. You never know what can happen," Boeser said when asked about his game among swirling trade speculation. "So, yeah, day by day — I'm trying to focus on that."

 

He's been focusing on his game, and it's paid off.

 

Boeser has had 20 points in 25 games since Christmas, a 65-point pace. He's 26 and is still averaging 29 goals per 82 games in his career. Boeser has hit the 20-goal plateau four times so far in his career and all of those seasons have been less than 82 games played. That would be a godsend after nobody except Kirill Kaprizov and some Brandon Duhaime luck could score against the 2022-2023 Columbus Blue Jackets.

 

Let me repeat. The 2022-2023 Columbus Blue Jackets.

 

Courtesy of MoneyPuck.com

Courtesy of Evolving Hockey.com
Still, according to insider Frank Seravalli, Boeser would not cost a first-round pick. That's good news for the Wild because they've expressed that they are not inclined to give theirs up.
The Wild can't stand pat while their Central Division rivals make moves. The Dallas Stars just got Evengi Dadanov from the Montreal Canadiens. The Winnipeg Jets acquired Wild legend Nino Niederreiter from the Nashville Predators. It's time for Minnesota to make something happen.
How will they fit it under the cap, you say?
Here is the solution.
It starts with the Canucks retaining 50% of Boser's deal. It's not something they want to do but if Boeser only wants to go back to Minnesota the Canucks don't have a whole lot of power in this situation. It'll have to happen if the Wild want to get Brock back as well. The 50% retention by the Canucks lowers his cap hit to $3.325 for the next two years.
Then the Wild have to find another team to play banker so that they can retain an additional 50% of Boeser's remaining contract. They'd have to give up a similar package to what the Wild got for retaining salary on the Boston Bruins and Toronto Maple Leafs deals. To get a team to be a banker and retain that $1,662,500 from the Boeser deal they would have to give up a 4th or a 5th-round pick. That is the going rate for salary retention this year. Any team that is a bottom feeder or actively tanking for Connor Bedard would be open to taking on $1,662,500 and getting an extra draft pick in the process. Teams like the Chicago Blackhawks, Columbus Blue Jackets, and Anaheim Ducks are all prime candidates.
So after you find the banker and they retain 50% of the remaining deal, the Wild will get Boeser at $1,662,500 for the next two years. He'd carry less of a cap hit than Ryan Hartman and produce a whole lot more.
The Wild would have the cap space for this season so long as they include Jordan Greenway and or Jon Merrill in the deal. Greenway makes $3 million, and Merill makes just over $1 million. Either of those two alone would make up for the money to get Boeser.
So any deal that involves Boeser would have to include Merrill/Greenway, a 4th or 5th-round pick for retention, another pick or prospect, or a combination of picks and prospects. If the Wild have to give up a second rounder or a prospect it's not the end of the world. Having the best prospect pool in the land grants a team certain luxuries. Not all those guys in the system are going to make it. The Wild need to win games. This team has played well enough to prove the endeavor at the deadline would be worth it. The premium assets that the Wild have are not on the table, and they don't have to be. Any and all of which would be worth it for a Brock Boeser with a ridiculous goal-per-hour rate giving Matt Boldy a legit option to play with on the wing.
Look at this projected Wild top six and tell me it doesn't make you smile.
Kirill Kaprizov - Ryan Hartman - Mats Zuccarello
Brock Boeser - Joel Eriksson Ek - Matt Boldy
Brock would immediately be a hometown hero. He's certainly a character guy that Bill Guerin likes to target and his Burnsville heritage would have "number 6 Boeser" jerseys flying off the shelves. After the loss of his father, I imagine Brock would find much comfort playing in front of the Minnesota fans and his agent has expressed those same aspirations, saying Boeser would be a great fit on the team.
Good things often lie on the other side of hard things. The trade may be hard to pull off but Brock Boeser is a good thing. Boeser would not just be a trade deadline acquisition. He would help the Wild contend during the dark times of the buyouts. It's a tricky trade, but worth the effort. Minnesota needs Boeser's scoring, and he'd inject excitement into a team that has regressed since last year.
All stats and data via CapFriendly unless otherwise noted.