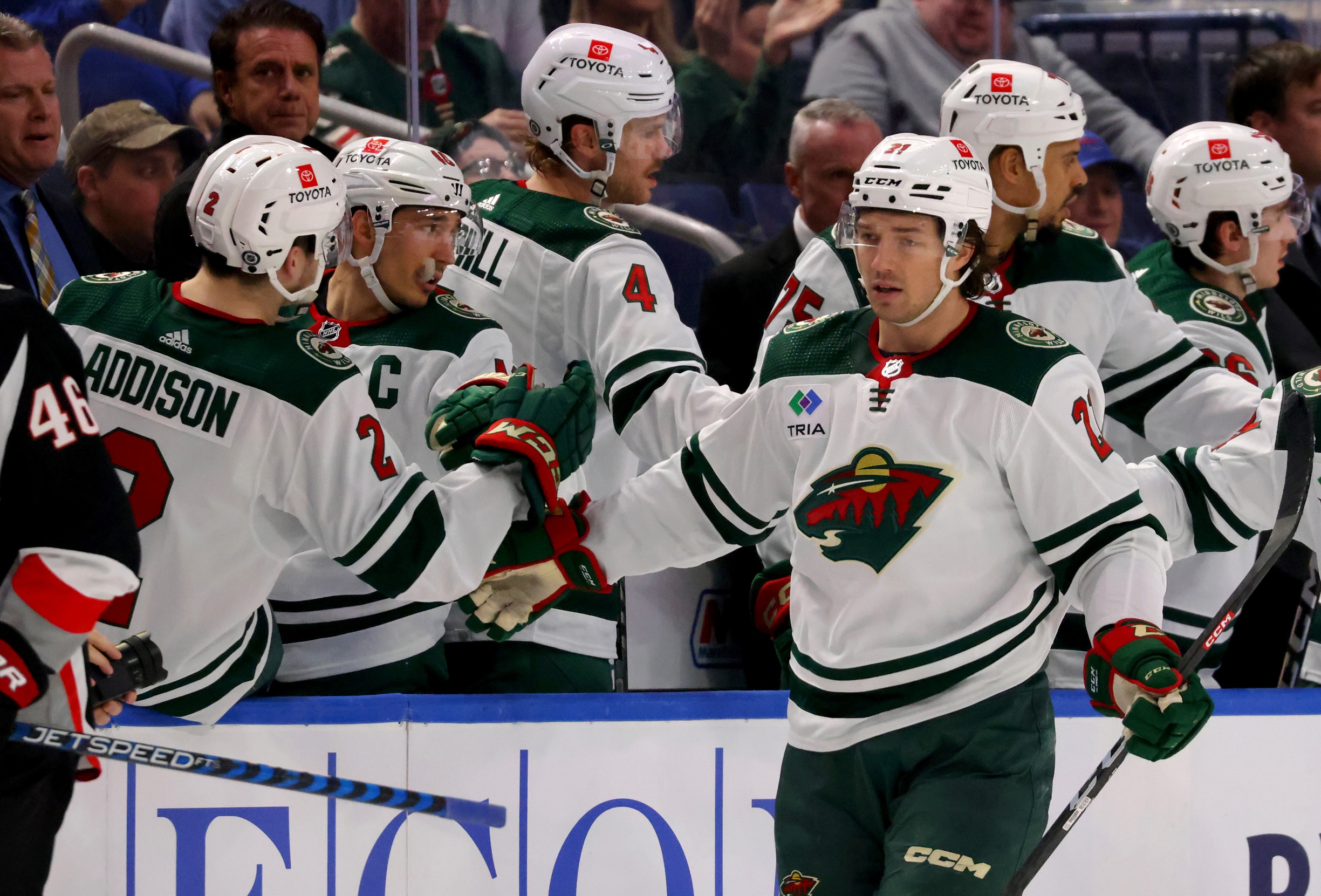 Image courtesy of Timothy T. Ludwig-USA Today Sports
There's plenty of talk surrounding the Minnesota Wild and their underrated players. But there is one player so criminally underrated that he usually doesn't even enter the conversation. Brandon Duhaime has been slowly developing into a noteworthy player, but his string of injuries last season made it hard for fans to see the progress. 
Duhaime's stellar personality is also a great fit in the locker room and especially on the fourth line. His on-and-off-ice physical comedy is an amazing complement to Mason Shaw's vocal comedy and Connor Dewar's straight-man shtick. So here are a few reasons why Duhaime deserves a new contract and more love from the fans.
Duhaime just wrapped up his second full season with the Wild. His presence mostly on the fourth line has been a bit overshadowed by some of the other players. Duhaime doesn't fit into a specific role because he does a little bit of everything. He scores goals and gets assists, but not enough to be known for it. Duhaime has the body size to be physical, and he's definitely not afraid to drop the mitts, but he isn't necessarily known as a fighter. He's been a bigger presence on the penalty kill this season. However, Duhaime probably isn't the first to spring to mind when thinking about the penalty kill. Many fans might think that his lack of standout qualities means he isn't an important player. 
Actually, the opposite is true.
As a cash-strapped team, the Wild need players who are versatile but don't come with a big cap hit. Duhaime can play one of several roles on the ice. Despite limited play this season, he's moved between second, third, and fourth lines to fill roles as needed. He's fast enough to play on the second line but physical enough to play the grinding play of a fourth-line player. Duhaime is sort of a less skilled version of Freddy Gaudreau, Minnesota's Swiss Army Knife, in that the Wild can depend on him in many types of situations.
He turns 26 next week, so Duhaime is still fairly young, and his play is still developing. Even with fewer games this season than last season, he managed to improve some of his stats. Duhaime took 33 penalties in 80 games during his rookie season. However, he cut that down to 15 penalties in 51 games while also managing to draw 19 penalties. At the same time, his hits per game increased from 2.51 to 2.86. His play is becoming more refined because he's working harder and smarter.
Duhaime solves one of the constant problems with Minnesota's play because he isn't afraid to put the puck on net. He hardly ever looks to pass when he's in the offensive zone, electing instead to shoot. Duhaime only had one assist this year, but he registered three game-winning goals. His speed helps him get in the zone efficiently and find an open slot without having to slow down and try to make a pass.
Off the ice, Duhaime is a lovable scoundrel. His antics have endeared him to fans, who are always looking for another "Dewey 1" moment. From eating the starting lineup paper after announcing it in the locker room to his constantly loud bench presence, he is always up to something. The fans can't wait to see what pops into his head next.
There's also a bit of unintentional goofiness that seems to follow Duhaime that can endear him even to the hardest of hearts. Who can forget his rookie lap last year when he stepped on a puck and fell on his face? And then his first NHL goal was a redirect off of his skate while he was bent over retrieving the stick that he dropped. He had been facing away from the play and didn't even realize what happened at first. It was the perfect next entry in the Duhaime hockey lore. 
The best part is that Duhaime seems to shake these things off without letting them get to him. After some of his more embarrassing moments, he hasn't seemed phased. He lets them roll off of his back without dwelling too much. Duhaime seems much more concerned with being one of the Wild's hypemen. Usually, when a camera pans to him on the bench, he's cheering his heart out and yelling encouragement to anyone close enough to hear. 
Minnesota must re-sign Duhaime during this off-season. Not only is he great for team and fan morale, but his play is improving to the point where he should be given more responsibility on the ice. As the team works toward a deeper run in the playoffs, Duhaime is the kind of player the Wild need to depend on.
2