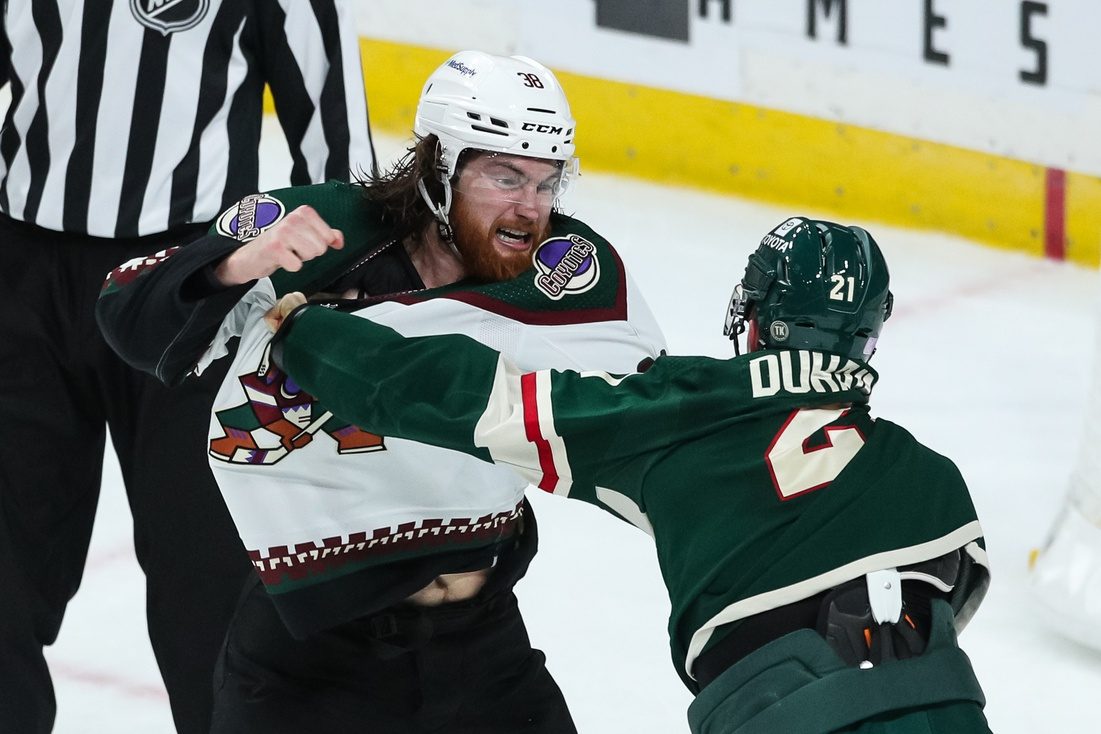 At the start of the season, no one would've guessed that Brandon Duhaime would be the lone rookie to play consistent games for the Minnesota Wild this year. Yet, he's one of eight Wild players who've been in the lineup every game. Few saw the kid who wiped out after stepping on a puck during his rookie solo lap becoming a stable piece for Minnesota. But with a Wild roster that's getting younger, Duhaime has been able to cement his role on the team. He's put up decent numbers, primarily playing fourth-line minutes as a first-year player. While Duhaime has had some questionable moments, he's been a solid addition to this new-look Wild team.
Last year, Brandon Duhaime was a relatively unknown name for Wild fans. He was picked in the fourth round of the 2016 NHL entry draft and played three years at Providence College, followed by two years with the Iowa Wild. Duhaime put up 72 points in 115 games for Providence and only 29 points in 87 games in Des Moines. While he's primarily a bottom-six player, he has been able to find a home with Nico Sturm and Nick Bjugstad on Minnesota's fourth line.
Duhaime's start to his NHL career has been memorable so far. It started with the embarrassing blunder in his rookie lap. Then, his first goal came when he was leaning down to pick up his stick, and the puck went in the net off his skate.
Another memorable moment came during the rout vs. the Dallas Stars on Nov. 18th. Duhaime dropped the gloves to fight Radek Faksa off of a faceoff, but that was all that happened. Duhaime was standing there on the ice dumbfounded, as he wanted to fight, but Faksa was not interested. The two would go on to fight later in the game.
Even though Duhaime's point production might not wow fans, his grittiness should entertain them. He ranks second on the Wild in hits (71) and penalty minutes (44). However, Duhaime probably takes too many penalties and can be a bit reckless in the 11 minutes he plays a night. He sits atop the penalty minute leaderboard by a mile; Montreal's Michael Pezzetta is second with 24 PIM. However, Duhaime's aggressive presence still is beneficial to the team because hits are one of the most entertaining aspects of the game. A good hit, possibly followed by a fight, can change the whole direction of the game.
Duhaime is always willing to do what Dean Evason asks of him. No matter who he plays with or what line he's on. His game is always consistent, and that's all you can ask for as a rookie. He could get 20 minutes or three, and he doesn't change his game either way. The transition to the NHL seems to be working well for Duhaime. With the opportunity to play in the upcoming Winter Classic at Target Field, he's got a chance to show a national audience that he belongs in the NHL. With Joel Eriksson Ek injured, Evason may put Duhaime higher up in the lineup and give him more minutes. He could also get a chance to play on special teams.
Brandon Duhaime's style of play seems to fit the bottom-six role perfectly. He can contribute on offense, and the physicality is a bonus. Another positive? He only takes up .9 percent of the Wild's cap space because he's still on his rookie contract. Duhaime provides great depth as a first-year player, and his development as a pro seems to be going smoothly.
The fourth line of Duhaime-Sturm-Bjugstad is as good as a bottom line can get. They've combined for 12 goals and 21 points. All three can chip in on the penalty kill, and Sturm has the lone shorthanded goal for the Wild this season. He also has the best faceoff win percentage at 53.6 percent, allowing him to win faceoffs and set up Duhaime and Bjugstad. That line has the complete trust of Evason, who often plays them to start periods and games.
These days, not many rookies are willing to drop the gloves with proven fighters in the NHL. So far, Duhaime has engaged in three fights. It's undoubtedly a unique skill for a newcomer to duke it out with some of the league's heavyweights. Duhaime is not afraid to get physical on the ice, which adds to his game.
The Wild already has a notable tough guy in Marcus Foligno, who will always be the guy to stand up for his teammates. Duhaime is showing flashes of doing the same thing. Could Duhaime emulate a similar playing style to Foligno's? Only time will tell.
There is no doubt that Duhaime is having an eventful first year in the NHL. So far, he's been able to help in all areas of the game and has become an essential part of the team's culture. With his ability to rough anyone up in a fight, he's one of the guys Minnesota counts on to spark the team. Putting up solid numbers for a rookie and proving his physical abilities, he's been a great addition to this Wild club that is poised to make a run for the Stanley Cup.