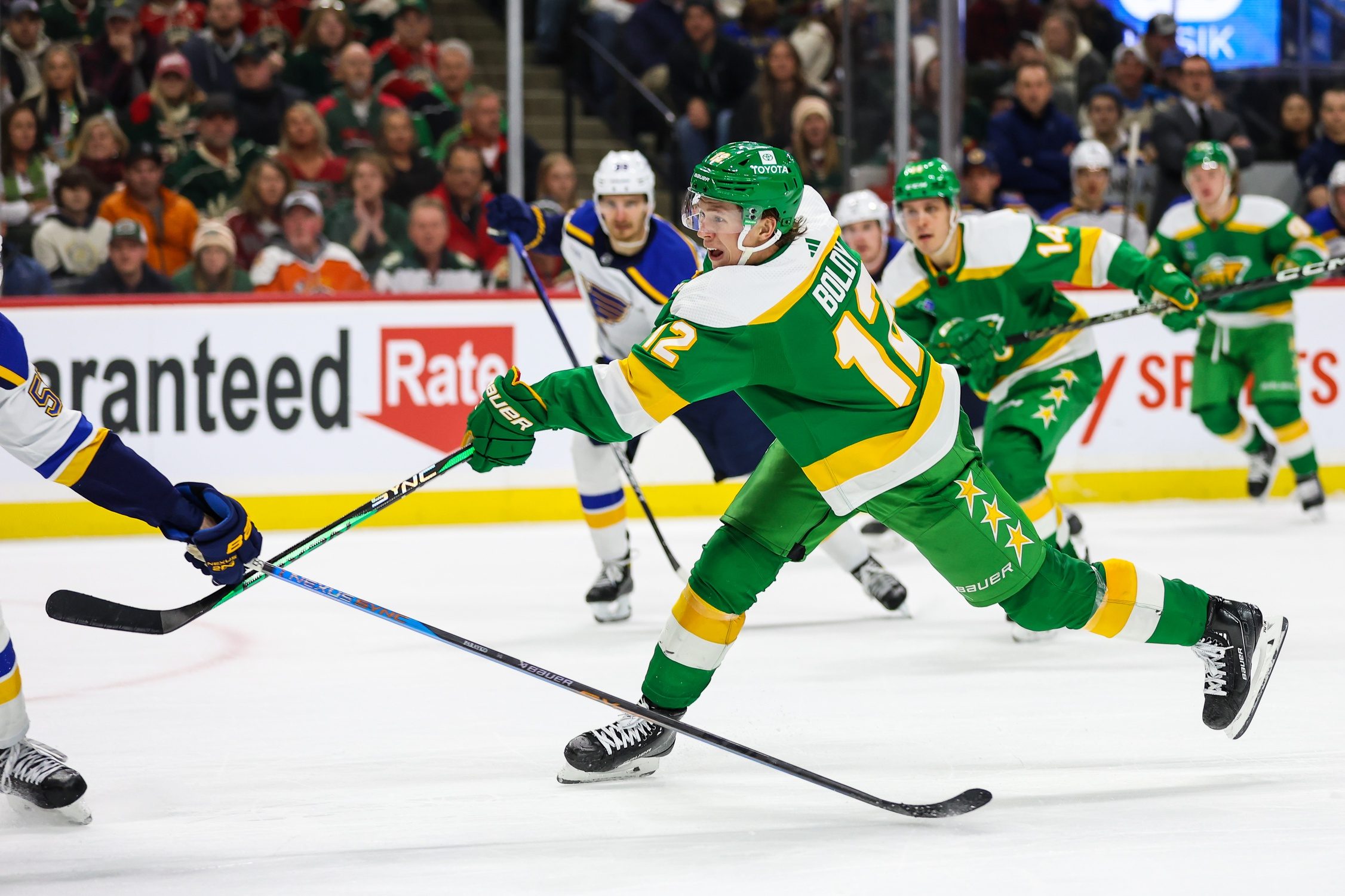 Yesterday, 10K Rinks declared that there would be a day to look at the implications of Matt Boldy's extension. We also declared that yesterday was not that day. Good news if you were waiting for it, though: we're doing it today.
Boldy's seven-year, $49 million contract kicks in next season and puts the Wild in some jams, even if it takes care of one of Minnesota's three most important players. For example, they have eight pending free agents and only $9 million to re-sign them all or fill their roster spots.
This jam feeds into another one, which might impact this year's Wild team and future ones. Before the Boldy extension, Minnesota's preference at the trade deadline was to pursue rental deals for upcoming UFAs. Still, they had the ability to add at least some salary beyond this season, assuming Boldy could get on a bridge deal that'd save them $3 to 3.5 million next year.
Now that's not an option. Minnesota barely has enough cap space to fill out their roster next year, and future cap room isn't walking through that door. The Wild have 11 players making $2 million or more next season. With how they've constructed their roster, there's not much room for flexibility.
Three of them, Boldy ($7M cap hit), Kirill Kaprizov ($9M), and Joel Eriksson Ek ($5.25M), are franchise cornerstones that they almost certainly won't trade. Jared Spurgeon ($7.58M), Jonas Brodin ($6M), Marc-Andre Fleury ($3.5M), and Alex Goligoski ($2M) have full no-trade protection. Mats Zuccarello ($6M) has partial no-trade protection and can block 10 teams from trading for him.
That leaves only three players who make any kind of money that can move next year. Marcus Foligno ($3.1M), Jordan Greenway ($3M), and Jake Middleton (2.45M). None of those players moving -- by themselves, anyway -- opens up many new possibilities.
It's a fair trade-off to keep Boldy locked in for a good price, but it takes off a lot of options from the trade market table. Looking at The Athletic's Big Board, it takes some big names away from consideration. For example, any hope of Brock Boeser to the Wild is gone now. A reasonably-priced Anthony Duclair is also probably gone. Even a dirt-cheap cap hit for a top-pairing defenseman like Jakob Chychrun would require major surgery to fit going forward.
That means two things, one for the short-term and the next for a bit down the road. The first thing is: They're going to have to pursue rentals without any possibility of extending them. If the Wild land a Bo Horvat, or Ryan O'Reilly, or Timo Meier, great. Just get ready to say goodbye.
It might get tiring to hear "The Wild can't afford it" when it comes to these players, but you're going to hear it a lot. Whatever sugary cereal Bill Guerin puts in his cart over the next six weeks, Gary Bettman is making sure that it goes back on the shelf by checkout time.
That shouldn't discourage Minnesota from making a trade to boost their playoff chances. In fact, they should be all-in on the rental market now. They only get Boldy and rookie Calen Addison on an Entry-Level Deal. According to The Athletic's Dom Luszczyszyn, Minnesota is getting $7.5 million of surplus value from their combined $1.7 million salaries.
But that will vanish once the Wild are paying closer to market rate next year. So they need to take advantage of it by loading up because they won't have the cap space to do so next year.
In a vacuum, two months and a playoff run of Meier, James van Riemsdyk, or Vladimir Tarasenko might not be worth the prospect and draft capital required to land them. In fact, it almost certainly won't be. But this isn't a vacuum. The only time the Wild can make meaningful additions to their roster over the next three years is now.
The second bit is a bit more long-term. But since they can't fill out next year's roster with any veteran pieces, nearly all their upgrades will have to come from inside the organization. At least, barring a seismic shift in the core of this team.
For example, Marco Rossi had better be ready to take over next season. 19-year-old Danila Yurov might want need to make a push for the roster this coming fall if it lacks scoring. The B-tier of prospects, the Adam Beckmans, Daemon Hunts, and more, will have so many hopes pinned on them to keep the Wild's machine moving.
That was always going to be the plan, Boldy extension or no, and it's one that Guerin and Judd Brackett prepared for. In their three years of running the draft, starting with the year before the Zach Parise and Ryan Suter buyouts, they've picked in the first two rounds 10 times.
Those prospects will tend to be of higher quality, yes, that's true. Another good reason to zero in on those picks, though, is they're also much more likely to be fast-tracked to the NHL than those in later rounds. We might have to start seeing the fruits of that next year.
Again, this is the fate Minnesota resigned itself to when pulling the trigger on the buyouts. You can't really argue with the results of what's happened since, even if they're still looking for a postseason breakthrough. But with Boldy eating up so much cap space — deservedly so and to the Wild's long-term benefit — it's more obvious than ever that cap management will only get harder from here.