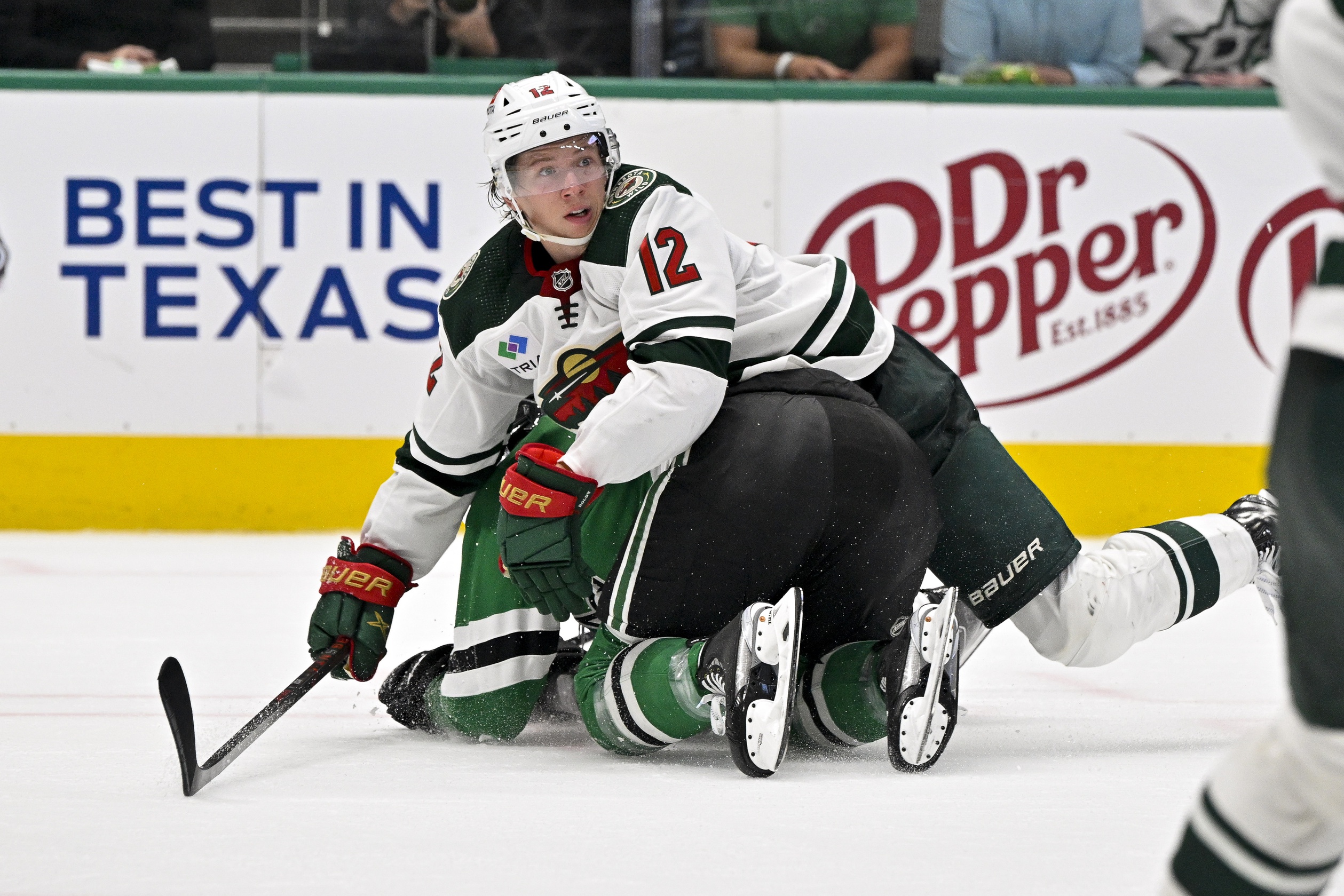 Image courtesy of © Jerome Miron-USA TODAY Sports
The Florida Panthers didn't win the Stanley Cup this year, but they secured their place in the finals through sheer willpower. After barely squeaking into the playoffs, the Panthers beat the Boston Bruins, the current Presidents' Trophy winner, in the first round. Following that, they went on a Cinderella story type of postseason. One of the keys to Florida's deep playoff run was the addition of Matthew Tkachuk, who seemed to spearhead a personal vendetta against any team that stood in the way of the Cup.
Back here in the Midwest, some fans can't help but wish a similar underdog story of success for the Minnesota Wild in the playoffs. During the next few salary crunch seasons, they probably have to pull off an underdog run to get past the first round of the playoffs. If the Wild need a secret weapon like Florida had in Tkachuk, who can they look to? 
Matt Boldy may be their best bet.
Boldy and Tkachuk are different players, and Boldy doesn't need to change his style of play to match Tkachuk. What he can do is look at some of the qualities that brought success to Tkachuk and Florida in their playoff run and use them next season. 
Tkachuk's gritty playstyle is a key to his success. He isn't afraid of anything and will do what needs to be done, whether that means scoring a goal or driving a player into the boards. Boldy has started to show more grit in his game, further entrenching himself into the Wild's preferred style of play. Coming into the 2022-23 season, Boldy was much more physical, showing he'd been working on his strength during the offseason. In his AHL profile, Iowa listed him at 194 lbs. This season with the Wild, they listed him at 202 lbs. That's almost ten added pounds of muscle, which will help. 
Boldy usually maximizes his speed and relies on his skills more than physicality. However, he's been playing an increasingly gritty mental game, and he's starting to be more comfortable using his strength against opponents. Last year, Boldy got into his first NHL fight. Continuing to develop his strength could be Boldy's key to taking his game to the next level.
A bona fide superstar needs to make sure they are taking chances. A smart player knows that a calculated risk is better than sitting back and letting someone else take the lead. Tkachuk is definitely not lacking in confidence; it shows every time he comes over the boards. He always takes charge. 
Conversely, Boldy is still flirting with his superstar potential. There are times when Boldy defaults to passing instead of shooting, choosing to defer to the older players on the ice. Occasionally, though, he picks his confidence up and starts putting pucks on the net as soon as they come his way. As he matures, Boldy needs to see himself as a leader on the ice, directing the play despite his age.
In the regular season, Boldy showed that he isn't afraid to put the team on his back. When Kirill Kaprizov was out with an injury for over a month, Boldy had no qualms with stepping into the superstar role and leading the team in goals. The problem was that neither Boldy nor Kaprizov could find that higher gear that was needed in the postseason. Both were left with disappointing point entries on the score sheet. During the six playoff games, Boldy only tallied three assists, while Kaprizov scored one goal. 
On the other hand, Tkachuk played 20 games and racked up 24 points in the postseason. He was also incredibly clutch. Most of the highlight reels from Florida's offseason feature Tkachuk, front and center. During Game 1 of the series against the Carolina Hurricanes, Tkachuk played 40 minutes during the regular 60 minutes plus four overtime periods. He scored one goal that night, the game-winning goal which let everyone go home and sleep. When Tkachuk needed to find the next level, he dug down deep and found it.
One of Tkachuk's best qualities is something that all hockey players should have: charisma. As he led the Panthers through the offseason, people were talking about Tkachuk all over the sports world, and he relished it. Interviews aren't a comfortable situation for everyone, but all players can learn a little something from Tkachuk's on-ice shenanigans. 
After the extra, extra, extra-long game versus the Canes, Tkachuk celebrated the game-winning goal by pointing the way to the locker room, dashing out the door while refusing to celebrate on ice. Then he doubled down during the next game when the same type of situation played out. Tkachuk took an essential moment for his team and made it memorable around the league. His celebration will be a highlight reel moment for years to come.
Of course, charisma isn't necessary to lead a team to the finals. But having likable players who can create a storyline like Tkachuk could help expand a team's fan base. The State of Hockey doesn't have a problem with local fans, but drawing in more nationwide fans could be helpful for team morale during a long playoff run. In most underdog stories, the support from fans helps push that team through the improbable and further than they thought possible.
There are many ways a team can go on a deep playoff run, but having a game-changer like Tkachuk can propel a team further than anyone thought. As Boldy matures and expands his game, he has the potential to be that player for the Wild. After Boldy's obvious disappointment with his performance during the series against the Dallas Stars, it wouldn't be a surprise if it serves as his motivation during the offseason. If Boldy can translate his mental grit more into his physical play, he could easily become a game-changer. 
2