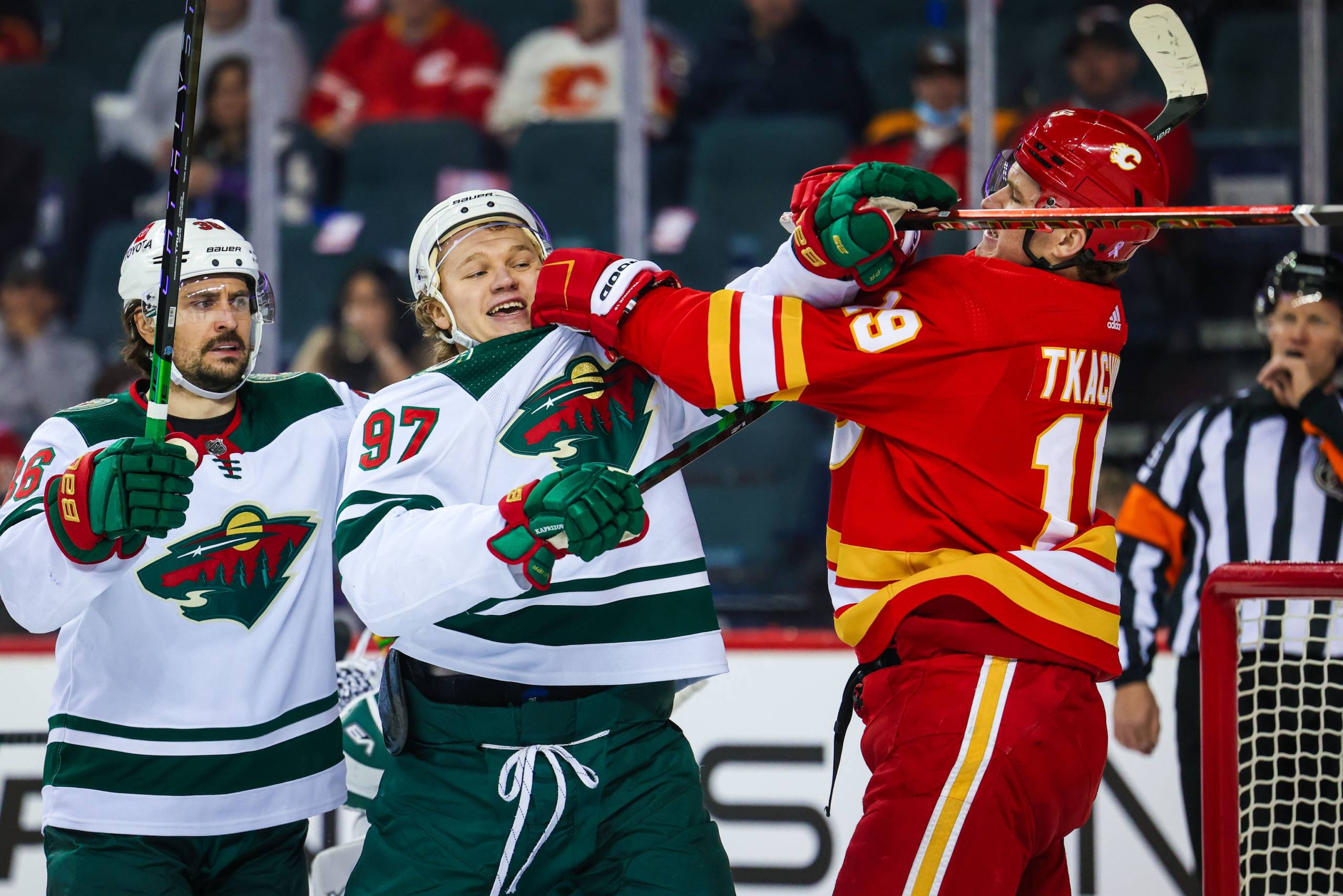 Calgary Flames general manager Brad Treliving lost his superstar forwards this summer. Johnny Gaudreau pulled a Marian Gaborik, walking away as a free agent, while Matthew Tkachuk didn't re-sign and forced a trade.
Tkachuk fetched a hefty return for Calgary in Jonathan Huberdeau, MacKenzie Weegar, Cole Schwindt, and a 2025 first-round pick. The problem, though? Huberdeau and Weegar will be unrestricted free agents in the 2022-23 offseason. If they choose to walk, the Flames will be in even worse shape. The pressure is on Treliving to not only have another strong year but also make sure his pending UFAs don't leave.
Flames fans are very nervous right now. Minnesota Wild fans watching this play out might be nervous, too.
The Wild essentially dealt Kevin Fiala for Liam Öhgren and Brock Faber. While both are promising prospects, they haven't played in an NHL game. Kirill Kaprizov is under contract for the next four years. That contract was difficult to sign, so what will it be like as he approaches free agency? And how much harder will it be if Minnesota can't prove to Kaprizov that they have a winning culture?
If he decides it isn't, or if he wants to play somewhere specific -- or anything else -- they may end up like Calgary. It wouldn't be the fast burn Calgary experienced, but the Wild face some danger of losing both Kaprizov and Fiala in the near future. Does Bill Guerin have a long-term solution if he loses his crown jewel?
Let's see why the Flames lost both of their superstars.
Look at what they've done since getting Gaudreau and Tkachuk together. The Flames have underachieved since the 2016-17 season, experiencing only playoff disappointments. They hadn't even sniffed the Western Conference Finals, let alone the Stanley Cup.
Since assembling that core, they had: a first-round loss, no playoffs, a first-round loss, a third first-round loss, no playoffs, and a second-round loss. Ouch. The Flames were Cup favorites during the 2021-22 season under Darryl Sutter, a coach who won two Stanley Cups with the Los Angeles Kings. Then they fell short against an Edmonton Oilers group with Mike Smith in net. In five games! Talk about embarrassing.
No wonder both of Calgary's stars were ready for a change. If that was the best season the Flames had to offer, no one can blame them for starting new chapters.
The Wild were recently named the NHL's best prospect pool by Hockey Prospecting, which is a good sign. But how many of these kids are projected to become NHL headliners? How many forwards are projected to be a 100-point player, even with lesser skill around them? A true difference-maker like Kaprizov?
Remember, Kaprizov won the Calder Trophy with Victor Rask as his center. He also burst into the scene with his first 100-point season without a true No. 1 center. Imagine what he can accomplish with more star talent around him — true top-line-caliber talent. It feels like he's destined to lift the Cup someday. But will that be with Minnesota?
Guerin has a short-term window with Kaprizov. He needs to reach at least one Conference Final to make Kaprizov see real progression once their prospects arrive. The State of Hockey doesn't want another Marian Gaborik situation where Kaprizov slips away and later wins the Cup. Wild fans' worst nightmare is seeing Kaprizov win it all with a bigger market team like the New York Rangers (heck, maybe even alongside Mats Zuccarello) before he retires.
That future's more visible if Guerin is stuck waiting for prospects to mature during Kaprizov's prime in a Wild sweater. It happened to Zach Parise and Ryan Suter, waiting for prospects to step up without a ring to show for it.
Kaprizov's blowing up as a superstar and roster mediocrity will amount to wasting his talents. A future where he sees this and forces a trade or tests free agency could open the door for other players to follow.
What if young potential star Matt Boldy doesn't choose to stay long-term? He could sign a bridge deal like Tkachuk, but what happens if he only sees playoff failure? What if Minnesota can't keep Jesper Wallstedt or Marco Rossi long-term, either? Guerin needs to think about the domino effect on the incoming core of players.
With more playoff failures, you'll see more young stars wanting to win elsewhere. You have stars leaving Minnesota, and it's not like this team will be bad enough to win draft lotteries.
Guerin needs to remodel the Wild into a team who can have playoff success. That means developing the prospect group to be ready to make an impact with Kaprizov very, very soon. They can't wait three years to be in better shape to compete for a Stanley Cup. To keep star players in Minnesota, they must keep building a winning culture.
If they can do that, they give themselves a chance to lock down a Kaprizov extension. If not, Kaprizov becomes Gaborik 2.0, and the Wild becomes the Flames 2.0.