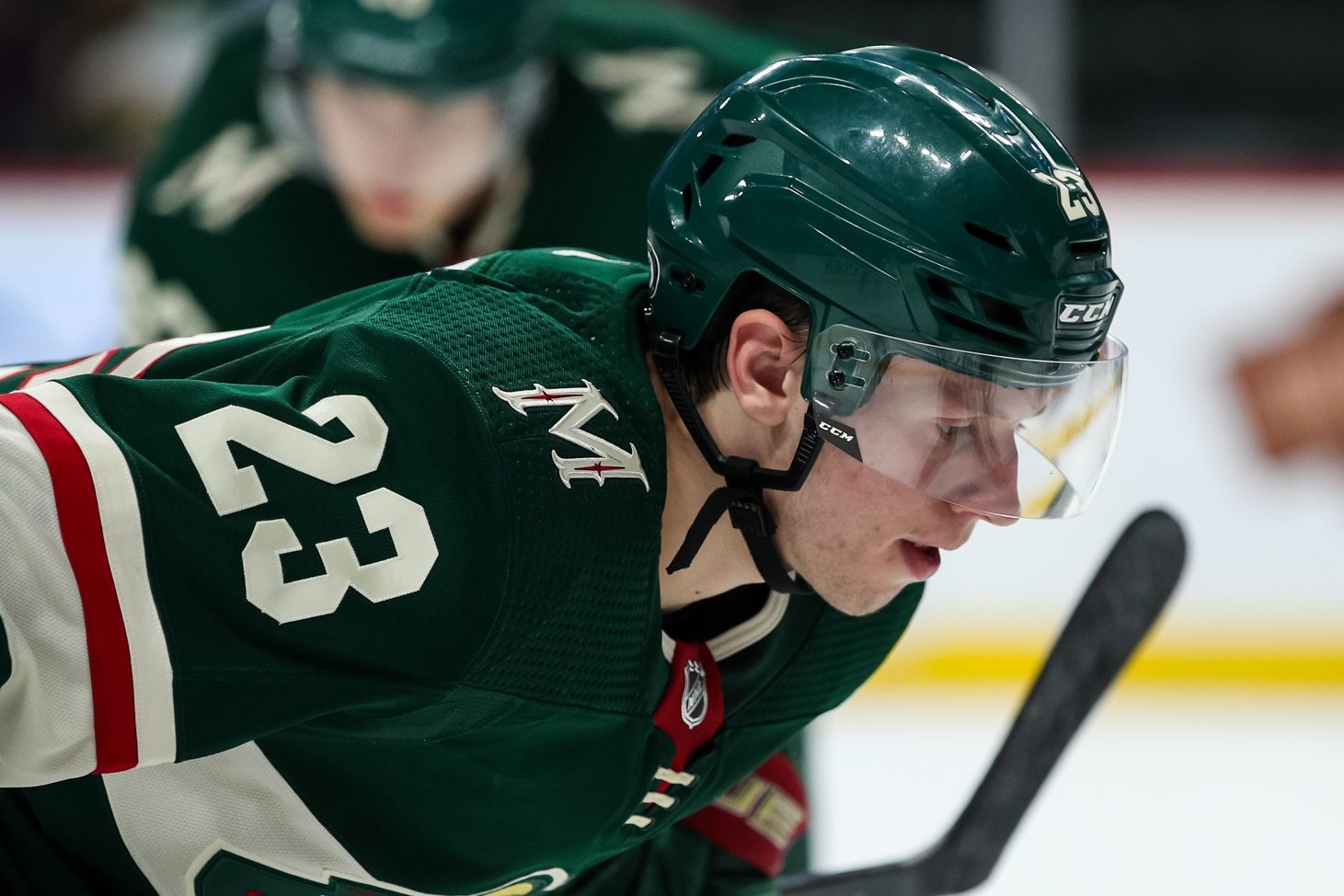 For a man who acted ruthlessly when he took over the Minnesota Wild, Bill Guerin has been cautious this season. But there's no reason for him to. Minnesota needs to go all-out right now before their window of contention closes.
I'm not suggesting that Guerin should turn into Paul Fenton. Guerin's predecessor went about restructuring the Wild roster with the subtlety of a teenager dropping a pipe bomb into a toilet. Sure, it unclogs things. But there's a reason most people use a plunger. Conversely, Guerin treated Minnesota's roster like a butcher. He's looked to remove the fat and isolate the lean cuts.
Guerin bought out Zach Parise and Ryan Suter, two aging players who had become a disruption in the locker room. He dealt Brennan Menell to the Toronto Maple Leafs when Menell had the audacity to play in the KHL during quarantine. And he stared down Kirill Kaprizov when last year's Rookie of the Year demanded top dollar after scoring 27 goals in 55 games.
Buying out Parise and Suter places the Wild in cap hell in 2023-24 and 2024-25. Parise and Suter's dead money will count nearly $15 million against the cap in those two years. That's roughly what Minnesota is spending on its two best forwards, Kaprizov and Kevin Fiala, right now.
Therefore, Guerin has been parsimonious despite having an extra $10 million to spend this season. He signed Ryan Hartman to a savvy 3-year, $5.1 million deal. But Guerin also took an unnecessary risk with Jon Merrill's extension. And he has stuck Marco Rossi in the Iowa cornfields ostensibly to keep his entry-level contract from kicking in this season. In other words, he now has a depth defenseman on a long-term contract, and he has his No. 2 center playing in Des Moines.
The dead-cap hits from Parise and Suter's contracts will probably cost the Wild Fiala and Matt Dumba.
Fiala is Minnesota's second-most talented forward, but Guerin's decision to keep Rossi in Iowa has hampered Fiala's numbers. This year, Fiala has played on a line with Victor Rask and Freddy Gaudreau. Instead, he could be playing with Rossi, who's good for a point per game in the minors. After signing a one-year pre-arbitration settlement deal in the offseason, he's a restricted free agent after this year.
Dumba tallied double-digit goals from the blue line in his age-21 to 24 seasons. But his scoring was curtailed after injuring his pectoral in a 2019 fight with Matthew Tkachuk. Still, he's an alternate captain and one of the most liked players in the Wild locker room. His social justice initiatives are undoubtedly an asset to the Twin Cities community. Unfortunately, he'll likely be used in a trade to free up cap space.
Furthermore, several key Wild players are also on the wrong side of 30.
Talbot and Goligoski are short-term replacements for Devan Dubnyk and Ryan Suter, respectively. Guerin knew that when he signed them. But there's no reason to assume that they can replicate their production next year.
On the opposite side of the age spectrum, Rossi, 20, and Calen Addison, 21, should receive ample ice time right now. Not only are they demonstrably more skilled players than Gaudreau and Jordie Benn, but the Wild will expect Rossi and Addison to help tide the team over when they are in the seventh layer of cap hell. By committing to Rossi and Addison now, Minnesota is not only giving itself the best opportunity to win, but they're developing those players to play significant roles when Guerin inevitably turns the roster over in two years.
Minnesota's current roster is as skilled as it's going to be for a while. Fiala and Dumba probably won't be fully appreciated until they're gone, and Guerin can't expect a core of players in their 30s to play crucial roles in two or three years. He needs to push the throttle down and try to win while the Wild look like Stanley Cup contenders.
We'll never know the tacit agreement Guerin has with Wild owner Craig Leipold when it comes to team expectations. However, Leipold should be pushing Guerin to win now. Conversely, he should expect him to ice a team that's competitive enough to keep Kaprizov happy and fans in the Xcel Energy Center during the lean years. He should expect this team to win now and deal with the consequences later.
Leipold is a notoriously competitive owner who breathed life into the organization by signing Parise and Suter to nearly $100 million deals. It was the right move at the time. So was buying them out now. However, it also means that it's less likely Minnesota is competitive two to three years from now. Everyone needs to adjust their expectations based on that.
It's the inevitable consequence of the NHL forcing an organization in a top-3 US hockey market to operate on a budget of an afterthought Sun Belt team for a few years. Parise and Suter signed matching 13-year, $98 million contracts in 2012. Both of their contracts paid them relatively little real money in their late 30s, a hedge against their inevitable decline in play.
A year later, the NHL and its players' association agreed to a new collective-bargaining agreement. A new term was written in it that retroactively punished teams that signed players to long-term contracts with a cap-recapture penalty. Frugal owners argued that people like Leipold created a competitive imbalance by doling out these contracts. Conversely, the NHL is now punishing owners who pay the best players top dollar and invest heavily in their league.
So it goes. The Wild have no control over that. But they can choose to go all-in right now when they have a potential contender. In 2012, they should have traded a few of their young players to try to get a star in their mid-20s to complement Parise and Suter. They also should have hired a more experienced coach to keep tensions in the locker room from boiling over.
Now, they should ice the most talented team they can. Not the one that saves Minnesota the most money down the road. The Wild aren't going to be a contender in two or three years. But they are now, and they need to do everything they can to try and win it all.
Note: An earlier edition of this article stated that Fiala was a UFA after this season. We regret the error.