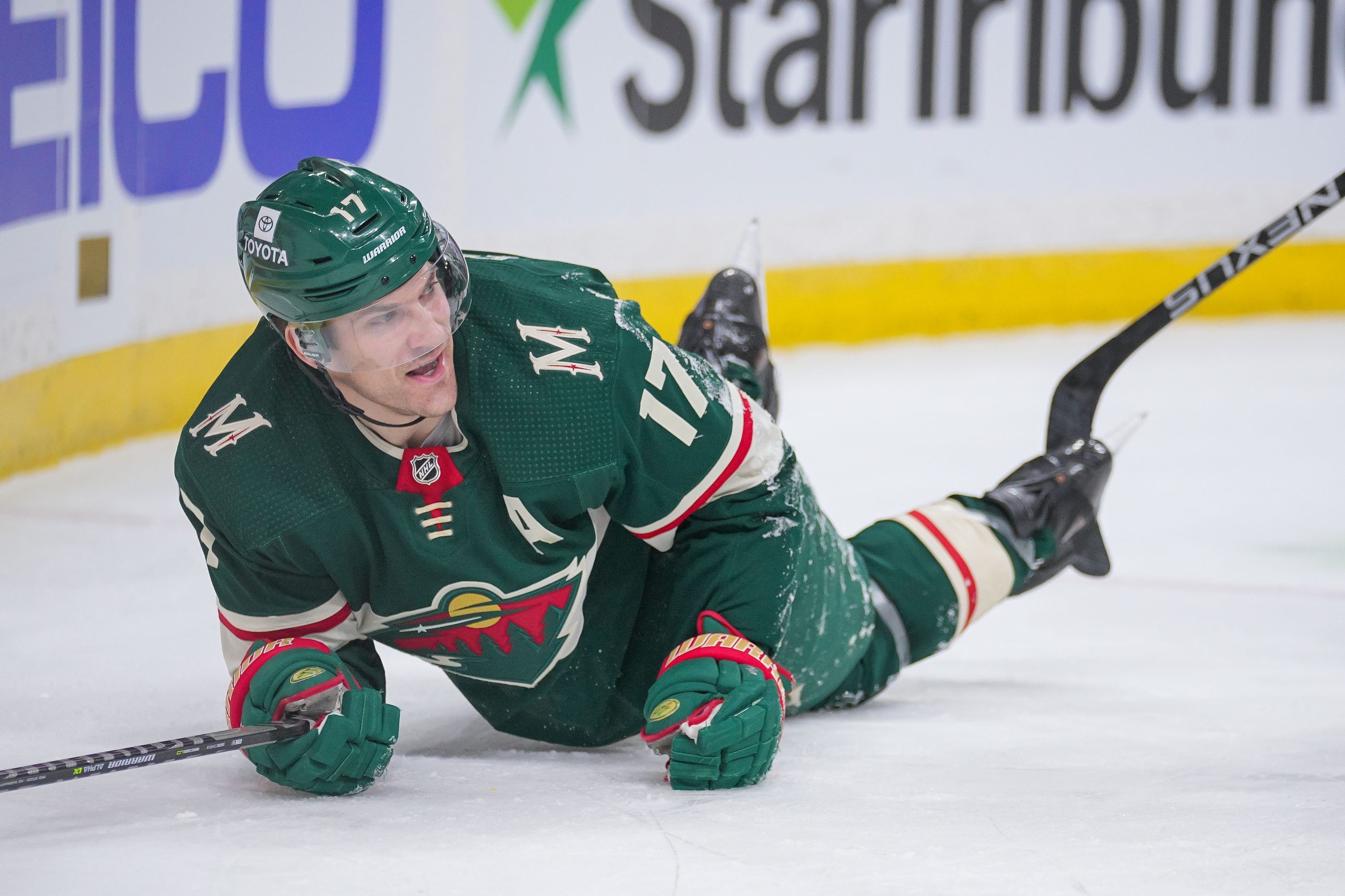 It's that time of year when attention turns from one offseason to the next. While free agency is still somewhat relevant, most large moves or re-signings have already occurred, and rosters are settling in for the 2022-23 season. With that, NHL front offices shift their focus towards their 2023 summer plans and how the upcoming season could impact it.
Looking ahead, we can see the Minnesota Wild will come to a crossroads with fan favorite and alternate captain Marcus Foligno.
Believe it or not, this is quite an important season for Foligno. With two years remaining on his contract, he will be eligible for an extension next summer. "Eligible" for one – not required. But Bill Guerin is the general manager of this team, and cost certainty in the salary cap hell years has been a hallmark phrase from the first-time GM.
During his tenure with the Wild, Guerin has been aggressive with the players he likes by not letting them play out the final year of their contracts. Instead, he's offered extensions the summer before they would become free agents. Captain Jared Spurgeon was his first extension, followed by Joel Eriksson Ek and Jonas Brodin. With his mid-season extension last winter, Jordan Greenway counts to a lesser extent.
All that makes this a pretty important season for the man they dub "Moose."
Foligno's career trajectory contrasts with those who also identify as strong power forwards. Most big forwards with the reputation for playing a physical style tend to be more successful in their mid-to-late 20s, then experience a dip in play due to the physical toll on their bodies year after year. That hasn't been the case for Foligno. In his first seven NHL seasons, the Buffalo, NY native averaged just 1.3 points per 60 minutes played.
But Foligno's game took off in his age 28 season, his third season with the Minnesota Wild. His points per 60 jumped up to 1.7 and further escalated to a career-best 2.7 in the shortened 2020-21 season. Just for good measure to show his surge wasn't a 39-game fluke, Foligno recorded 2.1 pts per 60 last year, coupled with a ninth-place finish in the Selke voting. His strong two-way impact is an extremely valuable part of the Minnesota lineup. If his age-31 season looks similar to his last few, you can bet Guerin will approach the winger next offseason to discuss a potential discussion.
However, history suggests Guerin should be careful. When it comes to physical wingers approaching their mid-30s, their play tends to drop off, and fairly dramatically at that.
Let's start with his older brother, Nick. For a long time, Nick Foligno captained some fairly good Columbus Blue Jackets teams in his mid-to-late 20s. However, the last time he reached the 50-point mark was his age-29 season. Since then, it has been a fairly steady decline in his scoring impact. He has totaled just 20 and 13(!!!) points, respectively, in his last two seasons. They were his age-33 and 34 seasons, the same-age seasons Marcus would be in the first two seasons of any extension.
Yes, a lot of Nick's drop in play has been due to numerous injuries, but that's sort of the point here. Physical forwards have great value to every team. But most of the time, their shelf life is limited because of it. And don't look now, but Marcus has missed 35 games in the past three years. Last season, he had a nagging injury down the stretch that affected his postseason play.
David Backes is another perfect example of why teams should be careful paying considerable money to power forwards in their 30s. The former Minnesota State University standout was about as dominant of a two-way power forward you could find in the league during his ten years with the St. Louis Blues. He consistently churned out high point totals next to T.J. Oshie, another Minnesotan. He finished in the top-10 of the Selke voting five times. However, Backes' point total took a considerable slip in his age 31-season, his final in St. Louis. So did his defensive impact. That following summer, the Boston Bruins inked Backes, 32, to a five-year contract at $6 million per season.
Backes never lived up to the contract. It had just as much to do with nagging injuries as Father Time creeping in. He never eclipsed the 40-point mark on some outstanding Bruins teams. Boston shipped him off to the Anaheim Ducks by the time he was 35 in a cap dump move. Backes was no longer a two-way contributor by age 33, but his contract suggested he was supposed to be.
Milan Lucic is another alarming recent example of declining production from power forwards. At age 28, the Edmonton Oilers signed him to a seven-year contract at $6 million AAV. Yet by the very next season, his play deteriorated. From age 29 through 33, Lucic has never eclipsed 40 points, and he has only even eclipsed 25 points just once. Edmonton paid the 6'3", 231 lbs. winger based on his play in Boston. They were hoping he could continue doing that into his mid-30s. History suggested he wouldn't, and that's exactly how it played out.
For these reasons, even if Foligno has another strong season in Minnesota, Guerin must be mindful of a potential extension. Fortunately, the Wild wouldn't be able to afford anything higher than his current $3.1 million cap hit. Therefore, the Moose would need to stay around that dollar amount if he wants to stay in Minnesota.
It's early, but keep an eye on Foligno's game this year. If he continues to produce above the 2.0 pts/game mark and has another year of Selke consideration, pressure may be on Guerin to re-sign him next summer. If Foligno is looking to secure the bag, there are plenty of other GMs in the league Guerin should allow to make that mistake.