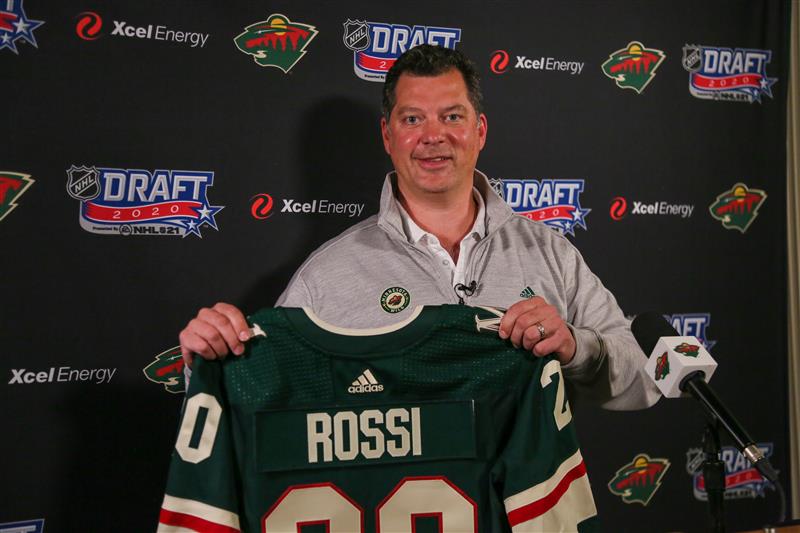 Whether it's Wednesday or Thursday, The Athletic's Scott Wheeler will name the Minnesota Wild's farm system the second-best or best in hockey. This will hardly be a surprise. When he did his rankings last season, Wheeler ranked them third in the NHL. Hockey Prospecting, which goes off data instead of scouting, puts them at No. 1. Wheeler's ranking will merely confirm what we already know: The Wild have a ton of help on the way.
This slow accumulation of prospects is probably the biggest reason Wild fans are bought in on Bill Guerin's tenure as general manager. In the same way a "player's coach" is a breath of fresh air after an ornery disciplinarian leaves, Guerin's path to building the Wild stands in stark, refreshing contrast to his predecessor, Chuck Fletcher.
Fletcher (and the one year of Paul Fenton) was all about amassing a core of prospects, then accelerating the rebuild as fast as possible. In came Zach Parise and Ryan Suter on their twin $98 million deals with the devil. It extends beyond that, though. An aggressive Jason Pominville trade, signing Thomas Vanek as a free agent, and a boatload of failed trade deadline moves.
Wild fans see those moves today and assume Fletcher's fatal flaw was accelerating the rebuild. It wasn't.
It was timing. And lousy timing can (and might) sink Guerin's take-it-slow team-building just as easily as it swallowed up Fletcher's get-rich-quick schemes.
Let's explain what we mean by looking at how timing destroyed Fletcher's plans. His Wild got top prospects like Mikael Granlund, Jason Zucker, Jonas Brodin, Matt Dumba, Jared Spurgeon, Charlie Coyle, and Nino Niederreiter. Just as they were about to arrive, though, two giant personalities in Parise and Suter entered.
They immediately got official Alternate Captain status and became unofficial Franchise Saviors. Mikko Koivu was the only long-term veteran presence, so their influence dominated the Wild. Not only did these rookies have to transition to the NHL, but they also had to contend with these two mega-stars dictating their locker room's energy and soaking up the most important roles.
Now, if their arrival lined up a couple of years down the road, would it have been different? Maybe. Coming in as the final pieces to round out an up-and-coming team is a lot different than having a team beg you to save them from irrelevance. Maybe egos still blow things up, but there'd at least be the expectation to fall into a team's existing culture.
But the Wild have that culture now, as everyone tells us. They have an established team with prospects on the way. Many of those prospects will have their potential arrival line up with Parise and Suter's dead cap hits expiring.
The timing seems perfect, no? Why not build to hit the ground running in 2025?
It's tempting to fill in a future roster and imagine a Cup Champion. Teams have done it before, often to hilarious results. But Minnesota's biggest problem isn't that not all these prospects will become NHL players. It's that their window to win is potentially much shorter than anyone thinks.
The biggest limiting factor is that they have Kirill Kaprizov, a superstar at his peak right now. But since he signed his five-year deal, the clock started ticking to convince him to stay longer. Five years isn't forever, and Kaprizov could decide his future long before then.
He has one more season under contract until his No-Move Clause kicks in. Once that happens, he has full control of his destiny and could easily engineer a way out of Minnesota. It doesn't really matter who's in the pipeline if that happens.
The Wild would not only need to replace an MVP candidate with their system, but they'd also have to build a contender around that candidate. That's a monumental task. Just ask Columbus Blue Jackets fans after Artemi Panarin left. Or, hey, why even go to Ohio? You can probably find someone who's old enough to remember Marian Gaborik.
Minnesota's best tool isn't money. It's not saying, "Look at all these prospects coming up!" It's winning. It's convincing him that he can win in St. Paul. So far, he's experienced two first-round exits, and the Wild have only two more playoff runs to show him proof of concept before that NMC kicks in.
Instead, the Wild fell to a tanking Arizona Coyotes team, who entered the game 30th in the standings, on Monday night. Minnesota entered the contest able to go up three points in the standings on the Colorado Avalanche, who have the Wild on the playoff bubble. Nope. The Avs can pass Minnesota tonight, leaving the Wild in a tie for the second Wild Card spot.
You can look at that awful, awful loss and conclude that the best long-term play -- the "Billy G Way" -- is to let this flawed team fall out of contention, sell at the deadline, and pick up some more prospect and draft capital.
As Guerin's polar opposite, Fletcher would never do that. And say what you will about Fletcher's time in Minnesota; now is the right time to break out his playbook.
Guerin's holding back when he needs to be aggressive. He's patiently awaiting an injury to call up top center prospect Marco Rossi, who's scoring a point per game in Iowa. This is despite massive struggles from Sam Steel as Kaprizov's center.
The Wild sent Rossi, the No. 9 overall pick in the 2020 Draft, to the AHL after scoring only one point in 199 minutes this season. Even in a limited role with Bottom-6 minutes, that production doesn't cut it. He needed to rebuild his game and confidence, and he has, according to the Wild organization.
Steel got the call to center Kaprizov and Mats Zuccarello after Rossi failed to "earn" the opportunity. But he's riding an eight-game stretch where he has... one point, a lone assist, just like Rossi had. That's exactly half of Rossi's game total (16), but that's not the full picture.
Steel gets many more minutes, which means he's riding a streak where he's scored his one point in 143:24. That's almost 75% of the ice time Rossi had all season. Furthermore, Steel's spent nearly all of his time between Kaprizov and Zuccarello. Considering the gap in roles (Rossi has less than 10 minutes between the two stars), that's really damning for Steel.
And yet, Guerin's staying patient. You can point to times Fletcher rushed prospects as a reason to fear pushing prospects too much, too fast. At this point, though, rushing Rossi is no longer possible. He's now played 90 career AHL games. He has 26 goals and 80 points in that league. No extra time in Des Moines will make him a better player.
Fletcher would not only have Rossi up right now but would be working to supplement his scoring with a trade. That hurts when it's a seller's market, and the best player on the market is Martin Hanzal.
But what happens when it's a buyers' market? The Wild are one of very few teams with purchasing power at the trade deadline. They can take on up to $10.5 million in salary in a league where most contenders can't take more than $3-4 million, if that. You should be aggressive in a market where people are talking about a veteran scorer like James van Riemsdyk going for a mid-to-late-round pick.
That's especially true for a team like the Wild, who, in all likelihood, will not be in a position to do so next year. After Matt Boldy's raise and pending salary bumps for Calen Addison and Filip Gustavsson, among others, there's not going to be any flexibility to add somebody (let alone some bodies) to next year's team.
Of course, it's great to have a robust farm system. But the long road will not save them if they can't win enough to convince Kaprizov to stay. Their best chance to make a run before Kaprizov's NMC kicks in is this year, and the Wild need to act accordingly. Guerin has to look under the desk and dust off Fletcher's long-abandoned playbook. Guerin's entire plan could be derailed before it even starts if he can't find a Go-For-It impulse in the next month.