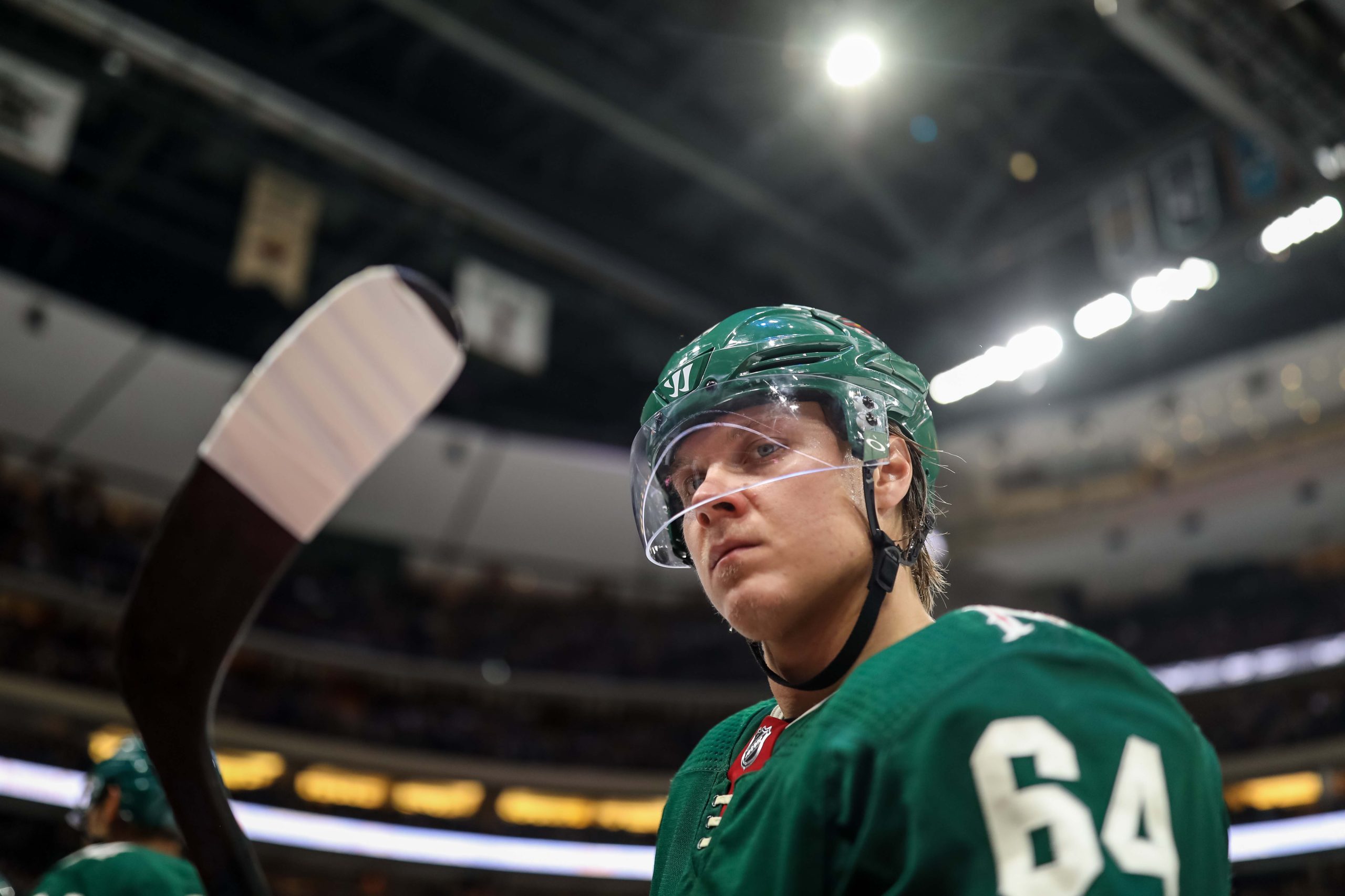 Welcome back to my interview series, something I tried last season, interviewing special Wild fans. This time, I have a very interesting Wild fan, none other than Zone Coverage's own Giles Ferrell. We met at an unnamed bar and grill in Roseville to talk shop.
Ben Remington: I'm joined by Giles Ferrell -- King Blogger, Wild twitter GIF czar, podcast host, jersey aficionado. Thanks for joining me, Giles, we rarely get to talk.
Giles Ferrell: It's an honor to be talking with the famous goalie from the Giles and the Goalie podcast. I have great sympathy for your co-host as he has to listen to your terrible food takes.

BR: I didn't know we were starting with the mud-slinging this early, but alright. Hard hitting interview it is.
GF: Don't bring a knife to a gun fight.
BR: *checks pants*
So you've been blogging on the Wild for a while. Tracing back through Zone Coverage, the legendary Wild Xtra, back to The Team of 18,001. What was the genesis of that? I'm assuming it wasn't a Nordy reference at the time.
[caption id=attachment_43793" align="alignnone" width="6304]

Oct 25, 2018; Saint Paul, MN, USA; Minnesota Wild forward Mikael Granlund (64) looks on during the third period against the Los Angeles Kings at Xcel Energy Center. Mandatory Credit: Brace Hemmelgarn-USA TODAY Sports[/caption]
GF: Well back then is when the Wild were big on that 'Team of 18,000' slogan. So then I just added a one for myself and titled the blog as such since I'm the least creative person you'll meet.
At the time I started that blog I also had a Minnesota Twins blog but closed that up shortly thereafter Twins Daily launched because you could see that was going to be the go-to Twins site (that's meant as a compliment to them).
With that Wild blog I started when Mike Yeo was first hired and there was plenty to be optimistic about, but oh how times have changed.
As for writing before that I did write for my high school newspaper but was fired my senior year in the most passive-aggressive way so I proudly hang my hat on that. Then after school, I tried my hand at the blogs and here I am now writing along with the likes of Tom Schreier and Ben Remington. Pretty neat stuff!!
BR: I'm not sure if name dropping our boss is a power move, or the complete opposite of that. So I want to hear the story, however uninteresting, on you being fired from your school newspaper. Was it over hot school food takes, or did you write too much about the hockey team's Corsi percentage?
GF: My school needed a hockey team for me to write about their Corsi, which they did not have.
Let's just say I was terrible at paying attention to the announcements my senior year which resulted in me continuously missing newspaper meetings. Get your sleep at night, kids!
BR: I can relate. I learned mostly through osmosis in high school, by sleeping on my books during class.
GF: But as for the actual firing it had a mixture of a Minnesota goodbye and not actually telling me why I was being let go. But oh well, it's way in the past now.
BR: Right. So after high school, did you intend on being an intrepid journalist? This was before GIFs were a big deal, obviously. But I'm assuming the blogging thing started as a hobby, and evolved into... a busier hobby.
GF: I did enjoy writing but wasn't sure if the journalist thing was for me. So that is when I started blogging because I just felt like getting my thoughts out there.
[caption id=attachment_43792" align="alignnone" width="5080]

Oct 25, 2018; Saint Paul, MN, USA; Minnesota Wild forward Zach Parise (11) celebrates during the third period against the Los Angeles Kings at Xcel Energy Center. Mandatory Credit: Brace Hemmelgarn-USA TODAY Sports[/caption]
Once I moved up to Wild Xtra and then Zone Coverage, you are correct, it became a much busier hobby. I've been fortunate throughout the years to have been employed at places where I can work on my writings during the day, but this past offseason I had a job change where some freedoms to work on these things have gone away. It's just a big challenge now to contribute when I can which you can relate to is not an easy thing to do.
BR: No kidding. I don't know if a lot of people realize how intensive it is to write on the side. An article that takes people five, 10 minutes to read took us hours, at least of research and that. It's not for a busy professional life. Not to mention this team isn't easy to craft ideas about anymore.
GF: If people think the Wild are a stale product to watch right now, try crafting an article about said stale product. Woof.
BR: Speaking of Wild Xtra, since you were the face of the site more or less, looking back, what are your thoughts on that site's short, but I'll say solid run. I think we had an interesting group of people there, but couldn't get much traction in building anything like what Twins Daily has going on.
GF: The thing that Twins Daily had which made them a household name was that they had four very well-known and liked entities that put the site together. So when you get all their followers now under the same site, that brings a lot of traffic.
Wild Xtra was nearly the opposite. All of us who contributed was pretty unknown at the time which made it even more challenging to drive traffic. I loved what we did though.
In the end, just trying to keep the site going got to be much for me and burned me out big time. I would do a lot differently if I got a mulligan with that site, because I thought the concept of the site (same as Twins Daily) was brilliant.
But with The Athletic being the powerhouse that it is, specifically with Wild coverage, I don't think a reboot of Wild Xtra would ever work like I maybe thought it would even a year ago.
BR: Yeah, those are all great points I feel. I would've loved a WX reboot, but any kind of Wild reporting is an uphill battle at this point with the two papers, Russo & The Athletic, and all of the coverage, on top of how the team treats bloggers.
Having seen the Wild blogosphere change as much as it has since you started, what do you think the biggest difference is now?
GF: Given what I've heard about that [the team's history with bloggers] sometimes it's hard to blame them.
The biggest difference between now and when I started is the evaporation of blogs. Or maybe I just don't see them anymore but there are few and far between.
I think between the fact bloggers are generally disliked and the fact Michael Russo covers the team like no one's business, the best beat writer in hockey far none, that has created the lack of blogs on the Wild.
[caption id=attachment_43791" align="alignnone" width="4107]

Oct 25, 2018; Saint Paul, MN, USA; Minnesota Wild defenseman Ryan Suter (20) looks on following the game against the Los Angeles Kings at Xcel Energy Center. Mandatory Credit: Brace Hemmelgarn-USA TODAY Sports[/caption]
I hate to see that, as so many good folks have risen through the ranks starting with a blog and gone on to bigger and better things.
BR: Ha, bloggers, scourge of the earth. What's your view of bloggers, Wild specifically, not only being one, but dealing with others, as we all try to make #content in the shadow of the Great Russo?
GF: I've had my quarrels with other Wild bloggers like most others have, but they all, for the most part, have been great. I'm sure they will tell you it is extremely difficult to go head to head with Russo and The Athletic on Wild coverage, especially considering he has some pretty great people contributing in addition to his work.
I just try to objectively write on the Wild as best I can. Deep down somewhere I'm still a fan but when I write I'm trying to take a more journalistic approach to doing so. Not having those fan emotions can greatly help with that.
BR: I don't know about you, but covering the team has slowly sucked the fan out of me. I take a more objective approach now more than ever, and probably because of the team and where it's at now, it's harder and harder to maintain that fanhood while writing about the team.
Pivoting slightly, we also run the most underrated Wild podcast out there, Giles & The Goalie. Was that your first foray into podcasting, and what do you think about that landscape? It's pretty similar to blogging, I think, but it's retained more of the fun for me than writing. Probably because I'm obsessed with the sound of my own voice.
GF: Giles & The Goalie was my first foray into podcasting. Sound issues aside, like what my co-host and I have been able to turn the show into as we try and make it something people want to listen to.
There are some Wild podcasts out there but again they are few and far between. With the number of passionate people out there I'm genuinely surprised there are not more in production.
Again, that may have more to do with the fact the team is pretty well covered by a Starbucks-loving beat writer.
BR: Imagine if people were that enthralled to hear about our personal lives? I mean, I travel for a living too, we both drink coffee, and we both have moms. It's fascinating stuff, I think. I like podcasts because it's an opportunity to have some fun and build a connection with people. It's still wild to me that we have fans, like people that actually like to hear us talk, but have never met us. What do you think is wrong with those people?
GF: I don't understand why people want to hear me talk. My own girlfriend doesn't want to hear me talk, so that should tell you everything you need to know.
Sidebar: She has been very supportive of the podcast.
[caption id=attachment_43790" align="alignnone" width="3934]

Oct 25, 2018; Saint Paul, MN, USA; Minnesota Wild goalie Devan Dubnyk (40) celebrates following the game against the Los Angeles Kings at Xcel Energy Center. Mandatory Credit: Brace Hemmelgarn-USA TODAY Sports[/caption]
It's nice to know that people out there listen. Especially those on the other side of the world, like in Austria. It's always nice to hear back from folks when they listen. A nice word or two can go a long way for those of us who put in a lot of time to bring them #content.
BR: Along those lines, you've also just reached the 2,000-follower mark on Twitter. Now that's a paltry number for even local celebrities, but it's a solid number for someone who isn't on TV or radio. What do you think twitter adds to the sports experience? Is there anything you'd like to change about Twitter, other than deleting your old roommate's account?
GF: I would never delete his twitter account. He keeps me honest.
As for the twitter experience, it can go both ways. Many people are great to interact with but then you get those other people who make it unpleasant. I try to not look at my feed during games so I can formulate my own opinions rather than see someone else's and go oh yeah. It's difficult when doing GIFs but I manage pretty well.
BR: Yeah, I think it's hard to not latch onto others opinions sometimes. I try not to read too much others write about the team for that reason. As far as that goes, where are your opinions with the Wild? I know you're not very optimistic, but looking deeper into that, what do you think the issue is with the team? Folks haven't heard from you in a while, you know.
GF: It is hard to be optimistic about the Wild. Everyone was big on getting in a new GM to make moves and there were not to speak of in the offseason. This roster is just good enough to get you to the playoffs but they are missing qualities to do anymore. Making the playoffs is great, but it's time to make the moves to get this team past that point. It's pretty much like a toddler with a toy. Its fun for a while but then it gets boring so time to move on to something newer and more fun.
They are also just lacking speed and skilled scorers which you really need in this NHL. The only way this core does something is if Devan Dubnyk becomes a brick wall in the postseason
BR: So you're saying there's a chance.
[caption id=attachment_43789" align="alignnone" width="6183]

Oct 25, 2018; Saint Paul, MN, USA; Minnesota Wild forward Mikael Granlund (64) looks on during the third period against the Los Angeles Kings at Xcel Energy Center. Mandatory Credit: Brace Hemmelgarn-USA TODAY Sports[/caption]
What do you think it's going to take to turn this team around? Play a little GM for a day.
GF: They need a game breaker, first and foremost. How many times have the Wild played so well and dominated but the result has been no goals and they are behind at the first mistake. So many. Whether it's sending all the rubles in the world to Kirill Kaprizov to get him over here or drafting more skilled players in the draft the Wild need to get a guy. Trading for a game breaker or just signing on in FA past their prime doesn't make sense. It's not an easy fix and will take time but this is what they need.
BR: I'd definitely agree with that. I don't know what happened with Kaprizov after he was drafted, but that very well could be the biggest blunder of Chuck Fletcher's tenure here, and not getting him over sooner could spoil the start to Fenton's time here.
Well, I won't keep folks waiting any longer. The most lasting and fun part of our shtick I think is our combined love for jerseys. We both go way back with our love of hockey jerseys, but can you dig back and tell me about what got you started down that road?
GF: Honestly, it was D2 The Mighty Ducks. When Luis Mendoza led the crew out of the locker room to start the third period against Iceland in those beautiful new jerseys I had to have one. That was my first jersey and I have had a weird love affair with them ever since.
BR: Haha that's a great origin story though. Oddly enough, D2 was the reason I started playing hockey to begin with. I totally understand the love affair with those jerseys, they were so cool, and like nothing anyone had ever seen before. It's amazing what cheesy sequel can do for an entire sport haha.
GF: Um, D2 is no cheesy sequel. It's better than the original.
BR: Well, I think we've had fun little journey into the past and present of King Blogger, . We even ended with some jersey talk, who would've thunk it? Finally before we go, is there any situation where soup isn't a meal?
GF: Negative.
BR: I guess I should've expected that. Thanks for joining me, and answering these scathing questions, hopefully it's an entertaining look into a big part of your life. And good luck with that whole podcast thing.
GF: Hey thanks! If anyone has any good audio equipment suggestions please send them my way!
---