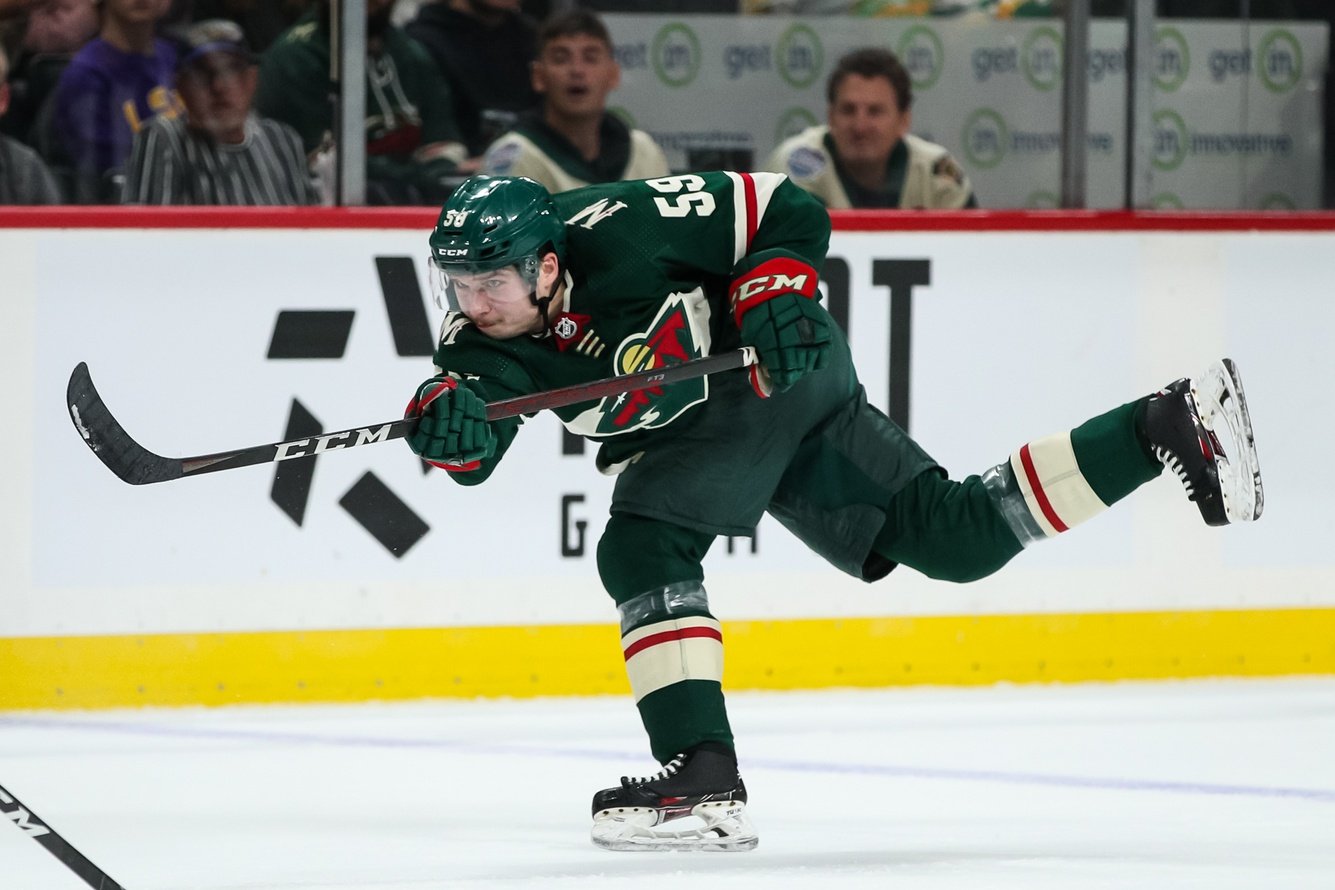 Despite almost universally strong performances, the bulk of the Minnesota Wild's top prospects started the year in the AHL. One could quibble with the message it sent, but it made sense objectively. The NHL club boasts a deep roster that started 5-1-0. It took Rem Pitlick five games to get into the Wild lineup, where he immediately assisted a game-winning goal. Minnesota could afford to let their prospects bake for a bit.
Or at least, for seven games.
This week has seen numerous holes punched in the Wild lineup. Mats Zuccarello and Pitlick are on the COVID list, taking two sources of skill and skating out of the mix. Alex Goligoski and Dmitry Kulikov, the Wild's two best new additions, are out with injury. Today saw Jordan Greenway moved to the IR, meaning he'll miss at least a week.
It was a flurry of injuries that might have developed too fast for Minnesota to react to. They brought up prospect Connor Dewar and Iowa Wild farmhands Kyle Rau and Jon Lizotte to keep the wheels from falling off. It wasn't quite enough, as the Wild fell 4-1 to the Seattle Kraken Thursday night. Dewar was fine in limited minutes, but Rau didn't draw into the lineup, and Lizotte struggled alongside Jon Merrill.
That's not to blame a pair of rookies for the Wild's shortcomings. Their best defensive pair, Matt Dumba and Jonas Brodin, uncharacteristically struggled when they needed to step up. Their offense looked punchless without Zuccarello, with Minnesota spent about half the game completely unable to find the offensive zone.
But last night wasn't the recipe to win. So now it's Adam Beckman and Calen Addison to the rescue. Can they help keep Minnesota afloat over the next couple of weeks?
It shouldn't be too hard for Beckman to find somewhere to contribute. He had a strong case for making the team out of camp, Minnesota's strong depth be damned. The core of his case was based on his volume shooting. Beckman was one of the most frequent shooters over the preseason, and the bulk of his shots have come from dangerous areas.
At first, it may not seem as if Minnesota needs help in that department. They're currently fifth in the NHL in shots per hour at 5-on-5 play, a seismic shift for a historically low-octane team. But most of that firepower is coming from their depth players. Brandon Duhaime, Nico Sturm, Nick Bjugstad (all on the fourth line), and Ryan Hartman are the ones leading the way in that category.
Meanwhile, it's their stars who are struggling to find the net. Kevin Fiala's been the most dangerous of the three, but he's struggled to hit the net at 5-on-5. Kirill Kaprizov's been the opposite, getting 9.2 shots per hour but firing almost all of them from way outside. Joel Eriksson Ek was a leader at getting scoring chances at 5-on-5 last year but has mostly had them on special teams so far this season.
Shooting can be contagious — just ask the Wild's fourth line — so perhaps Beckman can provide a spark for Minnesota's stars. It can also lead to further opportunities via rebounds, something that Kaprizov and Fiala's linemates have struggled to generate so far this season. According to Natural Stat Trick, Eriksson Ek, Zuccarello, Frederick Gaudreau, and Victor Rask collectively created three rebounds in seven games.
As for Addison, Minnesota's defense struggled mightily without Goligoski and Kulikov Thursday night. Those two were the most stable defenders the Wild picked up to replace Ryan Suter, Carson Soucy, and Ian Cole this summer. Without them, the Wild looked exposed on the back end.
The good news is Jared Spurgeon performed capably with Jordie Benn, and the pair was Minnesota's strongest. Dumba and Brodin should also be fine going forward. But Merrill is Minnesota's least effective defenseman at controlling play, and Lizotte wasn't quite ready for prime time.
What can Addison do? For one, the moment's rarely looked too big for the top prospect. He has an air of poise about him and avoided any meltdowns in his brief NHL stint last year. It was a good sign for a defenseman in his first year of pro hockey. He also brings a puck-moving element to the third pairing that it didn't have, even with a healthy Kulikov. Given the team couldn't break out of the defensive zone for much of Thursday, Minnesota identified the need for that skill.
Both can help on the power play. Aside from two prime chances by Eriksson Ek, the power play was unimpactful without Zuccarello on Thursday. Gaudreau filled in for the first unit, missing a shot from the slot while playing the bumper position (the center of the offensive zone).
Gaudreau has Evason's trust, and a fine start to the season, but Beckman's willingness to shoot and goal-scoring history makes for a better fit there. Addison would be able to provide value on the second unit, replacing Goligoski on the point opposite Dumba. Addison projects as a skilled power-play quarterback. He could get an audition to show off his smooth skating and decision-making.
Once the Suter and Zach Parise contracts were bought out, everyone knew the Wild would have to rely on prospects going forward. Minnesota surely would rather have had that time come months — or perhaps a year down the road. But this is what happens when an NHL team when operating with such a restricted budget. Their lineup is generally good and deep, but it doesn't take too much stress on the roster for the cracks to start forming. That means that, ready or not, the future begins tonight in Minnesota.
All data via Evolving Hockey unless otherwise stated.