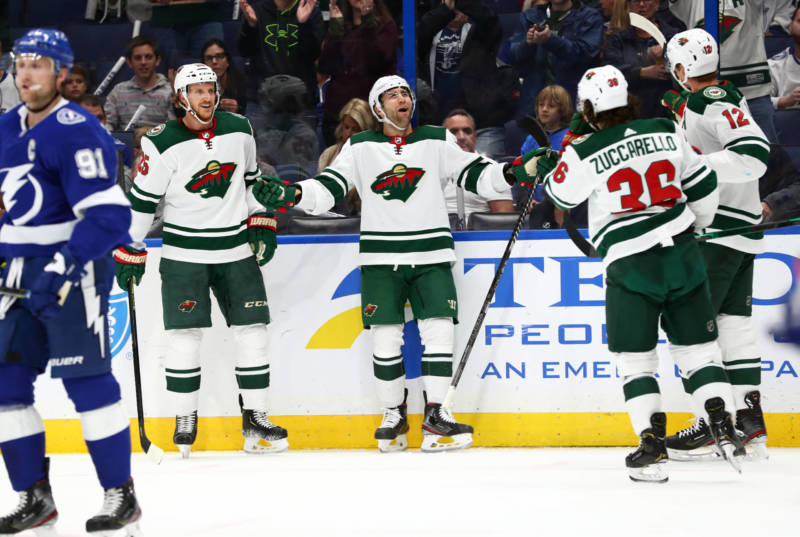 Much was made about the superhuman recovery ability of Vikings running back Adrian Peterson after he tore his ACL. He returned in less than the year that had previously been the norm for recovery and rehabilitation for ACL injuries.
Jason Zucker did not suffer an ACL tear, nor was he slated to miss the rest of the season. However, with Zucker's return on Sunday, a return from a surgically repaired fibula bone in just a little over three weeks is as close to superhuman as AP.
Originally, the surgery was to keep him out for 4-to-6 weeks. Now that he has received medical clearance to play again, Zucker will have missed 10 games in total. Minnesota certainly missed him. Prior to the injury, Zucker was on pace to hit the 30-goal mark for the second time in his career. That same pace was in the vicinity of 60 points for the year as well.
It's worth mentioning that since Zucker went down, the Wild have been 4-6-1 -- that is, if you include the Chicago game in which he was injured.
The loss of Zucker was noticeable. Bruce Boudreau spent more time juggling his lines to find the right-winger opposite of Mats Zuccarello on the top line with Eric Staal. He's tried Jordan Greenway and Ryan Donato on that line with little success. Without Zucker, they've given up goals at the same rate (1.88 GA/60) as they've scored (1.88 GF%) for an even 50 percent goals for. Now compare that with the 4.33 GF/60 when Zucker was healthy.
It's easy to see that Zuccarello and Staal were not producing like top-line forwards in Zucker's absence.
The team's offensive production was lacking at that time as well. In the time span that No. 16 was out of the lineup, the Minnesota's goals for per 60 dropped from a 3.02 to a very mediocre 2.87. This, coupled with a small rise in goals against per 60, and the margin for winning became slim-to-none. It's no wonder the Wild were sub-.500 during that stretch.
Another team area that has been severely impacted has been the Wild's power play. Not that it was competing with the Washington Capitals for best power play in the league prior to Zucker's injury, but the sharp dip to 5.89 goals for with the man-advantage from the previous mark of 20.05 is staggering. It might be simply coincidental regarding the bottom dropping out on the power play, but one would think that missing a shooter, and a player who plays in the slot during the power play, would hurt.
Zucker's biggest asset to the team is his speed. On a team that's aging, Zucker, along with Kevin Fiala, are the team's only speed weapons. But speed is useless unless something can be done with it on the scoreboard. Zucker is one of the only players on the Wild who can create his own shot. This means that he can lug the puck up the ice, and use his speed and shiftiness to create a scoring chance. Other players on the team need to be set up with a pass to get the open shot to the net. Zucker, and Fiala to a degree, can do it all by themselves.
Only time will tell if Zucker can regain his form and his 30-goal pace. However, the last time Zucker missed significant time due to injury was in 2014-15 when an awkward hit taken during a home game against Vancouver Canucks sidelined him with a broken clavicle. That was another season in which Zucker was on pace for 30 goals, only to be derailed by injury. His 1.5 goals per 60 picked up when he returned for three games before the postseason. Zucker closed with a 3.9 goals per 60 rate when he scored three goals in three games.
Fans got a glimpse of what life without Zucker is like these last 10 games. Yet, his impact is noticeable on the ice both in terms of analytics and aesthetics. So while his name continues to be at the top of most of the lists for players to be traded before next year, Zucker continues to show why he's so important to this roster.
Stats courtesy of NaturalStatTrick.com and Evolving-Hockey.com