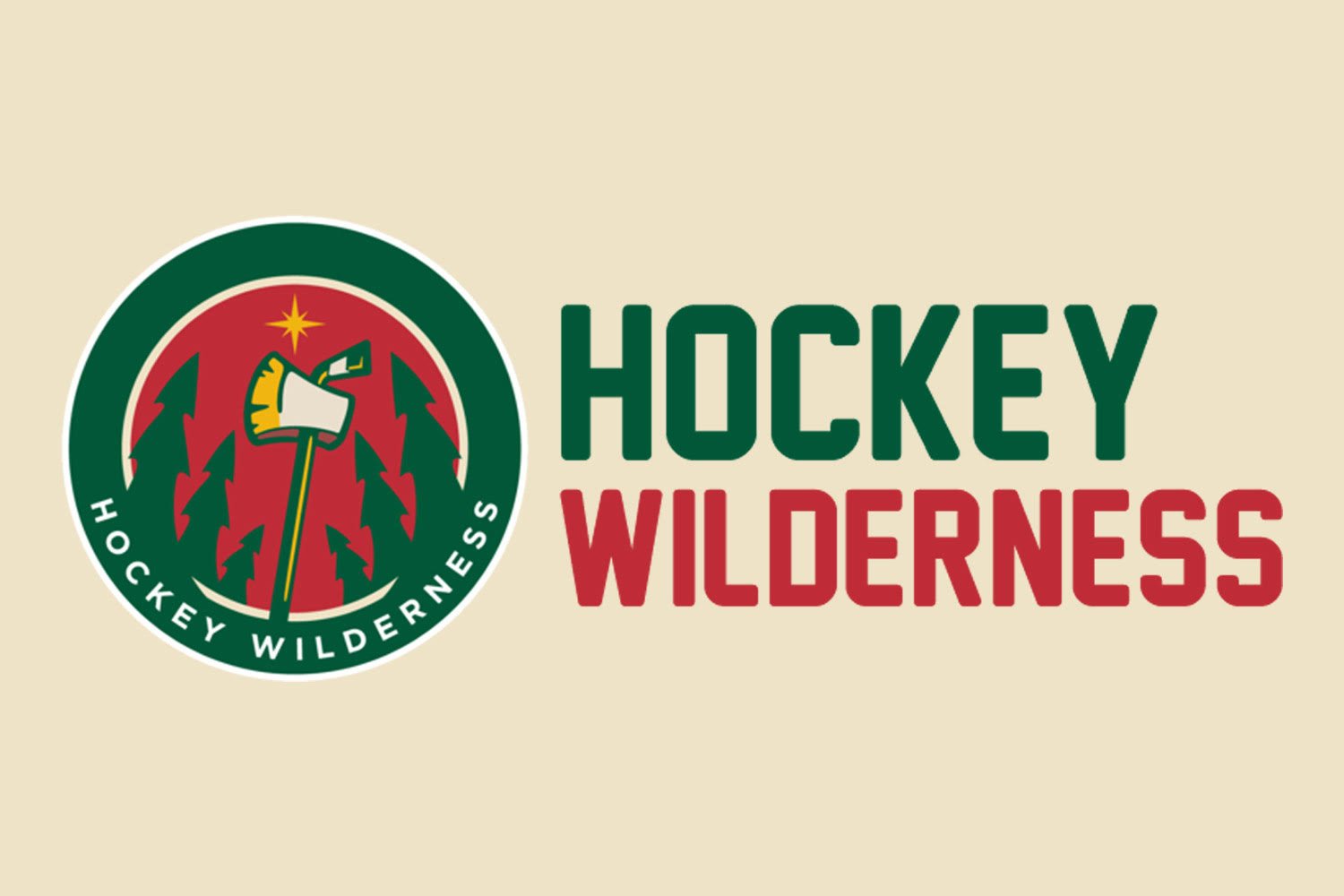 The goalies.

Every goalie in the league has their own tendencies, their own rituals and superstitions (do not get in the way of a Niklas Bakstrom turtle walk), their own strengths and their own weaknesses. Scouting the oppositions netminder is common place in the NHL. So just what are the opposition looking at when they peer behind the curtain at the Minnesota Wild's goalies?

Analyzing a goalies performance has to be done with a certain amount of leeway for the bizarre. Some of where you see a goalie struggling can be chalked up to a breakdown defensively or just dumb puck luck. A

, a

, or a ricochet off a stanchion to end your post season. Pucks tend to do silly things when they are rifled around a hockey rink.

This is not to say that everything is the teams fault, or that the crazy physics around a 6 oz, 1 inch thick, 3 inch in diameter disc of vulcanized rubber on ice are always to blame. Goalies have their share of bonehead moments as well. The position is not the easiest to analyze. The data hardly ever tells the whole story, but lets give it a try anyways.

With Harding on the shelf for awhile and Bryz being released from his tryout, Kuemper and Backstrom have become the Wild's remaining options in net. How will the opposition choose to attack the Wild's goaltending and what can our defense do to reduce the number of quality chances out there? A look through their recent history will help shed some light on what we should expect.

By the numbers, the clear choice for the Wild's number 1 goalie based on the last 2 seasons of work is Josh Harding. For now, that ship has sailed as he is on the shelf for the foreseeable future. Although Darcy Kuemper is still very green, yet he has emerged as the number 1 in Harding's absence. His numbers are strong, and bear in mind these include his rocky start last season when Backstrom went down early. Backstrom has a strong history of work, but his recent history leaves questions around how much he has left in the tank.

Harding, when healthy, has shown us just why he deserves the poll position on the depth chart. In 29 games last season he bolstered an incredible .933 Sv% and a 1.65 GAA. Both marks were tops in the league last season. Sound positioning and a vision we hadn't seen from him before led to some incredible numbers from the 8-year veteran. The Wild's defense seemed to shore up the gates better with the southpaw in net as well. Over the last two seasons Harding has seen an average just over 25 shots on goal per 60 minutes.

With Harding in net, the tendency has been to attack the goalies stick side. You can see this pretty clearly with Harding, the heat map stretches out on his left side pretty good when your up close, and is showing more shots coming from his left circle as well. This is an indication that teams are crashing the net and looking for chances attacking from Harding's left. Harding as done well to shut down a lot of these opportunities, but you see a lot more of those pesky red dots coming at the waffle pad than you do his glove hand.

Something that is worth noting with this heat map is the two distinctive streaks crossing the slot directly in front of the goal crease. The one coming in from Harding's right run's flatter against the top of the paint, while the one is coming in from his left seems to be streaking more directly on the net, and slightly veering off to Harding's glove hand. Part of the reason you may see less goals coming from the latter is due to Harding being a lefty. His goal stick is in his left hand, which if a skater is attacking his right side by streaking in like this it leaves his glove ready for the block and keeps his stick active trying to poke a puck away, or get a shooter to modify his shot, and pushes an attacking forward out of position.

You also see a lot of attention coming from along the boards from the circles to the blue line, but looking at firing right up the middle seems to be lost, and there's a decent hole in attempts from the high slot out to the blue line, despite seeing greater success from further out. Not shooting from the blue line certainly has something to do with the cluster of bodies that tend to occupy the slot area. This can be thought of as a sort of advantage to the shooter as well as a disadvantage. On one end you get what is probably the best opportunity for drilling home a shot the goalie never sees, while on the other hand you have to clear a lot of traffic just to get one home. It's not a high percentage shot, but looking at this heat chart would lead you to believe that Harding is indeed vulnerable, to an extent, dead center and through traffic.

A quick peak at the table shows you how often teams are targeting Harding with high, medium, and low shots. There is a deviation with Harding's numbers that you will see a little more clearly after we look at the other goalies, in that teams tend to target Harding with lower shots by a higher percentage than they do with the likes of Kuemper or Backstrom. It's a strange anomaly in his numbers because he has the strongest numbers over the last couple seasons down low. In the heat of the moment, it's not always easy to get under a puck, but his low shots faced percentage is quite high by comparison.

While plugging away at Harding's left side seems to be the way teams choose to attack the Wild's netminder, the lack of shots and ultimately goals coming from his glove side suggest teams tend shy away from attacking his right hand. Over the last couple seasons Harding has posted an incredible low shot save percentage of 97.1%. Harding is a stud down low, and being that as it is you would think teams would start shooting at his shoulders a little more than they do.

Harding's heat chart is not easy on the eyes. There is a lot of action going on there despite the limited sample provided in the lone season it represents. The short of it is, teams tend to attack Harding's left side, by a wide margin. While Harding is stellar along the bottom of the net, his efficiency rate drops off more as the pucks sail higher. With what we are seeing in the heat map it would call on the Wild's defense to be especially mindful on the left side defensively. Players will shoot from wherever they have an opening, but you can see from above teams try to exploit a perceived weakness in Harding's armor, fortunately for the Wild, they tend to leave the shots low, which gives Harding an excellent shot at making the save.

When Darcy Kuemper has been called into action, he has shown us that, for the most part, he is ready for the big show. He's posting averages comparable to Josh Harding in just his 3rd NHL season. Kuemps is still very young in the world of NHL goalies. For a comparison, last season Darcy Kuemper was 23 years old he played 26 games and posted a .915 Sv% along with a 2.43 GAA. When Harding was 23 in the '07-08 season, he played 29 games and posted a .908 Sv% with a 2.94 GAA. Now some of these numbers are likely better for Kuemper due to much improved personnel, but Kuemper is still looking to be ahead of where Harding was at the same stage in their development.

Kuemper also brings with him the largest frame of any of the Wild's goalies. Standing at 6'5", his size allows him to cover a larger portion of the goal, and he has shown an ability to flash the leather from time to time. Because of his size, and the limited time opposition has seen him, you are seeing a very scatter-brained heat chart on the kid. Teams are still trying to figure out what Kuemper is all about. Interestingly enough though, we see a heavy dose of players attacking his glove hand side, with some decent success.

The heat map shows the same streaks across the goal crease as we see with Harding, yet where you see Harding is much more able to defend on his glove side with the free stick, Kuemper looks to struggle, and yet he shows greater success with the steeper streak in from the slot to his right side.

The scouting report on Kuemper may not be totally complete yet, but with him being thrust into the number 1 spot this season it will start to fill in pretty quick. Looking at the heat map you are seeing shots from all over the ice, but the slight advantage of shots are coming from Kuemper's left side and the greatest percentage of goals against are a result of this.

This is the same, but different from what we see with how teams tend to attack Harding in that, Harding's stick side and Kuemper's glove hand are both on their left side. Once again when attacking the Wild with Kuemper between the pipes, teams are looking at Kuemper's left side and seeing something they like, and tend to focus their attack as such. Shots as well as goals coming from Kuemper's right are seemingly non-existent by comparison.

Shots are ranging from all over the place against Kuemper, but it seems a weakness has been exposed on Kuempers left side. You can also see in this table the difference in the shots he is seeing as opposed to what Harding is looking at. More than 50% of the shots against Kuemper as mid-range or higher. The opposition is clearly seeing a hole in the lanky goaltenders mid section.

Darcy Kuemper has been solid in net to say the least, even when teams seems to have a specific area they have been successful from. The trend with the top-two Wild goalies is attack the paint, attack from their left side, but the shot height differential is a bit staggering. Seeing these two heat maps side by side gets you thinking, is it really a weakness in the goalies on this side? Or do the Wild have a deficiency on the left side of their defense that is leading teams to attack that side of the ice more frequently?

The nice thing about analyzing Niklas Backstrom over the past 2 seasons comes in sheer numbers. He's got 'em. It's not that they are overly great, there is just a lot of data coming out of the Backstrom camp that tends to level out the numbers and leaves less to the imagination. When Backstrom arrived on the scene for the 2006-2007 season, he was a 28 year-old rookie who in 41 games for the Wild posted a .929 Sv% with a 1.97 GAA, both tops in the league that season.

Unfortunately, those would also be career season highs for Backstrom (so far?). For a good majority of Backstrom's career, he has been decent with flashes of brilliance as well as flashes of just plain awful play. Last season, was by far Backstrom's worst season in the NHL. He posted an abysmal .899 Sv% and 3.02 GAA. He would get the hook 3 times in 21 games and gain just 5 wins. Backstrom was also battling an abdominal injury last season, one which would eventually require surgery that ended his season.

Once again when we get the last seasons heat map, we see the a-typical mass of red hovering around the goal crease. Unlike we see with Harding and Kuemper though, teams are finding more success on Backstrom's right side. The heat map does bulge out a bit more on the left side, but Backstrom has proven to be at the very least a little stronger on the left post.

Goals from the circles and beyond tend to be scattered a bit more with Backstrom as well, one goal even coming from the goal line on his left, but we still see a bit more red to his right side. We also see some different streak around the goal crease that are a little different from what we saw with Harding and Kuemper.

You see a short streak just inside the circle on Backstroms right, as well as a flatter streak from his left to right across the goal mouth with some evidence of the steep streak coming from his right to left from the slot. This suggests skaters are much more active in trying to attack Backstrom down the middle and are much more willing to expand their methods to suit their strengths.

Backstrom has gained a lot of flack lately, and it's really no surprise to anyone as to why. With his slipping numbers and a contract that the Wild were essentially handcuffed into signing, he has not lived up to the expectations of the fans and has really made him impossible to trade away. Yet with a whole career of data to mull over behind him, I don't think that we should have too much to get concerned over if Backstrom spends his time as the Wild's number 2 option on the bench behind either Kuemper or Harding.

Looking at the directional numbers, you see Backstrom's facing shots very similar to how Kuemper is. Over 50% of his shots faced are pushing towards the upper two-thirds of the goal. In fact, the percentage of low shots facing Backstrom are a whole 7 points less than that of Josh Harding, and much closer to that of Darcy Kuemper. In looking at the numbers over the past 2 seasons, it's clear to see that opposition is looking to attack Backstrom high, and looking at his save percentage we see why. We see the sharpest drop off in save percentage with Backstrom when a shooter gets the puck off the deck.

When you combine what we see in the heat map along with the directional data we come to a numbers based conclusion that the opposition is specifically targeting Backstrom on his right side, and they are trying to get the puck in the air. When they are able to combine these things their chances of scoring on him increase greatly. Given what we see from the above data it seems to shoot holes in the idea that Wild are weak on the left side of their defense. Another idea this should open the Wild's coaching staff to is that while you cannot ignore any area of the ice, with Backstrom out there the defense needs to be especially stout on their right side.

In a league where charts, tables and graphs are starting to gain traction, coaches will be looking at stuff like this to gauge what their teams are doing right, and where they need to improve. Based on recent history we can see that Backstrom tends to be more vulnerable on his right, and his save percentage drops significantly over the rest of the goalies when the shots get off the ice. Kuemper, for as flashy as he likes to be with his glove struggles on his left side, and while his big body protects a lot of the lower portion of the net he is vulnerable when the opposition is streaking through the slot and lifting shots over his pads. Harding over the last two seasons has been the strongest goalie we have had, but he's not without is trouble spots. Again, like Kuemper, streaking through Hardings left on his stick side seems to raise some issues for the net minder.

When you analyze all the numbers together, you not only see where teams are attacking our goalies, but also where our defense is giving up the opportunities. These heat maps and shot charts are not just something for the goalies to look at to figure out where they are having troubles, but it's something the defense needs to look at to see just how the attack changes from goalie to goalie so they can put in their work to make the minor adjustments that give the whole team a better chance at success.

A big thank you to the folks at war-on-ice as well as sportingcharts.com for their incredible work in providing these detailed stat breakdowns and heat maps respectively.